On what is one of the NHL's quieter months (two sets of mandated-bye weeks and a four-day All-Star break), January offers plenty in the realm of reflection. That's good if you're on the right side of the standings where some of the teams currently on pause find themselves. Others, however, will find the countdown to the Feb. 26 slowly ticking away. And with a high-praised 2018 NHL Draft class expected, the stakes are high. Arizona, who at the time of writing this is the league's worst team and 22 points out of a playoff spot, dealt Anthony Duclair to Chicago on Wednesday. That won't (shouldn't) be the only move for them. Meanwhile, with some of the regular contenders battling just to get in, the doors are open to endless possibilities. For those of you counting that's 46 days left.
So, who might be some of the buyers come next month? Let's preview three teams that certainly should be prepared to do just that.
Tampa Bay Lightning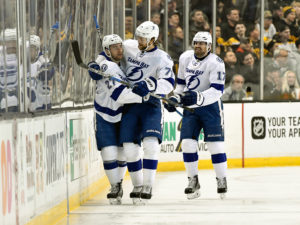 Tampa's 65 points are most in the NHL. They've been atop the standings since Nov. 8 and have a ridiculous +53 goal differential. Adding to their impressiveness–of their league-leading 158 goals, 100 were scored even-strength. Six of their players have shooting percentages above 12; while notching at least 70 shots on goal. In the pipes, Andrei Vasilevskiy hasn't had any hiccups since taking the starter's crease. He's started all but eight of the Bolts' first 43 games and is rocking a .933 save percentage. On defense, it's been Victor Hedman leading the way. Rookie, Mikhail Sergachev hasn't been too shabby either with 26 points in 43 games.
Make no mistake, the Lightning will be buyers, but shopping for them is like shopping for your ridiculously rich uncle that already has everything. What do you get for someone that has it all? In hockey's case, that's usually defense.
Tampa has a shade under $2 million in cap space. Less expensive items like Canucks' Ben Hutton ($2.8 million cap hit) or Senators' Johnny Oduya ($1 million) might be feasible. Is the always creative Steve Yzerman interested in Alex Edler? He has a $5 million cap hit and an additional year under contract. Options are plentiful for one of the few teams that seem poised to handle any team in a best-of-7 matchup.
Winnipeg Jets
We've been told the Jets were coming for a while. Finally, it appears they have arrived. Their 26-11-7 record is leading the always-tough Central division and they're the only team in an arm's length of the Lightning in scoring (150). Sixteen times this season they've won games by three goals including a 7-4 victory in Buffalo on Tuesday. Blake Wheeler (52) points is having another strong campaign, but other names are becoming just as well-recognized across the NHL including Mark Scheifele, Nikolaj Ehlers, and Kyle Connor. Tyler Myers, Jacob Trouba, and Joshua Morrissey are contributing in a big way from the blueline and Connor Hellebuyck has taken away any chance from Steve Mason at getting back the goal going 23-4-6. The Jets are soaring (pun definitely intended) and there's no way they don't do something to try and win the franchise's first playoff victory and then some.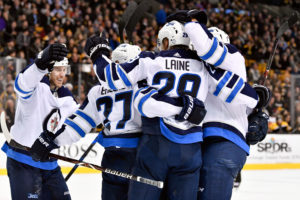 Mark Scheifele remains out after suffering an upper-body injury in late December. His absence as the team's top center puts even more emphasis on a middle that needs an upgrade. Could Oilers' Mark Letestu be an option in the final year under contract with a sub-$2 million cap hit? What about Montreal's Tomas Plekanec? That's as good as it gets on the center/rental market. Perhaps Winnipeg should wait until it starts to unfold a bit more.
Elsewhere, the Jets might not mind another right-shooting defenseman prior to Feb. 26. Detroit's Mike Green ($6 million) is a smart rental move for a team that gets its defense involved and has a potent power play already.
Dallas Stars
With 51 points and Minnesota and Chicago breathing down their necks, the Stars are anything but a sure bet. After flirting with .500 hockey for much of 2017, Dallas is playing much better hockey and finds themselves 24-16-3, a good record by all accounts. Still, the competitiveness of the Central division finds them in the first wild card spot with 51 points, just one more than the Wild and three more than the Blackhawks, who are starting to creep back into the picture. Even seventh-place Colorado (47 points) is hanging around. Did I mention it's a pretty tough division, yet?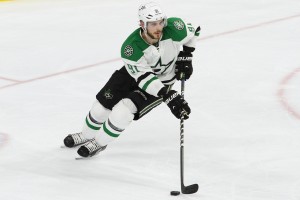 Why they have to be a buyer? Well, it's a bit deeper than just seizing the opportunity of being in the hunt. Consider that Tyler Seguin is due to become an unrestricted free agent in 2019. Also, consider the season the sometimes inconsistent defenseman John Klingberg is having with 39 points in 43 games. Dan Hamhuis and Jason Spezza are nearing the end of their respective careers and Ben Bishop has backstopped the club nicely, but it's hard to know when he'll hit a wall after signing a six-year, $29.5 million contract this past summer.
With just over $1 million available in cap space they'll have to address their needs carefully and concisely. That said, the left side of the ice could be one place to start. Vancouver's Thomas Vanek might be an affordable option. Sabres' Evander Kane isn't. But do the Stars mind getting fancy if it means generating offense more consistently like they have recently, outscoring its opponent 19-8 in their last five? They'll be feeling the pressure when they come out of their bye week on Saturday, possibly with points to make up right away.