The growing pains are traumatic, but necessary for the Dallas Stars. And give GM Jim Nill and coach Lindy Ruff credit for reaching into their farm system and moving some of the young talent to the big club sooner rather than later.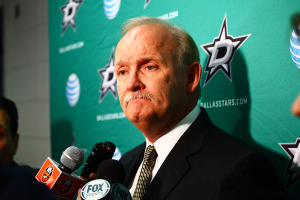 The Stars, who continued to struggle defensively through mid-December, have begun committing to youth in the persons of rookie defensemen John Klingberg and Jyrki Jokipakka, and first year forward Curtis McKenzie. Although Dallas recently sandwiched victories over Montreal and New Jersey around another disappointing loss to Central Division foe Winnipeg, there has been improvement in how the Stars are approaching their defensive assignments.
Dallas is still hoping for a return to the playoffs, but is considering the big picture beyond the current season in adding the righthanded shooting Klingberg. The native of Sweden has played well since his early-November callup, scoring three goals and nine points to go with a +5, which is particularly key on a team with 13 players on the negative side of the ledger. And Jokipakka, a native of Finland, has contributed two assists and an even plus/minus rating, thanks to his defensive play that has only improved since his callup in late-October.
McKenzie has shown flashes of consistent play, scoring a goal despite posting a -7 in 12 games between callus from and returns to the AHL Texas (Austin) Stars.
(Plus minus statistics are calculated only for even strength situations and provide a meaningful measure of a player's offensive and defensive contributions to a team's fortunes).
Some of the more glaring plus/minus numbers have been turned in by assistant captain and defenseman Trevor Daley (-15), free agent acquisition Ales Hemsky (-12), top offseason trade acquisition Jason Spezza (-9), and defenseman Jordie Benn (-7).
But Nill is preaching patience, a smart move as this team continues to add young talent, which is something it failed to do during the previous several seasons. "We were fortunate to make some moves last season that probably put us (into the playoffs and) ahead of what anybody really thought, and now it all has to come together," Nill said. "That's what takes time. Other than (Jason) Spezza and a few others, it's a very young core, and that's why we have to be very patient, let it come together. It's easy to say, 'Well, it's not coming together, we need to make another change,' but (you have to) let things gel on their own a little bit too.
"We have players who have to learn," continued Nill. "There are certain things you have to learn how to do consistently, and we're going through that. We're young. We're very young on the back end. We've brought in four young guys –Klingberg, (Jamie) Oleksiak and Jokipakka, (and together they've played about 60 or 70 games in the NHL. So we're young on the back end, and there are going to be some hiccups because of that. We've also brought in some young guys up front and they, too have to go through it. (They) have to learn how to play a certain way in the NHL."
Nill isn't one to make excuses, but he points out that the team lost three key players in forward Valeri Nichushkin and defenseman Patrik Nemeth to injury.  "We've had to fill in those holes, to bring in different people, younger people, and it takes time for that to gel," he noted. "So it's been a process, but that's part of the game and we're going to get through this and we're going to be better for it."
While he pledges to remain patient, Nill insisted that the Stars must improve in defending their end of the ice." We can score, but you can't give up easy goals. We have to find the fine line of being run-and-gun and still make smart (defensive) plays. We have to learn from the good teams like Chicago….they can score but they know how to play a good two- way (system).
"I think (we have to) stick with our game plan," Nill added. "We got off to a rough start and people (were saying), 'What's going on?' But that's where Lindy is very good. We have a good relationship. Our ownership and Jimmy Lites, our president, have been very good. We know what the game plan is. We know will be some ups and downs and we just have to be patient with it. It is tough because the media and the fans want us to win, and we do too, but there (is) a process that we have to go through."