The Dallas Stars, who are just two points out of first place in the Central Division through their first eight games, feel they've made two outstanding choices in naming their alternative captains for the 2014-15 campaign.
Defenseman Trevor Daley, one of the team's leading blueliners, and fourth line center Vernon Fiddler will each wear the "A" on his jersey and provide on-ice leadership while discussing rules interpretations with officials. Their leadership and expertise will be utilized whenever captain Jamie Benn is on the bench after finishing his most recent shift.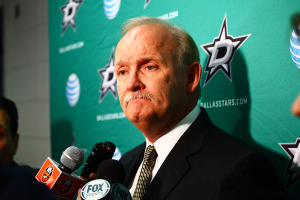 Coach Lindy Ruff, whose team is 4-2-2 in the early going, believes his two alternates are just as important to the team's chemistry as Benn, who plays on the first line and is one of the team's leading scorers and playmakers.
"In (Trevor's) case, he has been a long-time (11-year) Star and knows how to play the game," said Ruff. "He's a big part of our team, he does the right thing, he comes to work and I think the players look up to and respect him.
"As for Fidds, he wanted to come back here and be part of this team," Ruff added. "He is not on the offensive side of it as much, but he is really well-respected among his peers. We have lots of guys that are good leaders who could have filled those positions, but those are the two that we felt would be the best for us."
The 31-year Daley is the longest tenured Dallas Star on the roster and is off to a quick start, particularly when it comes to carrying the puck up ice and scoring. His six points tie him for 4th place among the team's scoring leaders, and he has netted three goals, all from the low slot and on the power play. Last year he netted a career high nine goals and added 16 helpers as the Stars earned their first Stanley Cup Playoff berth since 2008.
"Obviously, being named alternate captain means a lot," said Daley, a second round draft pick in the 2002 Entry Draft who hails from Toronto. "This organization has been great to me and the city has been great to me, so having that accomplishment, I am real excited about it."
The 34-year-old Fiddler is in his fourth season with the Stars, and he re upped with Dallas after hitting the free agent market last summer. He is less of a scorer – with a goal and two points thus far this year – and more of a checker, successful faceoff man and reliable veteran presence.
Fiddler is entering his 12th season in the NHL after skating for Phoenix and Nashville. "It's definitely an honor to be a captain in a great organization," said Fiddler, a native of Edmonton whom the Stars signed as a free agent prior to the 2011-12 NHL season. "At the same time, I don't think you need to have a letter on your sweater to be a great leader. You look around our dressing room and we have some great leaders and guys that have been captains. It's going to take a group effort with everybody chipping in for the leadership group for us to be successful."
Ruff said he wants the team's leaders to hold each other accountable for the Stars' level of play and competitiveness. "They have to set the tone and help demand it from each other," said Ruff. "That comes from inside the room. When you get that and you understand you are not going to let each other down and you've got a teammate that says let's pick it up, you get yourself in the right place."