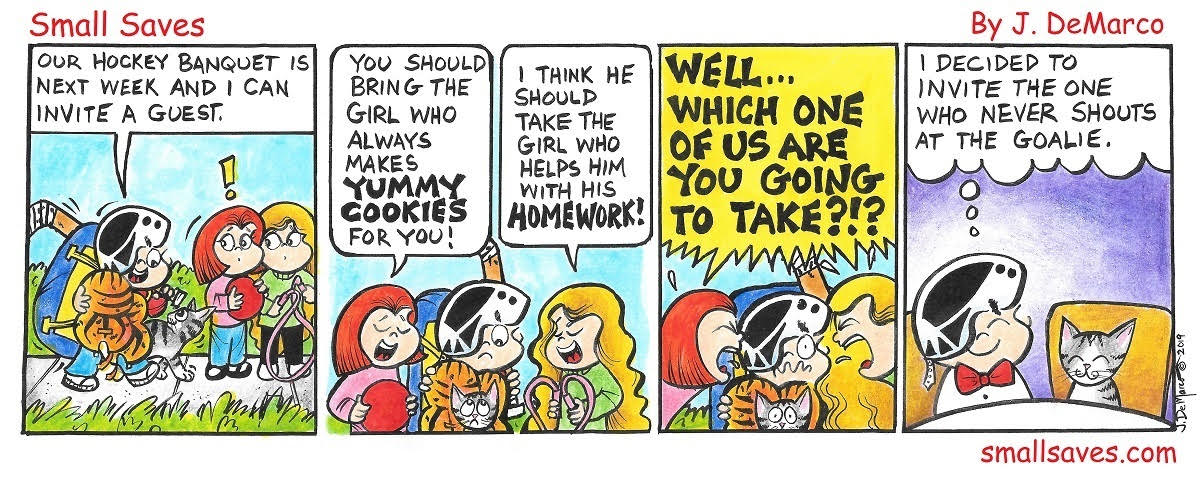 Hi everyone.
Hope you had a great week.
The Hospital Activity Book for Children
A special thank you to The Hospital Activity Book for Children, proud partners with the Make a Wish Canada. Small Saves just made his debut in their activity book. The book is designed just for children who are ill, injured, or at risk. The book is given free to children of all ages and is distributed to participating hospitals, health care centers, and various victim service programs. I found myself thoroughly enjoying the puzzles, picture coloring, and all the other fun activities inside the book. I am truly proud to be able to contribute to this wonderful organization. Please check them out at https://www.habfc.com/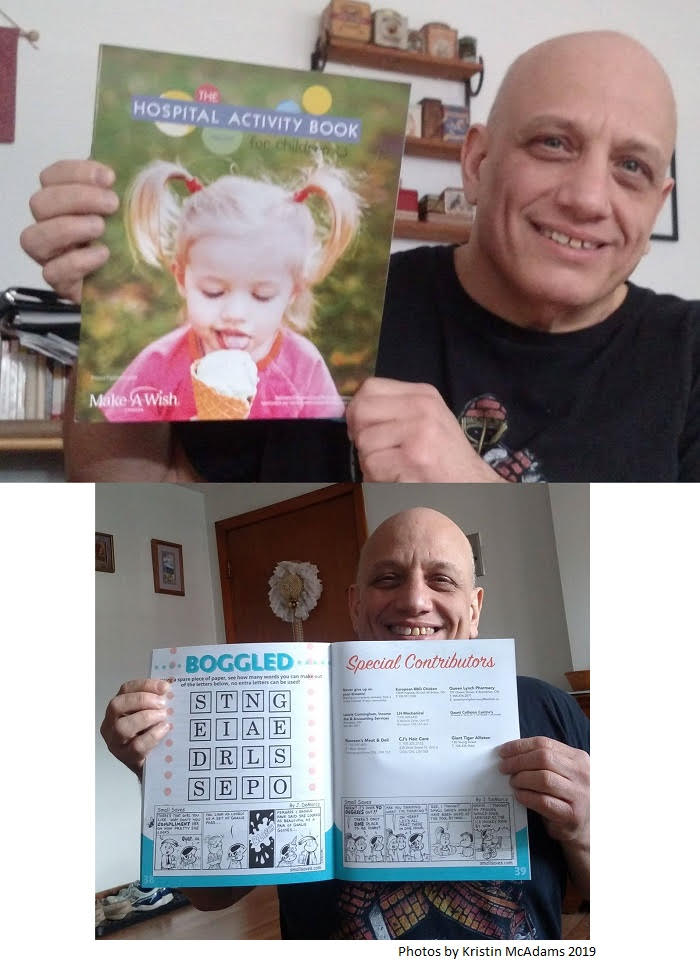 Holy Moly, We Need A Goalie! By Darren Hersh
If you haven't had the chance to read Darren's book, "Holy Moly, We Need A Goalie!" pick up a copy today! There's both a girl and boy version of this wonderful tale. I'm honored to say that I am the illustrator of the book. When I was first approached with the project, I was immediately drawn in by the story and message. A must-have for your hockey library. Here is the Facebook link: https://www.facebook.com/Holy-Moly-We-Need-A-Goalie-1634248670206972/
Small Saves Updates
Small Saves has been quite busy! Aside from his weekly appearances, His new shirt design, "Kick Save and a Beauty", is now available on Amazon!
https://www.amazon.com/Small-Saves-Hockey-Goalie-Shirt/dp/B07PN1J52N/ref=sr_1_2?qid=1553444168&refinements=p_4%3AThe+Official+Small+Saves+Shirt+Store&s=apparel&sr=1-2
His next cartoon collection book, "Goalie in the Limelight", is about 10 cartoons away from being completed. I'm now in the process of formatting all the cartoons that will appear in the book. I'm going to say it will be ready by Summertime.
"The Forgotten Christmas Goalie" is now in the second draft stage. Although it's fully written, it now must be formatted, edited, and polished. There will be more drafts after this, but it's on its way. The cover is drawn, and it looks great!
For everyone waiting for the custom silk screened shirts, hoodies, hockey jerseys, and such, I'm just waiting to get my screens made. I need some chemical supplies (emulsion) but they are cold-sensitive and cannot be ordered until the weather warms up a bit. The design is of Small Saves making his classic blocker save. I even have a small logo that will look great as a left chest on a polo shirt. I also have the design version that will be given out as a t-shirt to the "Fan of the Month."
Not Every Puck is Stopped.
We all have goals and dreams. Whether it's playing pro hockey, becoming a concert pianist, getting into college, or any of the wonderful opportunities that await us out there. Mine is Small Saves. In order to succeed, you must go out and put your best foot forward. While success is our goal, there will be bumps along the way. Case in point… Creators Syndicate has replied to my Small Saves submission. It was a standard form letter thanking me for my Small Saves proposal, but they decided to pass it down. I always see this scenario as a teaching lesson. You can put out your best effort to make the team you want to skate for, but you won't always be picked. And that's OK. You keep doing your best and keep going forward. You'll end up on the team you were meant to be on… and then you can show everyone how well you can shine!
Have a great week!
Jay and Small Saves