Saturday's Stadium Series game between the Pittsburgh Penguins and Philadelphia Flyers had all the bells and whistles you'd expect.
Outside Heinz Field was The PreGame, a fan festival offering live music, an interactive hockey museum, skills challenges and the chance to pose with the Stanley Cup. Inside, the players entered to effects including fire and fireworks. Pittsburgh Steeler Antonio Brown made an appearance, as did seven real, live penguins from the Pittsburgh Zoo & PPG Aquarium.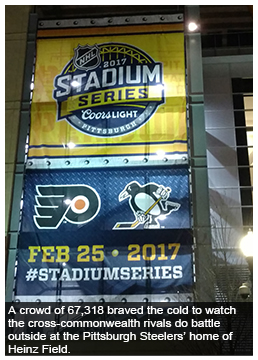 A big-name band, Train, entertained the crowd during the first intermission. Mother Nature also took a bow, transforming Friday's 76-degree weather to the low 30s just in time for an 8 p.m. puck drop, complete with snowflakes and howling winds.
But what's perhaps most important about the NHL's outdoor contests is that, pageantry and elements aside, they're still regular-season hockey games. Two points are up for grabs for the winner and, with just over a month to go before the postseason, they're important.
Tonight, those points were probably more important to the Flyers, who sit five points out of the last Wild Card spot in the Eastern Conference. And they didn't get them, ending up on the losing end of a 4-2 final.
"It's a tough result walking away," said Flyers head coach Dave Hakstol. "It's a pretty close, tight hockey game where I thought our team p
layed well, battled extremely hard and did a lot of good things. But we walk away with the wrong result."
That's happened to the Flyers often lately, largely because of their inability to convert scoring chances into goals. They've had just eight in t
heir last seven losses. "There's been a lot made of that, and I think that's fair," Hakstol said. "Yet tonight I look at the opportunities, and the number we generated [was] pretty reasonable."
But they ran into the dual problem of a team that scores a lot – more than any other team in the league, in fact – and a brick wall in the opposing net.
Penguins captain Sidney Crosby opened the scoring 11:18 into the contest, getting off to a good start in his hopes of erasing bad memories of the 2011 Winter Classic, held at the same venue, where he sustained a concussion that lingered for more than a year.
"We were thrilled for him," said Penguins head coach Mike Sullivan. "I'm sure the experience of coming back here brought back some memories he'd probably like to forget. To have a night like tonight and start the game off the way he did probably helped him put that experience behind him and just move forward."
Nick Bonino, Matt Cullen and Chad Ruhwedel got the rest of the Penguins' goals against the Flyers' Michal Neuvirth, who was in net for the Washington Capitals whe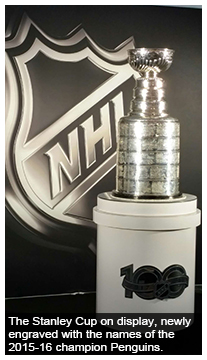 n they beat Pittsburgh in the 2011 Winter Classic. Rookie Jake Guentzel, 22, earned first-star honors by setting up the first two goals.
Cullen, 40 and playing outdoors for the first time in 1,348 NHL games, was positively beaming when he scored the goal that held up as the game-winner.
"I've got to tell you, I don't know if I've had more fun playing hockey," he said. "It was such a fun night. It was a good game up and down the ice, and I was just kind of blown away by the atmosphere. It was pretty cool seeing how many people stuck around with the cold temperatures. Just the whole thing, it was one of those bucket-list deals. Just really, really happy I got to be a part of it."
Murray was chosen to be part of it over longtime franchise netminder Marc-Andre Fleury, who would have been a sentimental choice as he nears the likely end of his time in Pittsburgh. And Murray made the most of it, stopping 35 of 37 Flyers shots for the win. That included a 16-save first period that helped the Penguins take an early lead and play from ahead the rest of the night.
"You try and treat it like just another hockey game but, in reality, it's a lot bigger stage," Murray said of his first outdoor game. "I think in such a crazy environment there's a lot of nerves but, once that puck drops, everything just kind of fades away, and you just focus on what you need to do."
If Murray was even a little nervous, he didn't show it in his demeanor or his play. That's exactly why he's earned the team's trust, Sullivan said.
"He's [a] guy as a young player that just has that makeup. He doesn't seem to be fazed or overwhelmed by the stage [or] by any circumstance. He showed that all of last year in the postseason. And tonight, on a fairly big stage and a game that has a lot of eyeballs on it, he just goes about his business and stops the puck for us."
Murray's stops and his teammates' scores made for a winning combination that helped the Penguins climb within five points of the league-leading Capitals.
"Mentally I think you need to understand that, as much as you want to take it all in, they're important points," Crosby said. "And playing Philadelphia, we know it's going to be an intense game. I think we definitely came with the right mindset. You're trying to balance enjoying the moment with playing the game and being ready."