The calvary isn't coming. But if you're writing off the Pittsburgh Penguins' chance of defending their Stanley Cup without their most important defenseman, they plan to do their best to prove you wrong.
"We've talked to our group all year long about this, and I think our team is well-schooled in overcoming injury adversity," head coach Mike Sullivan said, a day after six weeks of secrecy around Kris Letang's medical condition ended. Conservative treatment for a herniated disk in his neck didn't work and he'll have surgery, followed by a four-to-six month recovery period.
"We've faced it all year long, and this is just another challenge for us," Sullivan said. "We believe we're deep enough and we have capable people that can step up and help our team be successful."
The coach isn't just spouting optimism. He has reason to believe.
After making a compelling case for playoff MVP last spring and scoring the Stanley Cup-clinching goal, Letang played exactly half of Pittsburgh's regular-season games this year. In those 41 contests, as usual, he was a difference-maker. He scored 34 points (5G, 29A), drove the Penguins' puck possession and logged an average of 25:31 minutes a game, with a few at 30+ figuring into that equation.
Yet the Penguins sit at No. 2 overall in the NHL with just two regular-season games remaining. Their 277 goals beat any team in the league – although the Presidents Trophy-winning Washington Capitals, Minnesota Wild and Columbus Blue Jackets have better differentials. And their 111 points on the season are good for home ice against most playoff teams, including the Blue Jackets, who they'll host in the first round.
All that despite being No. 7 in man-games lost this year with 263, with those injuries coming to more high-impact players than any team in the league. According to Man-Games Lost, they've lost an estimated 19.52 standings points this year due to the cumulative impact of their injuries.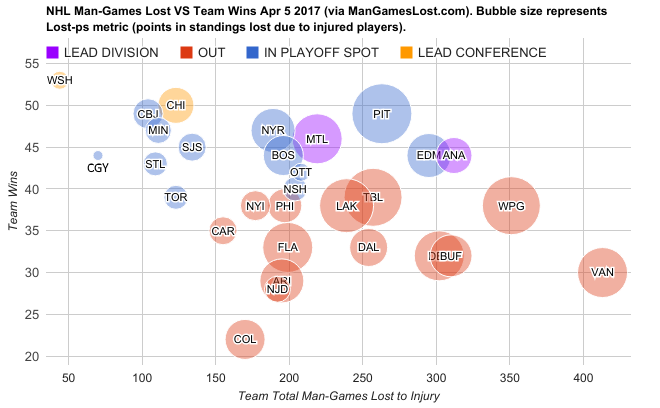 But the Penguins haven't looked for excuses. Instead, they're ready to continue doing what they've done all season long – use their depth to compensate by committee.
"It goes without saying that Kris Letang is a hard guy to replace. He's an elite player and he certainly does a lot for this team," Sullivan said. "But we've found ways to have success in his absence for quite some time this season, and we're going to have to continue to do that."
One reason for optimism is the breakout year of Justin Schultz. The 26-year-old found a good situation with the Penguins last spring, gambled on a cheaper, one-year deal than he was offered elsewhere, and has made good on the promise he showed when he was a highly sought-after college free agent.
In a season where Pittsburgh defensemen dropped like flies, Schultz has played all but three regular-season games, logged Letang-like minutes when necessary and racked up a 50-point (12G, 38A) season that should see the restricted free agent rewarded handsomely by the team this summer.
But the Penguins suddenly have some depth on the blueline, with Trevor Daley returning Thursday, Olli Maatta's return looking imminent, trade deadline additions Ron Hainsey and Mark Streit, and AHL call-up Chad Ruhwedel joining regulars Brian Dumoulin and Ian Cole. So, although Schultz's skills make him the most likely fill-in for Letang's abilities, Pittsburgh won't expect him to carry the load alone.
They don't expect the defense to carry it alone, either.
"It's not going to be any one player who's going to replace Tanger," Sullivan said. "It's going to be a collective effort – with our defense corps but, quite honestly, it has to be a collective effort from our whole team. I think there's going to be a heightened responsibility from everyone to be at their best.
"As long as we do that, we know we have a team game that can be competitive."
The team is coming together. Captain Sidney Crosby has his kid linemates back, with Conor Sheary and Jake Guentzel both returning from recent injuries. Star center Evgeni Malkin has rejoined practice with the team and hopes to get into one of the last two regular-season games.
"I think I'm close to play," Malkin said. "I hope. It's not easy to say right now, because I not play full contact. I try [Saturday] morning. If I feel normal, regular, why not?"
Speedy Carl Hagelin likely isn't that close to his return from a lower-body injury, but he's back on the ice and could see postseason action. Other than Letang, the Penguins could be missing just one regular – forward Chris Kunitz, out indefinitely with a lower-body injury.
They'll need everyone contributing in a first-round series that, due to an unfortunate playoff format, will knock out a Stanley Cup contender in them or the Blue Jackets. The stakes are high, and the intensity of that series will be no different.
"Very excited," Daley said. "We want to get back to what we did last year. We've got an opportunity to do something pretty special, so I'm just happy to be a part of it. We want to be firing on all cylinders going in."