The University of North Dakota is a better hockey team with senior forward Nick Jones is in the lineup. After missing the last seven games with a lower-body injury, Jones, returned Friday to help the Fighting Hawks take down their archrival the Denver Pioneers 4-1.
How valuable is Jones? With Jones in the lineup, UND has won the last six games that they've played in. On the flip side, during Jones absence, UND went 3-4-0.
During his absence, Jones's was missed in the faceoff dot. During the 2018-19 season, Jones has won 94-of-161 (.583) faceoffs. Moreover, during the last three games, he's played in, his numbers have gone up, winning 32-of-42 (.761) faceoffs.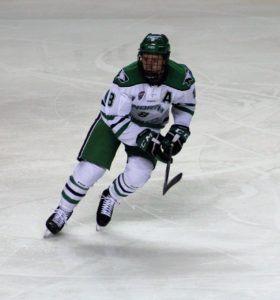 Jones was relieved to be back in the lineup.
"Obviously, it's been a long process getting back," Jones said. "It feels like forever, even though it's only been four or five weeks. Nice to get back out there with the guys."
How was his conditioning after missing seven games?
"I felt good," Jones said. "There were times where I was tired. The first time I had gotten on the ice was this Monday.  I haven't done much the last few weeks. Had to get my conditioning back. I tried to keep it short at times. When I got out there, I was a little tired. It was nice to get the win tonight."
The head coach was happy to have his gifted center back in the lineup.
"I thought he brought some freshness to us in a few different areas," head coach Brad Berry said. "Obviously being a strong body up the middle winning some draws and another thing, he provides a lot of leadership in our group here. Rhett had to play a lot of big minutes over the last seven games when he was out. Now he can shed a little bit of that to Nick and obviously, the leadership side."
Berry continued, "I think he takes control of his line. When he has a couple of good players on his wing's he takes direction and takes control of it. He's a very smart player and he knows what the next play is. He's a great asset."
During the 2018-19 season, UND has had no problem getting up for nationally ranked teams. Entering Friday's game, UND has a 6-3-0 record against ranked teams. With the win, UND has won two consecutive games against nationally ranked teams.
"I think everybody is doing their job," Berry said. "Getting off to a good start in games. Starts are key and critical and making sure that we don't chase games."
Sounds like a great game plan. Friday, the Fighting Hawks never trailed and a pair of freshmen (Mark Senden and Gavin Hain) forwards vaulted UND to a 2-0 lead in the first period. UND added two more goals in the third period.
With the win, UND is now tied for fifth place with the Pioneers with nine points.
The Fighting Hawks close out the first half of the season with the Denver Pioneers on Saturday night. Game time is 7:07 PM.