NHL 22 was the first hockey game developed for next-gen consoles, and while it was very solid in every regard, expectations were that NHL 23 would build upon that foundation to deliver a truly game-changing experience this time around. Did they deliver? The answer is complicated. And so too is the answer to the question "if I own NHL 22, why should I buy NHL 23?" Here's our deep dive into the game…
New Features & Improvements
Here are some important positives and new features in this year's game…
Last-Touch Technology
The new last-touch technology was implemented really tastefully when it could've easily ruined the game on its own by becoming a cheesy, animation-filled disaster. It's a positive addition without qualification (so long as its frequency isn't increased in subsequent updates). There have certainly been instances where the animation has been triggered illogically (as in, when the player is behind the net and the puck is well in front of it), but they're too infrequent to merit complaint.
Improved Passing AI
Passing is definitely more accurate to intention this year. I'd say I'm experiencing a 10-15% improvement in accuracy percentage despite playing with a roster that's got much less skill, and I haven't become a meaningfully better player than I was two weeks ago. It's definitely not perfect, but the passing AI is certainly improved.
Defensive Stick-Checking
The improvements to the defensive stick-checking mechanism are terrific. Last year, players were rewarded for spamming the stick-check button. This year, it comes with a steep price (your player basically stops skating to stick-check), and so there's a reward for being accurate with your stick-check timing and player positioning.
Improved Inclusion
I'm loving every aspect of the enhanced inclusion (women players and Black/women referees in particular). The marketing tagline "Hockey is for Everyone" means a lot more when it really feels that way. And it's really been a ton of fun getting to see how different the physics are when you're controlling a 130 pound female skater vs. a 220 pound male skater.
Improved Crowd AI
It's really neat to hear the home crowd cheering a team-specific chant, and the end-of-period crowd countdown is incredibly useful when trying to time a last-second shot. Without question, the in-game atmosphere has been much improved. But given that team-specific chants existed in prior iterations of the game, this improvement – as with some others – is really just a matter of bringing back an old feature that had been lost along the way.
Breaking the Illusion
Now, here's where we get to the reality of what NHL 23 is… and what it isn't. Purchasing NHL 23 as an upgrade from NHL 22 is much more about the software license than it is about getting an actual, brand-new, meaningfully improved game. In addition to those stated improvements and future updates/fixes, you can also say that your "license" entitles you to regularly updated rosters and access to a fairly vibrant online community. When you add up the sum total of the improvements, by themselves they don't merit a new purchase… but if you want to be a part of that community, it's a safe bet that NHL 23 will provide very solid dollars-per-hours entertainment value.
Similarly, while there are unquestionably some nice additions to the game presentation, they come at a cost… more often than in NHL 22, there are moments that pull you out of the illusion that you're "in the game," and instead remind you that you're playing an imperfect video game.
Passing is Improved, but Glitches Remain
NHL 22 offered a neat "self pass" functionality, in which a player could use the boards (for example) to complete a pass to themselves. This presents some terrific creative opportunities, but sometimes it still doesn't function as intended.
In this play captured from a HUT Battle, Evgeni Malkin has the puck along the boards. I pressed up (and slightly to the left) to get Malkin to pass the puck up the left-wing boards to Mark Schiefele. Another logical pass target might've been defenseman Jacob Trouba. Malkin instead tried a behind-the-back pass that can only logically be intended to go off the far-end boards and back to himself. While I certainly appreciate the ability to have a player pass to him/herself off the boards, those passes shouldn't be directed off boards that are 175 feet away, and especially not behind-the-back.
With this screenshot, you can clearly see that Malkin's location (when he released the pass) meant that the pass could only have been intended to be a to-self pass off the far-corner boards, 175+ feet away!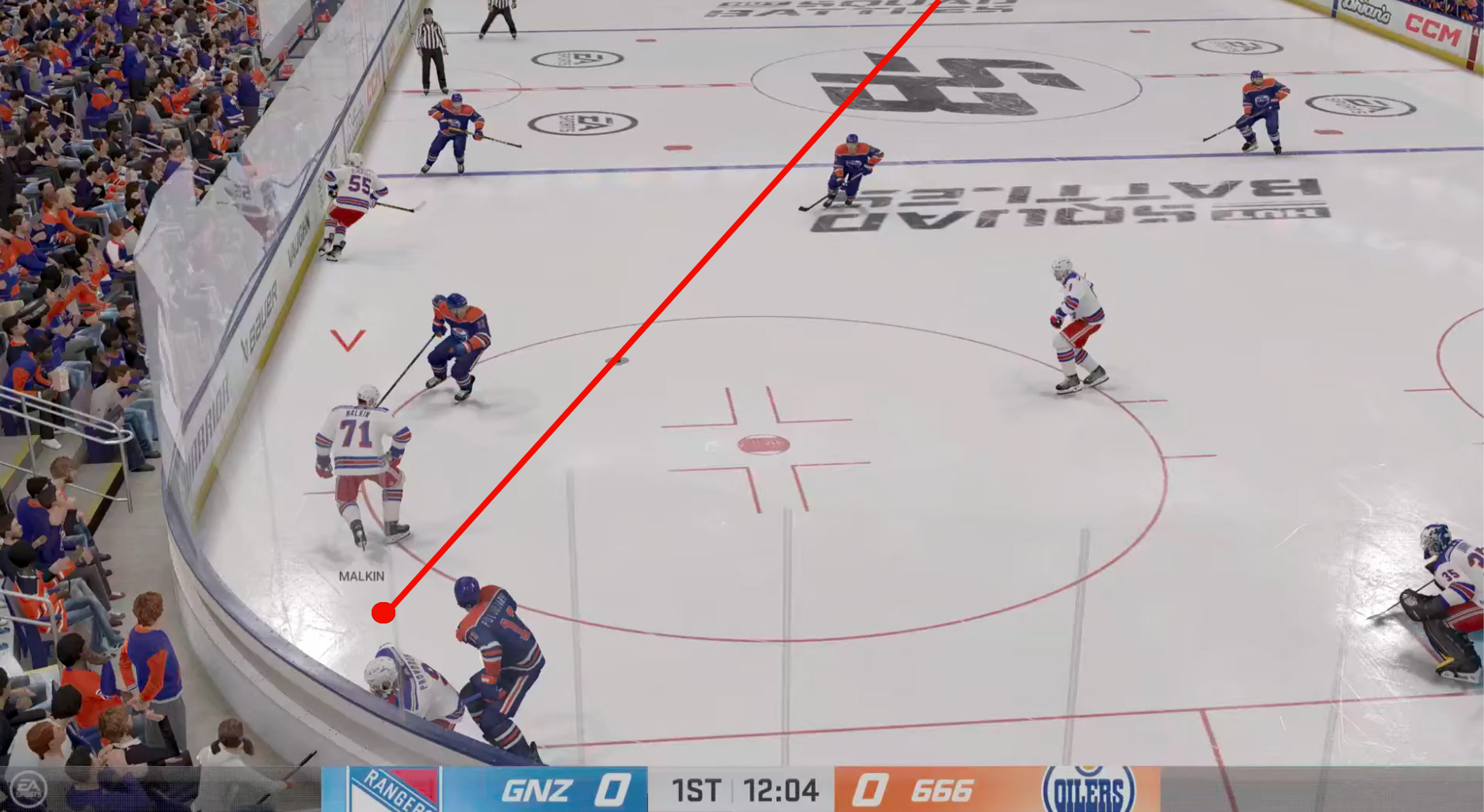 Proximity should matter far more than it does when calculating the intended pass recipient. For example, a player inside the offensive zone should be the understood intended recipient of a pass from a teammate in the offensive zone, not a defenseman skating to the bench for a shift change (perhaps 80-100 feet away from the play and offsides). Even if a defenseman passes behind the logical pass recipient during the play – and might line up just a tiny bit better than the proximate player in the offensive zone with where the end user pointed their PS5/Xbox joystick – that shouldn't alter the passing logic.
Bizarre Behavior from AI-Controlled Players
Here's an example of some truly bizarre AI player behavior. Elias Pettersson is in the offensive zone (without the puck) and refusing to leave, making it impossible to enter the offensive zone legally (onsides). There doesn't appear to be anything/anyone keeping Pettersson in the offensive zone. Just a glitch. But I can't remember anything like this happening – not one single time – with NHL 22.
And here, a completely strange face-off in which neither player appears to win the draw. Then, with no sticks near the puck to strike it, the puck suddenly flies to the opposite-corner boards, setting up a bang-bang tripping penalty that gave the AI opponent a sweet 5-on-3 power play opportunity.
Blackout
A couple of times, NHL 23 revisited New York City's infamous blackout in the Summer of '77… these glitches happened two weeks apart, on/around 10/14 and 10/28. Both times, it was impossible to see the ice, the players or the puck. Only certain overlays were visible, and the games were unplayable.
In EA's NFL counterpart (Madden), we still regularly see players going directly through other players (and inanimate objects). The NHL series has historically been much better in this regard, but with the glitches that keep popping up in-game this year, NHL 23 definitely represents a meaningful step backwards with regard to "preserving the illusion". There are unfortunately too many glitches to ignore, and they'll hopefully be addressed in an upcoming software update.
Flawed, Stagnant HUT Auction Process
The HUT auction process has always had its share of issues and missing features, and that's the case once again this year…
You can't search for players by name. This feature has existed in the Madden MUT auction room for years.
You can't go from a card (that you own) directly to a filtered auction search to see what that card is presently selling for.
There's no way to see historical prices, and no way to know what represents reasonable value (especially when cards are scarce, which is often the case for more desirable player cards).
Worst of all, there's still no way to see and experience real-time auction results for a player card you're bidding upon. Instead, when it appears that the auction clock has ended and you've won the auction, it's only when you get to your empty inbox (and hear the sounds of your coins returning to your virtual NHL 23 wallet) that you realize you were in fact outbid. And by the time you get back to that player card auction (remember, no way to search by player name), chances are the auction is over and you've lost. Rinse and repeat. For this reason, "buy it now" is the only consistently positive auction room UX.
This year, additional problems have emerged, particularly with regard to the auction clock and the delivery of player cards won at auction. I attempted to purchase a Primetime Sergei Sergachev card from the auction room, bidding $4,444 and ostensibly winning the auction. But given the historical behavior of the auction room, when the card wasn't showing in my inbox, I presumed that I'd lost the auction. And so I spent another $5,250 on another Primetime Sergachev card, only to seemingly win the auction but not find the card in my inbox. So I went back into the auction house and spent more money buying a third Primetime Sergachev card, this time via "buy it now". A day later, the other two Primetime Sergachev cards finally arrived in my inbox. [If any of you were shut out of buying a Sergachev Primetime card while I was buying them all, I'm sorry.]
Given the importance of the auction house as part of HUT (which is ostensibly the most important revenue-generating "mode" within the NHL video games), it's really surprising that there hasn't been much/any meaningful improvements to the auction UX (user experience), not for as long as I can remember.
There are some other nagging problems that remain in the game:
The inability to turn off "festival music" in the main settings so that you don't need to turn it down each and every time you play an outdoor Rush game. And because daily/weekly objectives are often tied to playing Rush games, this annoying problem resurfaces over and over, all season long.
The preponderance of HUT challenges (to earn in-game rewards) that provide far more frustration than entertainment. For example, "score two shorthanded goals in a six-minute game" is a particularly frustrating challenge. Because penalties are not enforced consistently, you can skate all over the ice trying to hit players who don't have the puck (interference) or trying to trip players while stick-checking with bad form, but you might never have a penalty called against you. There have been entire periods where I've gone full Hanson brothers without having a single penalty called. "Don't give up any power play goals" is a much better, more logical task. "Score two goals with a defenseman" is also a much better, more logical task. Whenever a task layers the requirement that you do something you should try to avoid (like take a penalty) with something that happens very rarely in real hockey (score two shorthanded goals in three minutes of play), the end result is going to be frustrated gamers. If it's so important to include "score shorthanded goals" as challenges, then put the user's team on the penalty kill to start the game/challenge.
The (Not) Final Verdict
NHL 23 is far from perfect. And it's reasonable to expect that future updates to the game will improve gameplay and eliminate some of the glitches we (and others) have uncovered. But at the same time, its foundation (NHL 22) is excellent, and if the game can be smoothed out so that its improvements will really shine, access to the online features/community make it a near-must-buy for diehard hockey fans. If a future update meaningfully addresses the issues raised here, we'll publish a follow-up review.
Rating: 3 Pucks (out of 5)