One of my favorite vintage Batman episodes, Green Ice/Deep Freeze, featured the famed German director Otto Preminger as Mr. Freeze and during those two episodes, Preminger would exclaim, "Wild!" whenever something happened that tickled his fancy. And that's how Minnesota has been playing during the 2016/17 season: Wild!
They are on a course to set new franchise records in team wins, team points, and winning percentage. They are presently leading the Central Division and stand a solid chance of winning their second divisional title in Wild franchise history. And this is the same Wild team that hockey experts predicted would finish fifth in the Central Division and quite possibly out of playoff competition.
Like the Columbus Bluejackets and the Ottawa Senators this season, this is a team that is playing in defiance of all predictions, expectations, and conventional wisdom. Derided by critics as being old and creaky physically (seven of their players are in their thirties) the Wild has regained its boyish state of mind; playing with the unrestrained zeal of youth.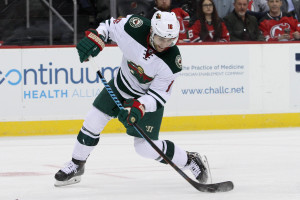 Minnesota's roster is not entirely gray and long in the tooth. Young 'uns Jason Zucker, Jared Spurgeon, Nino Niederreiter, and Mikael Granlund have contributed greatly to the Wild's resurgence. Although not rookies, these young men have undergone their baptisms on the ice and have 3-6 seasons of NHL experience under their belts. They are entering their primes and are displaying the full panoply of their considerable hockey-playing abilities. They're not just the present but they represent Minnesota's future long after the venerable greybeards have retired.
Minnesota is superb on both ends of the tactical spectrum, ranking in the top five in overall offense and defense; and in the top ten on the penalty-kill. Even more significantly is the fact that Minnesota is demonstrating consistent ensemble two-way effort. Five of the top eight players in the NHL in the plus/minus factor are from the Minnesota Wild with Ryan Suter, Zucker, and Spurgeon occupying the first, third, and fourth spots in that order; and Mikko Koivu and Granlund occupy the sixth and seventh spots as well. The Wild also play with great discipline, possessing the seventh fewest team penalty minutes in the NHL although when
The Wild also play with great discipline, possessing the seventh fewest team penalty minutes in the NHL although when muscle is needed it is power forward Chris Stewart who supplies it with gusto.
But if there is a paramount hero for the Minnesota Wild then it comes from goaltender Devan Dubnyk who is having a career year, leading the NHL in wins and save percentage; is second only to Braden Holtby in GAA, and is tied for fourth place in shutouts. If Dubnyk is not a Vezina finalist this season then there is something wrong with the Vezina selection process because Devan Dubnyk has been a miracle between the pipes.
For Minnesota head coach Bruce Boudreau this season thus far has been a reaffirmation of his coaching genius. In the eyes of my rating system, Gabby has a chance to add ten more points to his coaching value and move up six to seven steps in rank among the all-time coaching greats. And yet for all of Bruce Boudreau's coaching greatness, there is still that knotty little problem in getting this team to earn a ticket to the big dance: the Stanley Cup finals. Gabby throughout his career has coached divisional title winners; President's Trophy winners; but never a Stanley Cup finalist let alone a Stanley Cup champion. That has been Gabby's cross. It was that heartbreak coaching tendency which cost him his coaching jobs in Washington and Anaheim. This is his third NHL coaching gig and the eternal question is whether Gabby has found the right players and the right franchise to help him lay down his cross and hoist the Stanley Cup in triumph instead?
Can Gabby help his players overcome his own sad record of playoff misery? That is the question that needs to be answered come April, May, and or June.