In a surprising move today, Lou Lamoriello of the New Jersey Devils stepped down as General Manager and named Ray Shero as the new GM of the Devils.  Lamoriello will continue as the President of the Devils.  Shero will report to Lamoriello, and Lamoriello will report to ownership.
Here is the official news release from the New Jersey Devils:
                                                                                                                                                                                                                                        MONDAY, MAY 4, 2015
 Ray Shero Named General Manager
Lou Lamoriello Continues as Team's President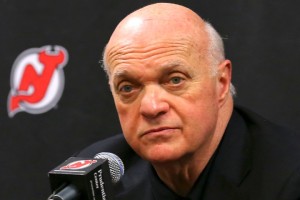 Newark, NJ – Lou Lamoriello today named Ray Shero as the fourth general manager in team history.  Shero will report to Lamoriello, who will continue in his role as the team's president, a position he has held since April 30, 1987.  During his tenure as general manager, the Devils have won three Stanley Cup Championships, five Eastern Conference titles, and nine divisional championships in 21 playoff appearances.
"Ray is well-respected throughout the hockey industry and knows what it takes to win," said Lamoriello.  "His 22 seasons of NHL front-office experience will be beneficial to the New Jersey Devils organization.  I look forward to working alongside Ray."
Shero, 52, is actively involved with USA Hockey, is a member of its National Team Advisory Board, and most recently served as associate general manager for the 2014 Winter Olympic Games.  He spent eight seasons, 2006-07 through 2013-14 as executive vice president and general manager of the Pittsburgh Penguins.  During that time, the team compiled a 373-193-56 (.645) mark, won the 2009 Stanley Cup Championship, two consecutive Eastern Conference titles in 2007-08 and 2008-09 and had three first-place divisional finishes.  Shero was the 2012-13 recipient of the General Manager of the Year Award, as voted on by the 30 NHL general managers, a panel of NHL executives, as well as print and broadcast media.  He was named general manager of the Penguins in May 2006, and turned the club into a perennial playoff contender.  Shero previously spent 14 seasons as an assistant general manager with the Ottawa Senators (1993-98) and Nashville Predators (1998-2006).  He also spent seven seasons as a player agent prior to making the transition to the front office.  A forward, Shero was drafted by Los Angeles in the 11th round (216th overall) of the 1982 NHL Entry Draft.  He played four seasons collegiately at St. Lawrence University (Canton, NY), and served as the team's captain on two occasions.  Shero led the school in scoring twice, and graduated in 1984 as one of the top-ten scorers in St. Lawrence history.
The son of the late Hockey Hall of Fame Head Coach Fred Shero, Ray and his dad are one of the few father-son tandems to both have their names engraved on the Stanley Cup.  Following his coaching career, Fred Shero served as the Devils' radio commentator in the 1980's.  A native of St. Paul, MN, Ray and his wife, Karen, have two sons.