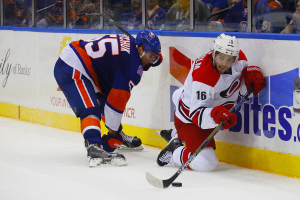 The New York Islanders are off to a hot start this season and defenseman Johnny Boychuk is one of the big reasons why.
Boychuk was acquired from the Boston Bruins just before the start of the season by general manager Garth Snow. Snow wanted to upgrade his blueline and showed remarkable patience by waiting until just before all teams had to be under the salary cap. That made quality players like Boychuk and Nick Leddy available.
The results have been immediate. In the first four games of the season, the Islanders are undefeated and Boychuk has scored two goals and six points. He also has a plus-five plus/minus rating.
But Boychuk's contributions have gone beyond goals and assists. The30-year-old Edmonton native is consistent in his own zone, plays a smart, steady game and adds experience and leadership to a very young Islanders' defensive corps.
"He's been around. He understands about the accountability factor and that's something we've talked about right from the start of training camp," Isles' head coach Jack Capuano said. "Accountability starts with them then their teammates and then the coaching staff. We'll hold them accountable, but at the end of the day, the teams that are successful are the clubs that hold each other accountable. I know that Johnny will do that."
It also doesn't hurt that Boychuk has lots of playoff experience and knows what it takes to win in the NHL. He won a Stanley Cup with the Bruins in 2011 and to reach the Stanley Cup Final again in 2013.
"He's been there before and been through a lot in Boston, he's won a championship," Isles' captain John Tavares said. "He's an experienced veteran guy who really knows how to play the game and do the right things."
So far, Boychuk is pleased with his own performance and the way the team is playing. "Everything seems to be going pretty well," Boychuk said. "I've had a couple of good starts and anytime you win four in a row, it's good to start the season off, that's for sure."
One major difference for Boychuk since joining the Islanders is an expanded role. He is seeing extended time on the power play here after barely playing on the power play at all in Boston. In 321 career games prior to this season, Boychuk scored only one power play goal and had five points when his team had the extra attacker. He has already scored five points on the power play in the first four games of this season.
One thing the Islanders like about Boychuk is his hard and heavy shot from the point which helped earn him one of his nicknames, "Johnny Rocket." That helps a great deal on the power play. "It's the first time in a while that we've had a guy at the top of the power play who has a shot like he has and they [opponents] have to respect that," Capuano said. "If they don't, it will open up some plays down low for us so, he's definitely a weapon and he can present some different angles as far as how our power play presents itself."
Boychuk likes what he sees so far on the power play. "We have good players," he said. "They seem to find me and all I have to do is hit the net so it's pretty simple. There's the recipe, don't tell anybody."
He also tends to deflect credit away from himself. He praises forward Brock Nelson for getting in front ot the net to screen and disrupt opposing goalies. "Sometimes we get lucky and the puck goes off Brock because he's in front of the net," Boychuk said. "If he's [Nelson] not in front of the net, the goalie is probably going to see the puck and stop it. So I mean, we're doing good things on the power play."
As a veteran player, Boychuk is happy with the team's quick start, but he's also able to keep things in perspective, something that will clearly help the younger players on this team from getting overconfident.
"It's great to get off to a good start but we have to maintain it. You could go 10-0 but if you go 0-20 the next 20 games, those 10 wins don't mean nothing," Boychuk said. "You have to keep it up and you have to continue throughout the year and be consistent, not just win games."
So far, things are going well on Long Island for "Johnny Rocket" and he's been a key addition for the team. The Islanders and Boychuk both hope it is the start of more good things to come.