There is a lot of talk among New York Islanders fans about the recent news that defenseman Travis Hamonic requested a trade before the start of the season. The reasons were personal and family related. The Manitoba native wants to be closer to his family during what is obviously a difficult time.
When fans see players on the ice or on television, it's easy to forget that they have personal lives and families. By playing in New York, Hamonic is living in another country more than 1,600 miles away from home.
Hamonic spoke to reporters Thursday for the first time since Elliotte Friedman and Darren Dreger broke the story on Wednesday. Listening to the emotion in his voice, it was easy to tell how difficult this issue is for him. He did not discuss particulars, but he did not have to. The thing is, as much fans enjoy hockey and root for their favorite teams and players, Hamonic's situation reminds us again that hockey is still just a game and there are more important things in life that should receive a higher priority.
"It was difficult but they were certainly very understanding of my personal situation as I hope anyone would be in this situation," Hamonic said when asked about addressing the issue with his teammates before practice Thursday. "Just explaining what's going on, I think it was one of the most difficult conversations I've had in my life. It certainly wasn't easy but they've been there for me for many years now in different situations in my life and my career and they've certainly been there for this one."
Hockey can do that. Playing a team sport often creates a special bond between teammates and it certainly has in this case. "I think you're always shocked with something like this but at the same time it's a unique situation and there's more than just the game at times for all of us, Isles captain John Tavares said. "We'll support him and he's going to play hard and just focus on keeping things going.
Hamonic is a reliable, physical defenseman who the Islanders count on to shut down the opposing team's biggest scoring threats. His absence was definitely felt by the team in last year's heartbreaking seven-game playoff series loss against the Washington Capitals. At 25, he's in the prime of his career and he has always been a reliable teammate. He's even developed into a leader in the locker room after five-plus seasons with the Islanders.
Despite the personal challenges, Hamonic has not allowed his personal situation hurt his on-ice performance. "He's a very strong individual mentally," Tavares said. "Even before this he's always been a leader and handled things very well…He's been playing well and we've been counting on him and we need him going forward."
Playing hockey actually has helped Hamonic take his mind off this difficult situation. "It's a big part of my life and who I am so I think when the puck drops and I'm out here at practice, it's somewhere where I don't really think about many things in my life at all," Hamonic explained.
Hamonic's request has put the Islanders organization in a difficult situation. In addition to his skill set on the ice and his leadership in the locker room, Hamonic has a long-term contract (through the end of the 2019-20 season) with a reasonable cap hit. It will be difficult for the Islanders to get full value back for their young defenseman. They have indicated they will try to accommodate his wishes, but they will also try to get good value in return in any deal they make.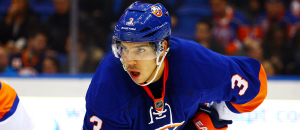 "If you think Garth [Snow] is just going to turn around and trade a guy, it's not happening," Isles head coach Jack Capuano said. "It's going to happen if the deal is right. Travis has got a great contract, he's a top-pairing defenseman, he means the world to me and this hockey club. I've been around him a long time and if the right deal comes along, it comes along."
Hamonic understands that it may take time for a trade to happen. "I don't want to handcuff the team by any means, Hamonic said. "Garth has a job to do and I completely understand that. I respect this process. I think I respect Garth tremendously not just as a GM but as a person as well and maybe in this business people overlook some of those things. He's going to do what he feels is best for the organization and I've said from the start that I signed here and I love it here. I really enjoy my teammates…I'm ready to play here and battle and go to war every night and hasn't been an issue for me so far this season. I continue to try to work hard and to win."
Off the ice, Hamonic is one of the good guys in the game. His father died of a heart attack when he was just 10. Since 2012, he has hosted children who have lost a parent at Islanders home games. He reaches out to those kids and reminds them that they are not going through their grief alone. Hamonic took his own struggles and pain and the platform that being a professional athlete provides and  helped turn it into something positive for other people in need. He gives back and makes a difference.
After games, reporters often seek out Hamonic for honest questions to difficult questions. His answer may be colorful and he may let you know if he doesn't like what you've written about him, but he will look you in the eye and tell you how he feels about the game or any situation. On the ice or in the locker room, Hamonic pulls no punches.
This is a difficult situation for all concerned. Hopefully a trade can be worked out soon that allows Hamonic to be closer to his family in their time of need and gives the team a fair value in return.
But whatever the result, this situation reminded us that our hockey heroes are human after all, and that there are some things more important than winning or losing a hockey game, even when that's the way you earn your living. Travis Hamonic never really forgot that. Let's hope that the fans don't forget, either.