The New York Islanders announced that starting goalie Jaroslav Halak will be out of action for the next 6-8 weeks due to a lower-body injury suffered in Tuesday night's victory over the Pittsburgh Penguins. That means that the team will be without their starting netminder for the rest of the regular season and probably for the start of the playoffs as well.
Halak has been a solid contributor for the Islanders since he joined the team prior to the 2014-15 campaign. His outstanding play early last season was a big reason the Isles got off to a strong start and qualified for the playoffs with 101 points.
This year, Halak has battled injuries, but has still been a consistent goaltender when available. In 36 games this season, the 30-year-old Slovakian has a record of 18-13-1 to go along with a 2.30 GAA and a .919 save percentage. He recorded his 200th career NHL win against Pittsburgh earlier this week.
With Halak unavailable, the pressure now falls on backup Thomas Greiss. Greiss has played consistently well this season, surprising many experts who were not sure what the 30-year-old native of Germany could do with a larger role. Prior to this season, Greiss had never appeared in more than 25 games in an NHL season, in part because he had always played behind goalies that preferred a heavy workload.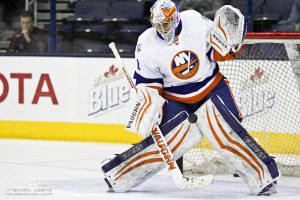 This year, Greiss has put up career-best numbers in games played (30), wins (18), GAA (2.23) and save percentage (.929). In fact, his numbers have been better than Halak's over the course of the season and Greiss has been more consistent than Halak as well.
Greiss served as the starter at the beginning of this season when Halak was injured and quickly proved himself equal to the task. But there is a big difference between filling in as the starter in October and being counted on to lead a team to (and through) the playoffs in March and April.
One thing Greiss lacks is playoff experience. Halak has appeared in 30 career playoff games and helped the Canadiens reach the Eastern Conference Final with a strong performance back in 2010. Last year, Halak played well in the Isles seven-game playoff loss to the Capitals. He kept his team in the series despite the absence of three key defensemen and gave his injury-riddled club a chance to win.
Greiss has never started an NHL playoff game. He appeared in one contest with San Jose back in 2010, playing 41 minutes and allowing two goals on 28 shots.
If Halak misses six weeks (which is the lower estimate), he would not return to the lineup until approximately April 20th, 10 days after the end of the regular season and midway through the opening round of the postseason. If Halak misses eight weeks, that would put his return midway through the second round of playoffs if the Islanders get that far.
The Islanders do have confidence in Greiss. In fact, his play since his arrival has given his teammates good reason to have faith in him.
"We're really confident in all three of our guys," defenseman Travis Hamonic said after the win over the Penguins Tuesday night. "I don't really skip a beat seeing Greiss go in there cold. I trust him a lot out there."
Still, there is a difference between being a steady backup for 30-35 games a season and being counted on game in and game out to lead a team to the playoffs. This is a golden opportunity for Greiss to show he is capable of holding down a starting job. If he excels, his future will be a bright one whether it's with the Islanders or as trade bait over the summer.
There is no reason for Garth Snow to call up or acquire another goalie since the Isles were already carrying three netminders on their roster before Halak got hurt. Jean-Francois Berube will now become the primary backup and spell Greiss when necessary. This represents a great opportunity for the 24-year-old rookie to prove he is ready to play in the NHL.
The adage in sports is always "next man up" when injuries strike a team. The Islanders were now be relying on the duo of Greiss and Berube to lead them to and possibly through the playoffs.
Isles head coach Jack Capuano believes his team can overcome the loss of their starting goalie. "Berube's played great for us and Thomas [Greiss] has played extremely well, too," Capuano said Tuesday night. "We've got some quality goalies here and if we run into a situation, we've got confidence in the guys that we have."
The Islanders franchise has not won a playoff series since 1993 and this season won't be considered a success unless they at least end that 23-year drought. The team will now need Greiss to step up and make that happen. The test is just beginning.