So what about that preseason parade to the box? You remember that, right? When the already unnecessarily long preseason was further extended by newfound emphasis on face-off violations and slashing minors. It resulted in lots of power plays and made many (present company included) wonder if this was about to become the "Power Play League." Now 160 games into the season and we have some sense of that direction. Hint: it's not really all that different.
Prior to Tuesday, 670 minor penalties were assessed–just 16 more than this point last season, a season without the 31st franchise, the Golden Knights. Of those, 198 were for slashing and among the top 10 teams in minors taken, nine saw the slash represent a quarter of their infractions. Meanwhile, the three least penalized teams had no less than three slashing calls apiece.
What has seemed to curb are the number of holding, hooking, interference and tripping calls. The Flames and Red Wings were the only teams to have more than six of any of those penalties (both a little high on hooking minors). Power Play League? Not likely. But it is again proving to be a cyclical league and right now, its emphasis is on the slash.
Ovi, Oshie and Opulence
If one team might have been chomping at the bit over the idea of more power plays it would probably be the Capitals. They're regularly atop the league in man-advantage percentage and with the way Alex Ovechkin is starting his season (9 goals in 7 games), the goals will be coming in bunches, maybe even pallets.
Washington's power play went 3-for-5 in a 5-2 win over the Devils on Friday. Ovechkin tallied one PPG in the second and teammates T.J. Oshie and Nicklas Backstrom each added one of their own in the third. Oshie, who signed an eight-year contract extension with the Capitals in June, is off to his own hot start (8 points in 7 games) and says he's building more comfort with the group.
"Our power play is rolling pretty good right now," Oshie said. "There's been some outstanding passing from (Backstrom) and a couple other guys. There's a couple PP goals in there where we're just finding the right spot and the puck finds the net. Each year I'm trying to build and I think I'm getting more and more comfortable with the guys in this room."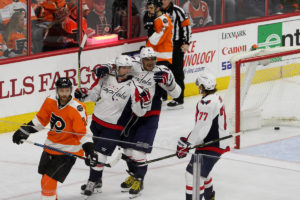 In the two contests that followed, an 8-2 loss at Philadelphia and a 2-0 defeat at home versus Toronto, the power play went 0-for-5. Like anything else in the sport, it's cyclical. The Caps are 3-3-1 and nobody is panicking over the winners of the last two President Trophies. Save that for the postseason. With the Nationals ousted by the Cubs in a five-game NLDS, hockey is their best shot at a championship. Again.
Are the Oilers For Real (in a bad way this time)
No team is more surprised at where they're at than Edmonton. That's in part due to bad teams never internally doubting that they'll actually be good. And standings don't mean much five–six games into the season, but you have to hit scroll on my iPhone (and I've got the 7Plus!) to find the Oilers–1-4-0 with just two points. They're 30th in the league (that's not last anymore), ahead of only the Coyotes, who have one point. After an opening night shutout over the Flames where the team–rather, Connor McDavid scored all three goals, they looked to be back to form after a return to the playoffs and a seven-game elimination in the semifinals versus Anaheim.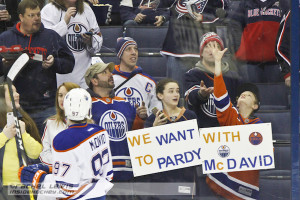 Since then, they've dropped four-straight and have been outscored 19-8. Their power play is a modest 3-for-17 while their PK is last by a country mile–68.2. Leon Draisaitl, who was awarded an eight-year, $68 million extension prior to the start of the season, was placed on injured reserve on Monday. It's a loss, but not all the team can blame. Cam Talbot, a Vezina candidate a season ago, has to be better. He's 1-3-0 to start the season and even with a shutout included, he's got a GAA that is just under 4.00.
Again, no one should panic, but the trend can't continue into the second half of the month.
Vegas' Quick Start
The Golden Knights have done this sports writer a service. In that they've stayed good through over a week. That's allowed me to watch, follow and not feel bad that I hadn't given them some praise for their 5-1-0 start. The best start by a team in its inaugural season in 100 years.
Admittedly, no one thought they'd start this way, just like no one truly believes it's sustainable. Malcolm Subban getting a chance to start for the injured Marc-Andre Fleury is cool. James Neal on pace for 100 goals is neat, too. And seeing fans pack the T-Mobile Arena is comforting, too. Like the team the question will be about sustainability. But even if the start isn't turning heads around the usual circle of hockey fans, it's hard to ignore in the local market.
See you made it through a Vegas note without a gambling pun. Jackpot! Oops.