And away we go. The 2018-19 season is officially underway. It's particularly exciting for me. Sure, the hockey is great, but we also get to end the insufferable before-the-season Predictions. Whether it's standings or "breakout star" or, more morbid stuff, like "first coach fired." Predictions can be a much oversaturated topic in the offseason and reaches its peak in the days leading up to the start of it all. Award predictions have been particularly popular as many sites seemed to do prior to Wednesday. Among the culprits: NESN, ESPN, Sports Illustrated, among others.
Now I get it, you want to know what people are saying about your team. Can they bring home hardware? Ideally, can they bring home the Stanley Cup? But few things matter to me less in October than players chances at winning the Selke or Norris. But, I try to be a man of the people–so if it's good prediction content you want, then you're in luck. I reviewed all 31 teams and its personel to determine just how they might find themselves bringing home some hardware.
Anaheim Ducks
Recipient/Award: Ryan Kesler, Masterton 
I was somewhat tempted to consider John Gibson as a Vezina candidate after he sported a 31-win campaign and .926 save percentage behind a defense that wasn't completely healthy and traded one of its top blueliner's to New Jersey in early December. But Kesler, who was limited to 48 games last season (regular season + playoffs), has a chance to write a nice Masterton story. After the season concluded, some suggested the 34-year-old could be sidelined for the entirity of the upcoming year, a precursor to retirement after 15 seasons. Kesler, who underwent hip surgery at the end of the 2016-2017 season, has spent the offseason trying to rehab. As of Sunday, he's still not cleared to play, but has been practicing with the Ducks. If he can get back in the lineup for any extended period of time, he's a great comeback story.
Arizona Coyotes
Recipient/Award: Antti Raanta, Vezina
From Feb. 1 to Apr. 8–the final day of the regular season, Raanta boasted the best save percentage (.945) and lowest goals-against-average (1.80) among goaltenders with 19 or appearances. In fact, Raanta's final two months of the regular season saw him sport a 13-4-1 record. It helped earn the keeper a three-year contract extension, but did little for the Coyotes, who were long out of it by February–finishing with the worst record in the Western Conference and third-worst in the NHL. But, many have predicted the Desert Dogs to figure things out and return to the postseason after a six-year absence. If they do, there's a good chance that Raanta's play will be a factor. And as far as Vezina's have gone lately–he's in nice company after his countryman, Pekka Rinne took home the prize in June.
Boston Bruins
Recipient/Award: Patrice Bergeron, Selke 
A Bruins award-getter? Of course it's Patrice Bergeron and the Selke. Kings' center, Anze Kopitar, has won two of the last three Selke's including last year's, but (a healthy) Bergeron is a pretty easy pick for the NHL's defensive-forward award. But as you'll see later in this piece, there's some real young competition cropping up to challenge the four-time recipient.
Buffalo Sabres
Recipient/Award: Rasmus Dahlin, Calder
No, there was no real fun rhyme for Rasmus Dahlin, the consensus #1 pick at the 2018 Entry Draft (i.e. 2010: "Fall for Hall"). The 18-year-old blueliner has all the makings to be a franchise defenseman. He's already drawn comparisons to fellow Swede's Victor Hedman and Erik Karlsson. Neither of them won a Calder trophy as the league's rookie of the year, but Dahlin enters the season as the heavy favorite.
Calgary Flames
Recipient/Award: Bill Peters, Jack Adams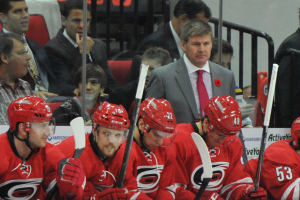 When Bill Peters decided to opt out of his contract with the Hurricanes, Calgary quickly swooped in to hire the native son. While Carolina never qualified for the postseason under Peters, they did some things well including shot supression. Last season, they allowed just 28.9 shots-per-game. The Flames boast talents like Johnny Gaudreau, Sean Monahan and newly-signed, James Neal–strong upgrades from what he had in Raleigh. He's also bringing in some familiar faces in Noah Hanifin and Elias Lindholm. Calgary seems poised to improve upon its 84-point outing from last year and Peters' fine-tuning shouldn't hurt.
Carolina Hurricanes
Recipient/Award: Warren Foegele, Calder
Raise your hand if you know much about Warren Foegele?…Unless you're a Caniac, you're probably lying. Foegele played in two games last season with the Hurricanes netting a pair of goals. The 22-year-old forward is a speedy winger with some goal scoring ability. He won a spot in Carolina's camp and on an offense that lost Jeff Skinner, he'll have a chance to play in the top-six. He's one of the more creative award predictions you'll find on this list.
Chicago Blackhawks
Recipient/Award: Patrick Kane, Maurice "Rocket" Richard
Crazy but true–Patrick Kane turns 30 this season. But he doesn't seem to be slowing down. While his 2015-16 season, which produced an Art Ross (106 points) and a Hart Trophy, he trailed Ovechkin by four goals for the Maurice Richard title. Kane failed to reach 30 goals last season and suffered a 13-point decline–it was all part of a struggling year for Chicago across the board. If they are to return to postseason hockey, then Kane will have to be at his best. His best has proven to be award-winning caliber.
Colorado Avalanche
Recipient/Award: Nathan MacKinnon, Hart
MacKinnon has arrived as a star player in the NHL. While he's enjoyed previous success since being drafted first overall in 2013, last year's campaign saw him take a massive leap forward. Though he missed eight games, he still managed 39 goals and 97 points. Among the top-10 NHL point-getter's, nobody recorded more shots on goal or recorded more game-winning goals (12). He was the driving force behind the Avalanche making the postseason following a dismal 2016-17 campaign that saw the club accumulate 56 losses and just 48 points. Colorado fell in a six-game first round series to the Predators. Despite his efforts, MacKinnon finished second behind Taylor Hall in the Hart Trophy voting. Could the 2018-19 season and the Avs battling for a postseason spot in one of the toughest divisions, put MacKinnon back on display? He put the league on notice last year. Watch out.
Columbus Blue Jackets
Recipient/Award: Sergei Bobrovsky, Vezina
This one was particularly challenging? Can Bobrovsky rebound from that first round playoff series? The series that saw the Blue Jackets win the opening two games on the road, but failed to win another game–falling to the eventual-Cup champion, Capitals. It also saw Bobrovsky surrender three or more goals in every game. He's got a nice D-corps in front of him (especially once Seth Jones returns) and two prior Vezina's.
Dallas Stars
Recipient/Award: Jim Montgomery, Jack Adams
Montgomery assumes the role of bench boss for a Dallas team that includes an explosive offense featuring Jamie Benn, Alex Radulov and newly-signed, Tyler Seguin. Valeri Nichushkin is back after a two-year stint in Russia. And, John Klingberg was second among defensemen in points and assists-per-game. Ben Bishop proved to be a more reliable answer in net than the previous tandem of Kari Lehtonen and Antti Niemi. Radek Faksa is turning into a solid two-way player. Things are looking up for the Stars, who have missed the postseason three of the last four years. If they can maximize on their offense under the tutelage of the former coach at University of Denver, then he can
Detroit Red Wings
Recipient/Award: Filip Zadina, Calder
To clarify, Zadina, the Red Wings player who was selected sixth overall 6th overall at June's entry draft, will be starting the season with the American Hockey League's Grand Rapids Griffins. And yet, the forward who fell to Detroit in the draft could very well be an impact player next season. The Czech-born winger scored 82 points in 57 games last season with Halifax, his first season in North America. He's close friends with Nico Hischier and is hoping to follow a similar career trajectory this season when (and that's when not if) he arrives to the NHL.
Edmonton Oilers
Recipient/Award: Connor McDavid, Art Ross
With back-to-back 100-point seasons, McDavid has a pair of Art Ross trophies already. He's also won a Ted Lindsay and Hart and was embroiled in a league-wide debate regarding last season's Hart as well (he finished fifth in voting). Completing the three-peat here is a safe bet provided he's healthy. The Hart is in comfortable reach, too–especially if the Oilers can return to the postseason.
Florida Panthers
Recipient/Award: Aleksander Barkov, Selke
Remember when I mentioned the new crop of forwards that will challenge Bergeron for the Selke? Here's one of them–and perhaps, the most viable candidate. The new captain of the Panthers received 619 votes for the trophy, awarded annually for the league's best two-way forward, last season. Among the votes he captured included 11 for first place and 34 for second. The 23-year-old finished inside the top-five in takeaway's, faceooff win's and led the league in shorthanded goals (5). He should emerge as a mainstay in the Selke conversation, starting this season.
Los Angeles Kings
Recipient/Award: Drew Doughty, Norris
Sometimes you have to go with the obvious choice. In the case of L.A., Doughty offers the Kings the best option to represent in Vegas at June's Awards. He's won the Norris once before (2015-16) and is consistently one of the best two-way defensemen in the game. Last season's stat line included a career-high in points (60) and a league-leading 26.5 average ice time. He committed to an eight-year extension on July 1 to keep him in the Black and White for years to come. He's got the pedigree to remain a Norris candidate for years to come too.
Minnesota Wild
Recipient/Award: Zach Parise, Masterton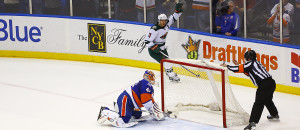 I'm pretty skeptical about Minnesota this season. They're one of the oldest teams in the league (28.4) with both of their top two center's north of 33. Meanwhile, they're in a tough Central division that got even harder this offseason when the Blues added several pieces via trade and free agency. The Wild had a relatively quiet summer, apart from the dismisal of nine-year GM, Chuck Fletcher. Fletcher of course being the GM that signed both Ryan Suter and Zach Parise to matching 13-year, $98 million contracts in the 2012 offseason. Though Suter has been healthy for most of his time in St. Paul, Parise has had his share of injuries since then. Last season, he was forced to miss a bulk of the season suffering from a slew of issues including back surgery, fractured sternum and broken foot. When he's healthy, he's a good option for the Wild up front, as was evidenced by his 15 goals in 21 games (regular season + playoffs) to finish the year. A healthy Parise could again return to 50-point territory. That's a decent Masterton script for a guy who had some troubles last season.
Montreal Canadiens
Recipient/Award: Kasperi Kotkaniemi, Calder
Kotkaniemi has made the opening night roster for the Canadiens. The third overall pick from June's Entry Draft is a big, talented center. He'll get a chance to center Montreal's second line alongside Jonathan Drouin and Joel Armia. He's enjoyed success playing outside his age group in the Finnish league. Now, he'll be tasked with trying to be an impact player (a center no less) in a major market with some huge holes to fill down the middle. If he finds success, he'll get plenty of Calder consideration, especially as one of the league's youngest current players.
Nashville Predators
Recipient/Award: Team, The Stanley Cup
The Predators, who won the President's Trophy last season are back. And like their once-rejected franchise name, they should be back with a 'Fury.' Though they enjoyed a franchise-best 53-win, 117-point season, they were upset in the second round by the Winnipeg Jets. Pekka Rinne and Juuse Saros might very well be the best goalie tandem in the game right now. And, they're behind a defense that includes Ryan Ellis, Mattias Ekholm, Roman Josi, and P.K. Subban. Up front, Filip Forsberg and Viktor Arvidsson are lethal scoring threats being centered by Ryan Johansen and Kyle Turris. It's hard to really find a glaring area of concern for the club when they're completely healthy. As it stands right now, the Predators are absolutely a Cup contender and easily the favorite for the Western Conference.
New Jersey Devils
Recipient/Award: Ray Shero, GM of the Year
Since taking over the Devils in 2015, Shero has acquired Taylor Hall, Marcus Johansson, Kyle Palmieri and Sammi Vatanen. All four have become major parts of New Jersey's resurgence that included a postseason appearance last year. Hall is coming off a year where he reached career-high's in all offensive categories and won the Hart Trophy. Presently, the Devils have the second-most cap space in the league, according to Cap Friendly. A good GM meets considerable cap space? The results could be intriguing and award-worthy.
New York Islanders
Recipient/Award: Mat Barzal, Lady Byng
When you start predicting Lady Byng award winners, you know you've gone too far. But, the award for most gentlemanly player, could be something attainable for Barzal, who already has hardware as last season's rookie of the year. His 85-point season included just 30 penalty minutes. His junior numbers also suggest he's never been a big-time PIM-getter, which is impressive given the amount of ice time he saw and will see next season. He's the new face of the franchise and could go back-to-back year's with awards.
New York Rangers
Recipient/Award: Henrik Lundqvist, Vezina
The Rangers figure to struggle next season as there appears to be complete buy-in on a rebuild for the first time in what seems like ever. That equates to younger, inexperienced players. They're in the same division as the Penguins and Capitals, as well as the up-and-coming Devils and Flyers. The King, now 36, will try to rebound from his first sub-30 win season in his career (not counting the 2012-13 shortened season). He's their backbone and he's willed them to victory before. Does he have it in him again? He'll have to put on one of his best seasons of his career to do so, one would think.
Ottawa Senators
Recipient/Award: Matt Duchene, Lady Byng
It's hard to imagine Ottawa boasts any award in June. Duchene nearly scored 60 points last season while taking nine minor penalties. He's also a pretty genuine human being that everyone would be happy to see win something next year.
[NOTE: I didn't at all consider Brady Tkachuk, the fourth overall pick from the Draft, as a Calder candidate. And I'm not sure how it slipped through the cracks. At any rate, he's a talented, power forward-like, who will definitely see a ton of ice time. At 19, he's one of the older 2018 drafted players to turn pro right away.]
Philadelphia Flyers
Recipient/Award: Ivan Provorov, Norris
And we come to the Flyers, who will take home the NHL's first-ever Mascot of the Year honors…the "Badaboum Award," named for the mascot from the now-relocated Quebec Nordiques. Gritty won with a unanimous vote from members of the PHWA.
…Just kidding. In reviewing the Flyers, you can actually go a number of ways: 1) You could say Claude Giroux, who scored a career-high 102 points last season is worthy of Hart consideration (he did receive 10 first place votes last season). 2) Sean Couturier has all the makings to be a future Selke winner as soon as this season. Instead, I'll take Provorov, the 21-year-old defenseman, who tied for first in goals by defensemen with Victor Hedman and Dougie Hamilton. Away from the puck, the two-season veteran started close to 55 percent of his shifts in his own zone to success while managing to be a good possession player. He's by no means a favorite for this award, but he's on the verge of becoming an elite puck-moving blueliner.
Pittsburgh Penguins
Recipient/Award: Mike Sullivan, Jack Adams
After winning back-to-back in 2016 and 2017, the Penguins were denied last season at the hands of the Capitals, en route to their first Stanley Cup. Though they return with much of the same cast that won those titles, they're another year older. Using Connor Sheary, a 26-year-old winger, to help offload Matt Hunwick and subsequently sign Jack Johnson and Matt Cullen with the cap space was an interesting way to forge ahead. Rest assure, Sidney Crosby, Evgeni Malkin, Phil Kessel, a healthy Kris Letang and Matt Murray all give Pittsburgh a shot at contending yet again. But it might take a heck of a motivation job by Sullivan to return the team back to the Finals. Especially with some of the new contenders emerging in the Eastern Conference.
San Jose Sharks
Recipient/Award: Doug Wilson, GM of the Year
Whenever you can add a player that is arguably the best currently at their position, you deserve some praise. And Wilson, who acquired Erik Karlsson from Ottawa just days before training camp deserves plenty. Not only did the San Jose GM acquire a two-time Norris winner this offseason, he also managed to flip Mike Hoffman for a trio of picks. And after acquiring Evander Kane last season, signed him to a seven-year extension. Wilson's been quietly taking care of business for a while now–locking up his core to relatively cap-happy deals including Martin Jones, Brent Burns, Marc-Edouard Vlasic and Logan Couture. His Sharks made a run to the Final in 2016 and certainly have the makings of a team that could challenge again this year.
St. Louis Blues
Recipient/Award: Team, Clarence S. Campbell Bowl
You don't win the Stanley Cup on July 1. Or, any other date in the offseason. So fans will have to wait and see how Doug Armstrong's busy summer for the Blues translates on the ice. It was a summer that included the signing of free agents like, Tyler Bozak, David Perron and Patrick Maroon. They also pulled off the blockbuster deal with Buffalo to acquire center, Ryan O'Reilly. St. Louis, already with Vladimir Tarasenko, Brayden Schenn, Jaden Schwartz and Alex Pietrangelo in their prime, should be in a win-now mode. They already were last season, but after a 20-8-2 start putting them atop the Western Conference standings, they struggled to keep that torrid pace, becomming sellers at the trade deadline. This year is one with high expectations and winning the West in pursuit of the franchise's first Stanley Cup looks attainable.
Tampa Bay Lightning
Recipient/Award: Team, The President's Trophy & Stanley Cup
The Lightning deserve some credit. Not only did they try to get John Tavares in unrestricted free agency, they reportedly tried to complete a deal for Erik Karlsson on numerous occasions. Though they were unable to do either of those things, Tampa remains a favorite. For what?…Well just about everything. The 113-point team from last season boasted an excellent offense led by Nikita Kucherov's 100-point campaign and joined by a healthy Steven Stamkos. The team also enjoyed a 34-goal season by second-year forward, Bryaden Point. Yanni Gourde, a forward who up until last season was a mainstay in the AHL, exploded onto the scene in Tampa–netting 25 goals and 64 points. Meanwhile, Victor Hedman  took home Norris honors for his season. All 23-year-old goalie, Andrei Vasilevskiy did was post a career-best 44 wins during his first stint as a bonafide starting netminder. Tampa's season ultimately ended in the Eastern Conference Final with a pair of shutout losses to the Capitals. Nonetheless, this team, which is virtually unchanged from last year, is again a surefire bet for the top regular season and the ultimate prize.
Toronto Maple Leafs
Recipient/Award: Team, The Stanley Cup
Yep. I did it. I hopped on the 'Hype Train' that is the Toronto Maple Leafs. Auston Matthews, Mitch Marner and John Tavares headline what should be one of the most potent offensive teams in the NHL. Matthews and Marner are in the final seasons of their entry-level deals. In other words: the Leafs can still add to its depth with rentals for that big postseason run. They already have Patrick Marleau, a 39-year-old, but still effective. The blue line with the likes of Morgan Rielly and Jake Gardiner is mobile. And, Frederik Andersen, who enjoyed a quality season in goal last year, is a stable force in net. All of this gives considerable reason to believe Mike Babcock's team can legitimately contend. While the club is still awaiting RFA, William Nylander to join the team–there's enough talent to label this team as "win-now."
Vancouver Canucks
Recipient/Award: Elias Pettersson, Calder
Might the Canucks boast yet another Calder Trophy finalist? Last season, Brock Boeser finished second behind Mathew Barzal. Pettersson, Vancouver's 2017 first round pick, will be on the Canuck's opening night roster. As is the case with some of the others picked as Calder hopefuls in 2018-19, he's got experience playing pro hockey overseas–parts of three seasons in Sweden. He's coming off a tremendous season in the Elite League, scoring 56 points in 44 games. Head coach, Travis Green will give him the opportunity to be a big contributor right away in the top-six.
Vegas Golden Knights
Recipient/Award: Team, The Stanley Cup
Vegas magical inaugural season shattered every kind of record for expansion teams…in any sport. The 51-win, 109-point campaign was followed by a postseason run that took them all the way to Game Six of the Stanley Cup Final. While they did lose James Neal and David Perron to free agency, they brought in Paul Stastny and Max Pacioretty. They also re-upped Marc-Andre Fleury, following a superb season by the veteran goalie. On paper, they didn't get worse and are bringing back a large contingency of last year's roster. A long shot? Sure. But, hey, it's Vegas.
Washington Capitals
Recipient/Award: Alex Ovechkin, Maurice "Rocket"
After (finally) breaking out of the second round and subsequently the third, Ovechkin and the Capitals captured the once impossible feat–winning the Stanley Cup. The 33-year-old Russian won the Conn Smythe as postseason MVP. It was part of a plentiful hardware haul, also collecting the Maurice Rocket after a 49-goal season. The 'Great Eight' is looking to encapsulate that nickname with his eighth career scoring title. Since 2013, he's tallied 51, 53, 50, 33 and 49 goals, respectively.
Winnipeg Jets
Recipient/Award: Patrik Laine, Maurice "Rocket"
At 20, Laine grew up watching the career of the just mentioned, Alex Ovechkin. He's called the Russian sniper his "childhood hero" and has relished in the opportunity to face him. This season though, the Winnipeg winger could challenge his idol for the league scoring title. He came close last season, finishing just three the eventual Rocket Richard recipient. Like Ovechkin, he's already one of the best scorers in the league before his 21st birthday. He'll be a serious contender for this award for the forseeable future, but can more than hold his own against the league's best scoring threats.