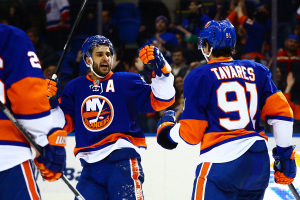 Anybody who says a game that features no goals in 65 minutes of hockey obviously didn't watch Monday night's Islanders-Flyers game. The Islanders got goals from Frans Nielsen and John Tavares in the shootout and 21 saves by Jaroslav Halak to earn a 1-0 win over the visiting Flyers. Steve Mason stopped 46 shots to earn a shutout in a losing cause.
This was actually a wide-open game with scoring chances for both sides although the Islanders clearly more quality opportunities to put the puck in the net.
The win improved the Islanders record to 15-6-0 on the season and was their fifth straight win. The Isles have also won nine of their last 10 contests.
The Islanders dominated large portions of this game, outshooting the Flyers in all three periods and overtime, but Mason allowed Philadelphia to steal a point.
The Islanders were quick to acknowledge Mason's fine performance in this game. "We had almost 50 shots," Tavares said. "We just couldn't get one by Mason. Give him credit, he played very well."
Still, the Islanders refused to get frustrated and kept attacking. "Sometimes, you might shrug your shoulders and get a little bit upset," admitted forward Brock Nelson. "At the same time, you can't stop taking shots, getting them on net and guys going to the net for second and third chances. We thought just, 'keep throwing them on net…something's got to eventually go in' but unfortunately it didn't happen but we were fortunate to win it in the shootout."
The Islanders had to be pleased that they held the usually explosive Flyers without a goal, especially since they were playing without two of their regular defensemen. Both Calvin de Haan and Thomas Hickey were late scratches due to illness, but Brian Strait and Matt Donovan stepped in and helped the Islanders earn a shutout.
"They came in and stepped up," Nelson said. "It's unfortunate to have those guys get sick, but it speaks to the depth that we have with Donovan and Strait, we know they can play. They were ready to go tonight and it was good to see them get back in there and shut them down and limit their chances and get the win."
It was the first game of the season for Donovan who was a healthy scratch for the first 20 contests. He played 16:15 for the Isles while Strait skated for 19:03.
On those rare occasions when the defense did falter, Halak was there to keep the Flyers off the board. "We did a lot of good things tonight," Halak said. "We kept playing our way but Mason was really good for them."
After either team scored in 65 minutes, the game went to a shootout. Neither Kyle Okposo nor Scott Laughton scored in round 1 but Nielsen's quick forehand wrist shot beat Mason glove side and gave the Islanders a 1-0 edge. Then, Halak came up big against Flyers' captain Claude Giroux who made a great fake but was stopped by the quick glove of the Islander goalie.
"He made a good move," Halak admitted. "Fortunately for me, he didn't lift it up, he tried to slide it along the ice and I was able to get my arm there and it hit my glove."
Tavares then clinched the win by waiting for Mason to commit before backhanding the puck into the net.
The Islanders' locker room grows more confident with each passing win. "There's a different attitude, a different makeup, a little different swagger to our team," head coach Jack Capuano said after the game. "We've got great leadership and accountability amongst the guys and no matter what the score is or what the adversity we have to face throughout the game, we're just going to continue to play the way we know how to play."
The Islanders return to action Wednesday night when they host the Washington Capitals at the Nassau Coliseum at 7 pm.
NOTES:
Attendance was 12,409.
Fans booed when the scoreboard acknowledged Flyers' defenseman Andrew MacDonald who was traded to Philadelphia at the trade deadline last March. MacDonald spent more than five seasons with the Islanders.
The Islanders are now 5-0 in shootouts this season.
Cory Conacher was a healthy scratch for the Islanders.