The last time the University of North Dakota hockey team played the University of Huntsville Chargers, associate head coach Dane Jackson was a sophomore (October 13-14, 1989). None of the players on the Fighting Hawks or Chargers hockey teams had been born yet.
Coming into this weekend's non-conference match up, there's not a lot of a history between the two teams. Tonight, we entered unchartered waters.
Early on, both teams displayed a bit of rust and there was very little action to pique the interest of the crowd. Excitement or not, history was about to be made.  The storyline of this game was the play of the two goaltenders and not much else.
Chargers junior goalie Carmine Guerriero was nothing short of amazing. Guerriero stopped 38-of-39 shots and made many tough saves to keep UND off of the score sheet when they were pressing for a goal in the second  and third periods.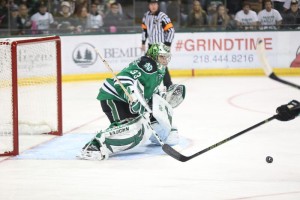 On the other end of the ice, Fighting Hawks sophomore goalie Cam Johnson entered Friday's game smoking hot. With the 1-0 win, Johnson extended his shutout streak to four-plus games.
Entering Friday's game, Johnson needed 31:04 to break 62-year-old record of former UND goalie Gerald "Spike" Schultz's for the longest shutout streak. Tonight, that record would; fall Johnson now holds the UND record with 278.38. That's the second longest record in NCAA history.
When Johnson finally eclipsed Schultz's record, some of the fans in the arena cheered Johnson on. After the game, Johnson asked if he knew he'd broken the record.
"There was a group of fans behind me that were cheering my name," Johnson said. "There were a couple of people saying stuff through the glass – congratulating me. So, I know when the record was set.
"I tried not to focus on (record) it too much. If I would've worried about that… then obviously – my mind would've been wandering. It was definitely in the back of my head."
During his record-breaking streak, Johnson has stopped 133-of-133 shots he's faced and hasn't given up a goal since December 04, 2015, when UND beat Denver 5-1. With the win tonight, Johnson improves to (8-0-1, 1.08 GAA and .958 save percentage).
Again, head coach Brad Berry was complimentary of his goalies play.
"He's been a wall for us," coach Berry said. "Down the stretch, in the first half, he's continued that. I go back to the preparation side of it."
The only goal of the game came at the 09:35 mark of the second period when Bryn Chyzyk broke a 10-game goalless streak.
Chyzyk was definitely relieved to put one in the twine, "It's been a while," he said. "I was starting to get a little frustrated there at the end of the first half. It was a good mental break for me to go home for Christmas and come back fresh. It was good to see one go in."
With the win, UND improves to 17-2-2. The Fighting Hawks will go for the series sweep tomorrow night. Game time is 7:00 pm CT.