Adam Henrique, the 27-year-old forward who scored one of the franchise's biggest goals in the last decade, was traded to the Anaheim Ducks on Thursday.
In exchange for the sometimes center, sometimes winger, New Jersey acquired defenseman, Sami Vatanen and a conditional draft pick. In addition to Henrique, the Devils also shipped forward, Joseph Blandisi and a 2018 third round draft pick. Vatanen, 26, who was selected 106th overall by the Ducks in 2009 has 126 points in 280 career games. He's also a coveted right-handed shooting blueliner.
Vatanen was being shopped by the Ducks for parts of the last two seasons, particularly as the team prepared for last June's expansion draft. Ultimately, the Ducks sent Shea Theodore to the expansion-Golden Knights as an incentive to not take Vatanen, who was left exposed in favor of fellow defensemen, Kevin Bieksa, Cam Fowler and Hampus Lindholm. Even if he was spared then, Anaheim's defense became crowded–Josh Manson's emergence adding another element to it all.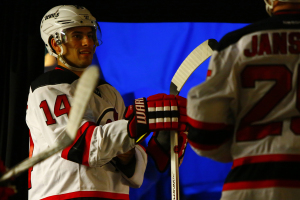 Henrique, 27, leaves New Jersey with 257 points in 455 games. He was the Devils third round pick in 2008 and twice scored 50 points in a season including his rookie season campaign that saw him finish as a Calder Trophy finalist. Henrique also owns 13 points in 24 postseason games–all in his rookie season en route to the 2012 Stanley Cup Final. It was in that postseason that Henrique burst on the scene as a fan favorite with a pair of overtime goals to close out series–game 7 versus Florida in double-overtime and game 6 versus the New York Rangers to send the Devils to the Final.
Blandisi, 23, played parts of the last two seasons with the Devils, but didn't crack the opening night roster this season. In 19 games with the club's AHL affiliate, Binghamton, he has 14 points. He also has 26 points in 68 career games. He was signed by the Devils in 2014 after being passed over by Colorado, who drafted him in 2012. His final season in junior hockey in 2014-15 saw him score 112 points in 68 games.
The condition on the third round pick that Anaheim sent to New Jersey revolves around Henrique's contract renewal in 2019. If the Ducks sign Henrique, whose contract expires in 2019, to a contract extension before the 2019 draft, the pick will be in that draft. If a deal is inked after the 2019 draft, the pick will be transferred to 2020. If he doesn't sign, no pick will be exchanged.
For the Ducks, Henrique fills a major void as Anaheim is out centers, Ryan Getzlaf, Ryan Kesler and Rickard Rakell, all sidelined due to injuries. Henrique, who split his time between playing wing and center should be a full-time center for the foreseeable future with the Ducks.
With Vatanen in New Jersey, the Devils bolster a blueline with another puck-moving defenseman to add to rookie Will Butcher, John Moore and Damon Severson's presence. Vatanen has two more seasons left on his contract.
The move also looks to pave the way for Marcus Johansson, who ha been out since Nov. 1 with a concussion, to return to the lineup on Friday as the team takes on the Colorado Avalanche on the road.
Ray Shero issued the following statement on the acquistion of Vatanen:
"In acquiring Sami, we bring on a right shot, top-four defenseman who can play in all situations. This move also gives us contract certainty on the back end for the next two-plus years.  When acquiring a defenseman like Vatanen, you have to give back quality assets or players in return.  That is the case in this situation with Adam and Joe.  Adam has been a key member of our organization for nearly ten years since he was drafted.  His contributions both on and off the ice will always be appreciated by our organization and fans.  For Joe, this is a great opportunity with a quality organization like Anaheim and I am happy for him.
"This also says a great deal about our other forwards in Binghamton and those who have taken the next step in New Jersey.  I am excited they continue to push and provide us quality depth and competition from within."
Vatanen will wear # 45 for New Jersey and could make his debut on Friday versus the Avalanche or Saturday in Arizona.