Most New York Rangers fans have taken in a game or two at Madison Square Garden, have seen highlights of a young Mike Richter, and know how the Broadway Blueshirts got their nickname. But only real fans know about the Curse of 1940, can name the players in "The Bread Line," or remember "The Save." 100 Things New York Rangers Fans Should Know & Do Before They Die is the ultimate resource guide for true fans of New York Rangers hockey. Whether you're a die-hard booster from the days of Emile Francis or a new supporter of head coach Alain Vigneault, these are the 100 things every fan needs to know and do in their lifetime. Authors Adam Raider and Russ Cohen – longtime friends of Inside Hockey – have collected every essential piece of Rangers knowledge and trivia, as well as must-do activities, and ranked them all, providing an entertaining and easy-to-follow checklist for any Rangers fan. Here's a terrific excerpt from the book, presented with permission…
---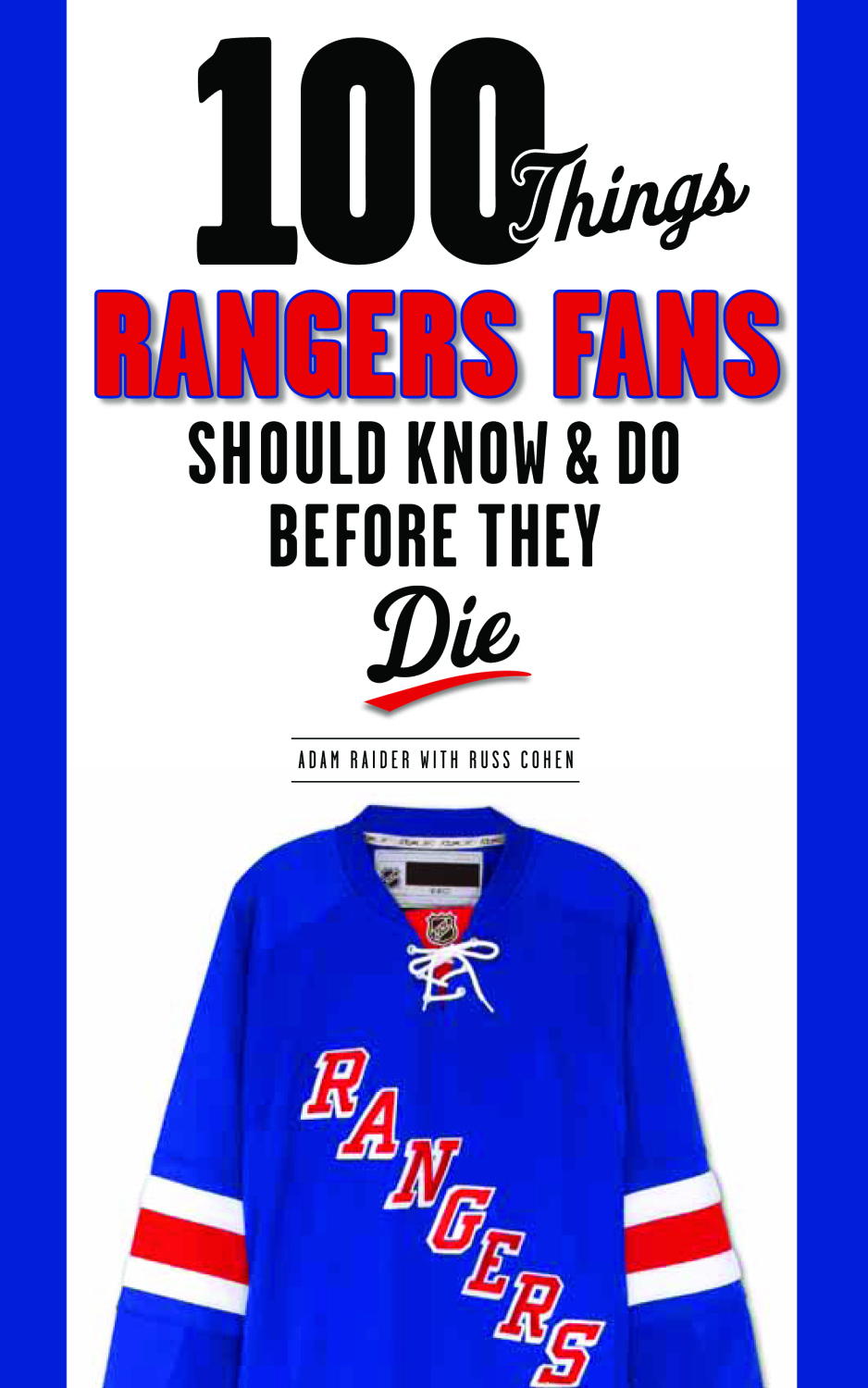 It was 1981 and Bobby Hull, the legendary left wing who'd victimized goaltenders across the NHL for 16 seasons (plus seven more in the WHA) was wrestling over whether to stay retired or try to squeeze one more year of hockey out of his 42-year-old body.
When an interviewer asked Hull which team he'd like to play for if he came out of retirement, Hull said there was only one: the Rangers, for only the Rangers could give him the chance to reunite with Anders Hedberg and Ulf Nilsson, the Swedish stars who had been his linemates for four high-flying seasons on the Winnipeg Jets.
When coach Herb Brooks learned of Hull's comments, he invited Hull to try out for a spot on the Rangers when the team opened training camp that September.
Following this development with heightened interest was Garden president David (Sonny) Werblin, who generally loved anything that would keep the Rangers in the news. "Broadway" Bobby Hull was an angle no beat writer would be able to resist.
Of course, the question on everyone's minds was whether Hull, whose 100-mile-an-hour slap shot and furious dashes up the ice used to make opponents back off and fans roar, could still play. He had been out of the game for over a year, quitting the Hartford Whalers in the spring of 1980 to deal with a glut of personal issues including a costly divorce suit brought against him by his former wife and then having to care for a partner who had been hurt in an automobile accident.
But on the practice ice at Rye Playland, Hull didn't look like a has-been going through the motions to cash in on one more contract. He scrimmaged with all the enthusiasm and intensity of a rookie half his age.
The Blueshirts were gearing up to play an exhibition schedule in Finland and Sweden and Brooks was looking forward to seeing if Hull still had the magic with Hedberg and Nilsson. The reunion plans were at least partially spoiled when Nilsson, the Rangers' oft-injured center, underwent surgery to fix a dislocated knee, an injury that would ultimately end his career.
Even without Nilsson as his center, Hull made the most of his comeback opportunity, skating well in five preseason games but certainly not with the blazing speed that had decades earlier earned him the nickname "The Golden Jet." His timing was a bit off, too, though his wrist shot still looked accurate. His lone goal of the preseason was scored on Mike Palmateer in a 4-1 win over the Capitals in Sweden.
This wasn't the first time Hull's name appeared on a Rangers roster. In 1959, a Swiss winemaker sponsored a European barnstorming tour featuring the Rangers and Boston Bruins. The Rangers' leading scorer, Andy Bathgate, couldn't make the trip so Hull went in his place. Another Chicago player, center Ed Litzenberger, accompanied Hull on the trip and they played on a line with Eddie Shack. On the larger ice surface, the 20-year-old Hull was able to showcase the speed and booming shot that would make him a superstar. A year later, he won his first Art Ross Trophy as the NHL's scoring champ.
Back in the present, the Rangers were impressed by Hull's character but not overly so by his diminished hockey skills. They encouraged him to stay in Westchester and keep training, leaving the door open for him to try to earn a spot on the team later. But Broadway Bobby knew his playing days were done.
"Time was too valuable to hang around," Hull told a reporter as he prepared to head back to his home in Ontario. "I've got a lot of things to do. I haven't dug up my potatoes or turnips or picked my Brussels sprouts yet."
100 Things Rangers Fans Should Know & Do Before They Die is available now wherever books are sold.