Why does anyone care about hockey? Because it tells stories.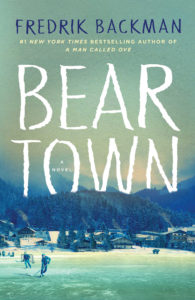 There haven't historically been any truly great hockey novels, though there are certainly plenty of terrific nonfiction books like Ken Dryden's The Game that take fans deep inside the game. Fredrik Backman's new novel Beartown looks to change that, breaking new ground in delivering a hockey story that's ripe for conversion to film or television (a la Friday Night Lights).
Set in a small town in Sweden, Beartown follows the junior hockey team as it competes for the championship. The book follows the stories of numerous people who are directly – and indirectly – connected with the team. Because Backman does such a terrific job of developing the wide range of characters – and because each character is intrinsic to the core plot line – the book resonates on many levels.
The town in a state of serious economic disrepair, and its fortunes have been inextricably tied to the performance of the junior team. The hope is that if the team wins the championship, it will pave the way for the construction of a new arena, opportunities to host future tournaments, and a critical influx of capital into a community that's otherwise dying on the vine.
The book presents hockey in golden light, demonstrating how it gains an inexorable grip on players, coaches and fans. But as is often the case when a town places undue emphasis on the performance of its high school-aged athletes, priorities are increasingly misplaced. And when doing what's right stands in the way of the team's success, the moral fiber of the characters comes into harsh focus. Backman deftly navigates us through an emotionally devastating story, in the process delivering a heroine who demonstrates uncommon bravery in the face of extreme adversity.
Backman is an astute observer of people, and his observations throughout the book (about parenting, growing up, hockey culture and economic strife) are both poignant and heart-wrenching. It's not always an easy read, but Beartown is a beautiful book that should appeal to hockey fans and fans of great literature alike.


Rating: 5 pucks out of 5