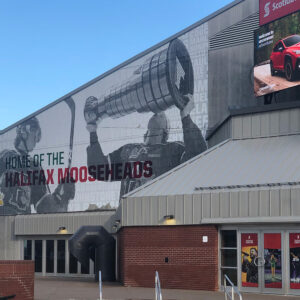 Halifax, NS—Let's get two things straight from the outset: They are called the Halifax Mooseheads, plural, and they are not a Quebec team, despite being a competitor in the QMJHL (Quebec Major Junior Hockey League). This is one third of the Major Junior trio of leagues which includes also the Ontario Hockey League (OHL) and Western Hockey League (WHL). Some of the most high-flying players who make it to the NHL are players from the "Q," including, recently, Nathan MacKinnon, whose number was retired by the Mooseheads a couple of weeks ago, and Jonathan Drouin.
For those of you (probably American) readers who are locked onto the NHL, and maybe your favorite National Hockey League's team in the feeder league, the AHL, a tour through what are often called "Juniors" in Canada is a bit of a departure. But there's some good hockey being played in the "Q" and its sister leagues, and knowing that might make you more likely to tune into the year-end Memorial Cup, an event which is broadcast on the American NHL network.  In addition, knowing about the Juniors will make the Christmas time "World Junior Championship" make more sense, as you hear about teams from Calgary to Cape Breton and other points on the map.
Inside Hockey was on the spot in Halifax, NS, where the Mooseheads play their Junior hockey, and so we had a chance to spy out a game, and talk to some players about this path of their development, both hockey-wise and in terms of their educations.
***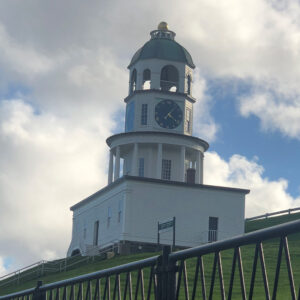 The goal of every Junior team is to win their respective league's championship and thus qualify for a berth in the Memorial Cup tournament. The way this works is that one team from each Junior league, plus the host city's team, gets to contest for the more-than-hundred-year-old trophy, whose "Memorial" name references the Great War of 1914-18. This past year, the four-team tournament featured a win by the Quebec Remparts (and Patrick Waugh) after they defeated Halifax for the QMJHL championship and thus earned their tournament berth. In 2024, the tournament will be hosted by Saginaw, MI.
Junior teams play a 68-game season, home and away, and if you're wondering about the conditions these teams play in, let's just say that at least a couple of them, Halifax and New Brunswick's Moncton for example, have arenas that are every bit as nice as professional rinks, if on a smaller scale. Players go to high school until they graduate, and in the old days, that was about it. When you're guaranteed to make the NHL, you don't need an education, right? Well, that's not the mood any more.
The reality that only one in 20 Junior players will see even one NHL shift has caused a sea change in thinking. Witness what Brady Schultz, an American playing for the Mooseheads told me: "I was pretty big on education coming up here. I went to prep school, and my mom's always hard on me in school and stuff. I went to finish my high school here, in Dartmouth, and now I go to SMU." Players who have finished high school all take two classes a semester at nearby Saint Mary's University.
Schultz does dip a bit into old-think, or call it dream-think, when he says, "College (hockey) was always an option for me, but I was never really set on college. I just thought it was a step for me to get to the next level. I thought this (Major Junior) was an opportunity to get noticed even earlier by NHL teams."
Whether that dream works out or not, the CHL (the three junior leagues) has a scholarship program earned by years of service in the WHL, OHL, and QMJHL, so he should have a fund of money that would allow him to get his education finished, though this is a bit of a controversial point amongst, especially, those who would encourage a player like Shultz to go the NCAA route.
Schultz explained why he went the direction of Canadian Junior hockey: "When the Mooseheads drafted me, I didn't know much about the organization or the league, but with Covid happening, NCAA was kind of backed up with the transfer portal and recruiting, and my prep school was on the border of if we were playing or not, so I kind of said why not give it a shot up here, and it's better than I ever could have thought." He was 17. His friends growing up are either at NCAA colleges now or in the USHL, but he's happy with his path.
"I owe everything to the fans, the organization, the coaching staff. They've been nothing but good to me. They've helped me develop tremendously. If you look at my game from when I came up here as a 17-year-old rookie and where I am now, it's just a ginormous step, and they're continuing to push me getting better, too, so I'm really appreciative of what they've done." In particular, he cites "Working with Brad MacKenzie, the defensive coach, learning game management. He really believed in me. He fought for me, playing time and stuff. He really saw the potential of my offensive game as well. He pushed for me to get on the power play, then producing on my own."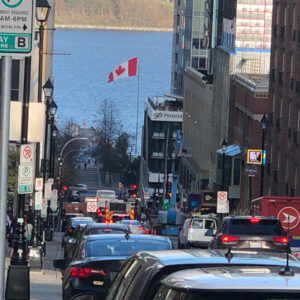 The Halifax team plays in an approximately 10,000 seat arena located downtown in a beautiful spot between the famous Halifax Citadel and the waters of the Harbour. The rink was built in 1978 and renamed the Scotiabank Centre in September 2014.  Jake Furlong described what it is like to play here: "Small town or big city? I think it's a bit of both. I kind of live in a smaller part of Halifax, but when I'm down here I feel like it's a big city." His family lives in Halifax, so he's at home. But one day, he hopes to be in San Jose. He was drafted by the Sharks in Round 3, 140th overall, in 2023.
Schultz has a similar idea about the city: "This reminds me a lot of Boston, a little smaller, but I love the city. It's awesome."
Dylan MacKinnon comes from Riverview, NB, across the water from Moncton. Halifax is a step up in size for him, but it's not like he's from a tiny village. He said that he had always wanted to go to Halifax, rather than, as I suggested in my question to him, Moncton. It's the pro-level arena and the city, but more so the fans. "We've got the best fans in the Q, and probably the CHL, too."
As for what the Mooseheads have done to develop him as a hockey player, he comments: "They have a phenomenal track record. They really push you once you're here, trying to make you the best player you can be." When I press for specifics, he says, "I was a great skater coming out of midget, but they pushed me, they pushed my skating. They helped me grow with size and as a player. I was used to hitting guys and grabbing the puck. Now it's more stick on puck. Guys are bigger, faster, and especially at the next level [NHL] it's the same thing, so they really help you in that aspect of the game." He was drafted in Round 3, 83rd overall, in 2023 by Nashville.
The former owner of the Mooseheads, NHL star and Stanley Cup Champ Bobby Smith, sold the 2013 Memorial Cup winning team recently. The club was bought by an investment group with money to spare, according to one local source I spoke with. They are out of Detroit and had been looking for a way to invest some money. That sounds a lot like people who do their due diligence, not fans who throw their money at a team out of love. If that's right, then the team, and the Junior game, are on solid footing.
Does any of that matter to fans taking in a game? Not at all. They just love their team. The buzz starts early, with the first fans into the rink flowing down to the area next to the team benches, cowbells and signs in hand. It has a small-town feel, intimate, and you know that it's got to be a thrill for people who very likely know these high-school aged players outside of the rink to see these guys perform in the bright lights of a team as well-structured and, let's say it, professional, as are the Mooseheads.
Game night Friday night (the 20th of October) by the way, featured two interesting events, and rare ones. The first was a hat trick by Jordan Dumais. The second, and this is super-rare, was a goalie goal. It happened in the last couple of minutes with the Huskies' goalie pulled. Mathis Rousseau in the Halifax net had a shot come in waist-high. He cooly gloved it with his trapper and dropped it onto his stick blade in a left-shooting position. He lofted the puck towards the other end, and as it floated past the blue line and was looking like it would hit the ice and go into the net, the crowd erupted. The netminder had scored.
His team surrounded him in congratulations, and he did a one-knee slide job to celebrate, then led the team past the bench in fist bumps, just like position players do after they score. It was a moment of maximum celebration, and the crowd was crazy. For his efforts, including winning the game, he was named third star of the game.
Schultz commented on the event afterwards: "I was telling Rousseau, I think I celebrated harder for that than when we went to the finals last year. I really, I'm speechless. I've never seen that. I see it on highlights and stuff all the time, but never would I have thought I would be in a game especially with my goalie that was doing it and me being right there on the ice. It was awesome."
The  Mooseheads have a realistic chance of winning their league and going to the Memorial Cup in June. Watch for it. Now you have a little bit of the back story.
Notes
Hat trick scorer Jordan Dumais has a health problem that kept him in Columbus for care after his rookie camp experience was over. He was vague about what was going on when interviewed.
Brian Kennedy  is a member of the PHWA. He is also the author of Growing Up Hockey and other books.