When the Ray Shero regime began a year ago, it signaled change in an organization that had reason to embrace some after a nearly 30 year run by Lou Lamoriello. It also was a sign of an impending re-tool of its roster.
After selecting Pavel Zacha with the 6th selection in 2015, many pegged the New Jersey Devils to be front-runners for the Auston Matthews sweepstakes in 2016. As it turned out, they were never in any real contention for a lottery, but did manage to flirt with a postseason berth. Ultimately, neither happened, finishing 12 points out of a playoff spot and slotted 11th overall in Friday's first round of the draft in Buffalo.
If the Devils 38-36-8 was overachieving, then it continues to complicate the definition of the team. In some instances, including their league-worst 182 goals, they look like a team starving for a roster overhaul. In other areas, namely in net, they look like a team that could be just a few pieces away returning back to the postseason for the first time since falling in 6 games to the Los Angeles Kings in the 2012 Stanley Cup Finals.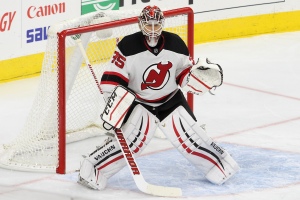 Cory Schneider does offer them that chance. In his second season as a true starting netminder, he recorded a 27-25 record to go along with a .924 save percentage and 2.15 GAA that was second to only Ben Bishop among goaltenders with 50 or more games played last season.
It's not the first time Schneider's superb tending was spoiled by his teams inability to score goals. He posted one of the league's top save percentages in 2014-15 and was among the leaders in saves, finishing behind the likes of eventual Vezina and Hart winner, Carey Price. The Devils managed 176 goals that season, six less than this past season.
In short, New Jersey needs offense and with each passing year of mediocre scoring, their star goalie is missing another chance to reach his full career potential.
With Tuesday's announcement of the NHL's $73 million salary cap for 2016-17, the Devils have roughly $26 million to spend, second most in the league. They'll need to spend approximately $8 million to reach the league's $54 million cap floor. Their acquisition with Florida pick up over $4 million in dead cap space for Marc Savard's final season under contract helped mitigate some of the actual spending needed to reach the floor, but it shouldn't be an absolute guarantee that they won't allocate actual dollars. Certainly, they'll pen a contract to restricted free agent, Kyle Palmieri, who arrived via a draft night deal with the Anaheim Ducks and added to his local boy popularity by scoring 30 goals for the first time in his career. Palmieri will command something in the $5 million vicinity to chip away at reaching the floor.
From there, the Devils shouldn't be underestimated as a team looking to make a splash in free agency. After wanting to stay away from an underwhelming market last summer, Shero may find some strong suitors in this summer's crop. Presently, the Devils have five forwards on one-way contracts for next season including, Savard and Ryane Clowe, who will not play next season and will be placed on long-term injured reserve at the start of the regular season.
New Jersey has five restricted free agents, including Palmieri. If all return next season, that still leaves the Devils with three holes to fill up front. Of course one would expect Zacha will take one of those spots. Meanwhile, Patrik Elias, the franchise's leading scorer and the last member of the team's 2000 and 2003 championships, will mull over his future. If he returns to hockey it'll be with the Devils, but the fit will have to be mutual. Even if they want him back, they can't be deterred from exploring the market.
Among the areas they'll consider will be upgrading their top-six, which contributed a majority of the team's scoring, which made the mid-season loss of Mike Cammalleri all the more draining. Some options could include Mikkael Boedker or Loui Erikson. They could also bring back familiar face, Lee Stempniak. Prior to his trade from New Jersey to Boston on Feb. 29, Stempniak recorded 16 goals and 25 assists, then leading the team with 41 points as part of an impressive 63-game campaign for a player who originally signed a professional tryout in September.
They may also want to consider some puck mobility from the back end. While the defense has remained an organizational strength, it is lacking a legitimate point-producer. Damon Severson might still be that guy, but was limited to 21 points in 72 games. At just 21, he could use a mobile partner to settle him down. Panthers' Dmitri Kulikov is reportedly being discussed in trade talks. He's just four years older than Severson, but already has accumulated nearly 500 games played and 138 points.
With the goaltending and defense, highlighted by a decent collection of prospects for both positions including an OHL Goaltender of the Year, Mackenzie Blackwood. The struggle has been offensively, where they've struggled to draft offensive talent outside of Adam Henrique. Reid Boucher might have a chance to be an effective player, but he's still coming into his own.
If the Devils are to make good on Schneider's prime, they'll need to get some creativity and talent to bolster an offensive group that is thirsting for more.