On a day that is celebrated by the majority of the NHL's talent pool, its become an equally-celebrated day across the entire league with the opening of free agency.
On this day alone, nearly $660 million was spent on player contracts, teams in the Metro doing their part in helping escalate that figure. Here's a look at what teams in the division did on this July 1 free agent frenzy.
Carolina Hurricanes:
Key Additions: 
RW, Lee Stempniak, 2-years, $5 million ($2.5 million cap hit)
LW, Viktor Stalberg, 1-year, $1.5 million ($1.5 million cap hit)
We knew it wasn't going to be a super busy day for Ron Francis and company. Continuing to build on their foundation of youth, the Hurricanes enjoyed a relatively quiet July 1. Presently, they are roughly $2.1 million from reaching the cap floor and have over $22 million in cap space–most in the NHL.
They managed a pair of intelligent signings in Stempniak and Stalberg to two and one years, respectively. Stempniak, who waited until mid-September, accepting a professional tryout with the Devils, had a much shorter wait on Friday. Dealt to Boston at the trade deadline, he spent most of the season in a top-six role, scoring 51 points in 82 games. He should return to that kind of role with the Canes. For his production last season it's a nice value deal by a team that wasn't looking to overpay. Stalberg, who played with the Rangers last season, slots in nicely in a bottom-six role that has some holes. They may have been one of the quieter teams on the day, but that's not usually a bad thing in July.
Columbus Blue Jackets:
Key Additions: 
None.
With just $3.5 million in cap space, it wasn't surprising to see zero activity out of the Blue Jackets. They signed Seth Jones to a six-year, $32.4 million extension on Wednesday, which was their top priority in the offseason. They did manage to clear some room with the buyouts of Fedor Tyutin and Jared Boll, but still wouldn't mind moving out another big ticket namely David Clarkson or Scott Hartnell. If they do delve into the free agent waters, it'll be for spare parts once the dust settles.
New Jersey Devils:
Key Additions:
D, Ben Lovejoy, 3-years, $8.1 million ($2.66 million cap hit)
C, Vernon Fiddler, 1-year, $1.25 million ($1.25 million cap hit)
Ray Shero's big acquisition of the summer was made on Wednesday, acquiring Taylor Hall from the Oilers in exchange for Adam Larsson. With the departure of Larsson though, New Jersey had to address its defensive depth.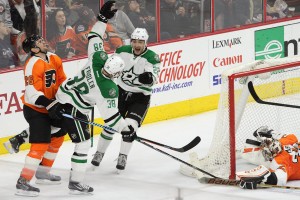 In a conference call on Friday, Shero said the signing of Lovejoy will allow for a better "distribution of minutes." It should also allow for Andy Greene to assume a more offensive role next season. Lovejoy, 32, arrives to the Devils after winning the cup with Pittsburgh last season. He was an important part of their defense down the stretch and might have been asked to return had it not been for salary cap complications for the Penguins. He's a useful player who can will eat important minutes. He also has familiarity within the organization, knowing Shero and playing under John Hynes as well as with assistant coach, Alain Nasreddine. Fiddler, 36, should add depth to the Devils' bottom-six, which struggled with consistency and production. It adds another veteran voice to a younger group. Like Lovejoy, there's some organizational familiarity in Shero, who signed an undrafted Fiddler to an AHL deal in 2001 as the then-assistant general manager of the Nashville Predators.
The Devils also signed defenseman, Jon Merrill (2-years) and forwards, Beau Bennett (1-year) and Devante Smith-Pelly (2-years) to extensions after not tendering them a qualifying offer earlier this week.
New York Islanders:
Key Additions: 
RW, Andrew Ladd, 7-years, $38.5 million ($5.5 million cap hit)
LW, Jason Chimera, 2-years, $4.5 million ($2.25 million cap hit)
The Islanders made the biggest signing in the Metro division on Friday, inking Ladd to a 7-year deal. Ladd, 30, split last season in Winnipeg and Chicago. Acquired at the deadline by the Hawks, he tallied 12 points in 19 games. With Steven Stamkos re-upping in Tampa, his stock rose considerably.
Nonetheless, the Isles decided to pay it, after losing out on Kyle Okposo, Frans Nielsen and Matt Martin, they took a gamble on a productive player and big term. Though he is coming off a 25-goal season and has scored 40 or more points in each of his last six seasons, there is some obvious trepidation about signing a 30 year old to a contract that doesn't expire until they're 37. Ladd should do nicely in Brooklyn, but the term is questionable at best. In signing Chimera, the Isles also take back some age, but are obtaining a 200-foot player with great wheels and is coming off his best offensive showing in his career. Even at 37, Chimera is an all-around effective player and is versatile enough to play up and down their lineup.
They also got to work on one of their important restricted free agents, signing Shane Prince to a 2-year, $1.7 million contract. After being acquired from Ottawa at last year's trade deadline, Prince showed his worth as a valuable, smart hockey player.
New York Rangers:
Key Additions:
RW, Michael Grabner, 2-years, $3.2 million ($1.6 million cap hit)
C, Nathan Gerbe, 1-year, $600,000 ($600,000 cap hit)
A day that has often seen New York among the more active teams saw a much more conservative approach this time around. Still needing to sign four restricted free agents in Chris Kreider, J.T. Miller, Kevin Hayes and Dylan McIlrath, that approach shouldn't be all that shocking.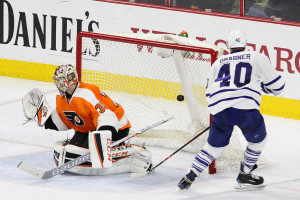 They did manage to add Grabner and Gerbe, two forwards with excellent speed, some goal-scoring ability and at decent terms and dollar figures. Fans might remember the speedy Grabner from his days with the Islanders, frustrating teams as a penalty-killer and frequent shorthanded goal-scorer. His production has been stagnant the last two seasons, but will try and get it back in his second go-around with a Metro division team. With the Rangers top-six established, Grabner should be competing for a bottom-six role with the ability to occasionally play up in the line up. In the signing of Gerbe, New York gets a smaller player, but speed and a smart game. He will slot in the bottom-six fairly well. Again, assuming he can re-discover some of his production lost this past season, scoring just 7 points in 47 games.
Philadelphia Flyers:
Key Additions:
RW, Dale Weise, 4-years, $9.4 million ($2.35 million cap hit)
C, Boyd Gordon, 1-year, $950,000 ($950,000 cap hit)
The Flyers didn't need to make a whole lot of adds on July 1–a change from the norm, finally. Instead, they used the day to add a bit to their annoyance level in the signing of Weise to a 4-year deal and Gordon to a one-year pact.
In Weise, the Flyers get an agitating winger with size and some skill. They also get a guy with great work ethic and a passion for getting under the skin of opponents. Coming off back-to-back 25+ point seasons, he's got decent production in a limited role. He'll be asked to bring that with him to the Flyers, where his playoff value should be utilized. In signing Gordon, they get another hardworking bottom-sixer. He'll help add depth down an already deep center ice, as well as eat some vital minutes on the penalty kill. The Flyers didn't go overly aggressive on Friday and that's a good thing.
Pittsburgh Penguins:
Key Additions:
None.
The cup champs did as expected and did nothing at all. Facing cap constraints they were left out of the free agent fun. They did however sign general manager, Jim Rutherford to a three-year contract extension. That though won't impact their cap.
They also re-signed Tom Sestito and Steve Oleksy to one-year deals, but were away from the spotlight for much of the day. They're currently $2.6 million over the league salary cap, so they'll have to find a way to clear some space to be compliant before the season starts, but they have plenty of time for that. One other thing they'll try to do is re-sign 39-year-old, Matt Cullen. Last season, Cullen registered a 32-point year and scored 16 goals, the highest he had scored since netting 22 in 2008-09.
Washington Capitals:
Key Additions:
RW, Brett Connolly, 1-year, $850,000 ($850,000 cap hit)
Another Metropolitan division team spending much of Friday away from the front of the pack. Instead, they inked a low-risk, high-reward signing in Connolly. The former sixth overall pick from 2010,  he scored 25 points in 71 games last season. He's had injury issues off and on since coming into the NHL in 2011-12. In D.C. he'll get a chance to show he belongs while playing in a lesser role for a good team.