If the Carolina Hurricanes offseason is about to be consumed by the Peter Karmanos lawsuit, in which the 'Canes owner is being suited by his three adult sons for an estimated $105 million, that's too bad because the team on-the-ice shows much promise ahead of the 2016-17 season.
Karmanos, who has been the owner of the franchise since 1994, when the team was in Hartford, is being sued for reportedly borrowing funds from trusts to assist with finances relating to the Hurricanes. Those trusts belong to the three sons, Peter (III), Nick and Jason, who would inherit the money from Karmanos' will.
This story has set off a chain reaction of questions involving the franchise's stability. Some even speculated the possibility of a Las Vegas franchise via the relocation of the Hurricanes.
Tuesday's report that the NHL Executive Committee unanimously recommended an expansion franchise in Las Vegas helps clarify some questions regarding the immediate future of hockey in Raleigh.
Speaking of future, Carolina has a ton of it, including recently-signed Sebastian Aho, 2014-drafted defenseman, Hayden Fleury and goaltender, Alex Nedeljkovic. Among the highlights to their seasons was the IIHF World Junior Championships in December-January. There, Aho helped Finland take home gold, finishing second in tournament scoring behind Patrik Laine. Fleury played in all five of Canada's games, adding one assist. While Nedeljkovic helped backstop the United States bronze behind a 4-2 record and 1.66 GAA.
That's just the surface of Carolina's deep prospect cupboard, and it's about to get even bigger. The 'Canes are set to pick 6 times in the first 75 selections at next week's NHL Entry Draft in Buffalo, including two in the first round (13 & 21). They already used some of their pick-overflow on Wednesday, acquiring Bryan Bickell and Tuevo Teravainen.
If there's one area the Hurricanes have to be happy about from last season, it's that all-American, youthful defense, led by Justin Faulk. Faulk notched a career-high in goals (16) and was on pace to surpass his career-high in points had it not been for leg injury that sidelined him for 17 games. At 24, he is among one of the senior members of the backend signed for next season, joining Ron Hainsey (35) and James Wisniewski (32). The average age of the other five defenseman is 22. Last June's first round pick by Carolina, Noah Hanifin had a strong rookie season, finishing with 22 points and averaging almost 18 minutes of ice time. Brett Pesce and Jacob Slavin also showed poise during their first NHL seasons playing 69 and 63 games, respectively.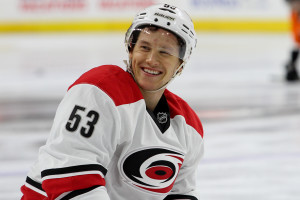 For the praise earned by Carolina's young defense, including a top-10 penalty kill, they showed less than stellar results offensively. They were among the bottom in scoring, power play efficiency and averaged 2.39 goals-per-game. Jeff Skinner stayed healthy and was rewarded with a 20-point increase from a year ago. Victor Rask had a tremendous season and looks to have a pretty decent ceiling to reach. Elias Lindholm, meanwhile took another step in the right direction, but they'll need more from him if they have aspirations of making noise in a tight Metropolitan Division. There's lots of hope though for this forward group, including one-time waiver claim Andrej Nestrasil and 21-year-old Phil Di Giueseppe, who saw action in 41 games.
The biggest story of the season though was the trading of captain Eric Staal after 12 seasons in the organization. Staal suffered his worst offensive showing since his 18-year-old rookie season in 2003-04. He was dealt to the Rangers shortly before the February trade deadline for a pair of second round picks and promising prospect, Aleksi Saarela. Staal brought his scoring woes with him to the Big Apple, scoring just 6 points in 20 games. He is set to become an unrestricted free agent on July 1 and it's unlikely he returns to Broadway.
Cam Ward is the only member of the 2006 cup champion team still with the franchise. Ward sported a winning season after dropping below .500 last year for just the second time in his career. While he has long been the subject of rumor and debate, the organization decided to bring him back on a two-year extension. Eddie Lack, 28, and has two years at $2.75 million remaining under contract, so it might not be the end of goaltending questions in Tar Heel state.
Maybe Ward could be joined by ex-teammate on that '06 team in pending free agent, Andrew Ladd. Though that seems unlikely, as the 30-year-old and two-time champion will be looking for a long-term deal worth in excess of $6 million. That seems too pricey for an up-and-coming 'Canes team.
The abundance of young talent looking to make a spot on Carolina's roster should see them shy away from free agency. They already made a deal to add to its forward core. Rask, a big part of that core and an RFA, will get a decent bump from his three-year, $863,333 contract. He finished second in team scoring with 48 points in 80 games last season. They'll need to spend another $8.4 million to reach the floor, but should chip away at that with Aho and Saarela's entry-levels on the books and a few tune-up's here and there. Besides that, Carolina doesn't figure to be a big-time player on the open market.
If I were betting, I'd put my chips on Ron Francis standing pat for most of the summer. But this team is indeed on the right track and could challenge for a playoff spot, if not at least make life difficult for teams in March and April.