In Elliotte Friedman's most recent '30 Thoughts' for Sportsnet, he discussed the "growing suspicion" around the National Hockey League that the Devils could in fact trade the franchise's first top pick since coming to New Jersey.
Friedman wonders if the organization's need for defense surpasses the pair of centers and consensus top picks in this year's draft: Nolan Patrick and Nico Hischier.
If Ray Shero is looking to instead get blueline help in Chicago, Miro Heiskanen and Cale Makar would be top of the list.
Heiskanen, who is listed at 5'11, 174 lbs., is an offensively-talented blueliner. This past season he made his professional hockey debut playing for HIFK Helsinki. He skates well and has been touted for his two-way play. In 37 games he collected 10 points (5g-5a), which on paper may not jump out but it's an impressive total for a 17-year-old playing with teammates 18 years his senior.
Makar meanwhile is a 5'10, 175 lbs., offensive defenseman, who just recently wrapped up his career in the Alberta Junior Hockey League. This season, he scored 75 points in 54 games to lead all defenseman in the league. He is slated to attend UMass Amherst in the fall. Beyond his offensive instincts, he's a strong skater and a good option at the point on the power play.
If the Devils were to consider going for defense, trading down would likely be the avenue versus an off-the-board pick. The suitors for first overall? Plenty.
Among them:
Colorado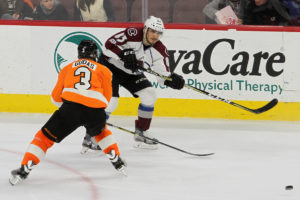 The Avs, who slid all the way back from first to fourth, might in fact have more interest in a blueliner themselves. Though if Matt Duchene is out the door this summer–and most believe he is–there is an apparent need down the middle. Colorado and NJ could swap picks, but I'm not so sure their prospect pool, quite bare as it is could afford trading away their second rounder as well. Nor does the club possess a great deal of high-end prospects worth trading for aside from Tyson Jost, who isn't going anywhere.
Vancouver
The Canucks would definitely be interested. The Sedin's will retire some day (we think). And it's an organization that has to be frustrated by falling to five in the draft lottery for a second-straight year. In addition to fifth overall, Vancouver also has two picks in the second round–33 and 55. Is a three-for-one, picks-only deal enough for Shero and company? Jake Virtanen nearing throw-in status at this point?
Vegas
What if the Golden Knights came into the draft with a bang? Trade up from sixth to first, take one of the big centers and market the team around them. That could work. It's hard to judge what exactly the team will have to work with trade-wise. But there's an assumption that by the end of the expansion draft they'll have a lot more picks than the seven they currently own.
Arizona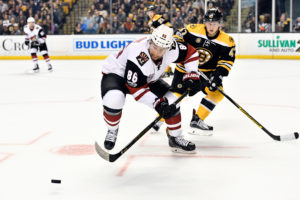 And lastly I present the Coyotes. A team that could present the most realistic and logical destination for first overall. The team has an uncertain center ice at the moment and for as good as Clayton Keller is expected to be, he can't do it alone. Max Domi isn't a full-time center yet. The organization could use a franchise center. Most attractive for New Jersey here? The 'Yotes hold a second pick in the first round–23rd overall (via the Wild  from the Martin Hanzal deal). Is that enticing enough? Shero's discussions probably shouldn't leave out Dylan Strome, either. A third overall pick in 2015, he's played just 7 games in the NHL, but still has high upside.
New Jersey
Rarely does the first pick get dealt. The last to move was 2003 when Florida flipped it to Pittsburgh to select Marc-Andre Fleury. And, for all the smoke in the here and now there's lots of time for things to change. New Jersey has Pavel Zacha and a veteran Travis Zajac, but some question marks down the ice remain. Like, is Adam Henrique a full-time center? Can Joseph Blandisi, Blake Coleman or John Quenneville develop into bigger impact players? Even with inherent needs for defense, there might not be a deal enticing enough to pass on the opportunity to take one of the dynamic, potential franchise center's.