By Andrew Grella (SYRACUSE, N.Y) – The Syracuse Crunch may have played its best game of hockey this season against the Hershey Bears on Friday night. Hershey drew first blood early in the first period, but it took just two minutes for the Crunch to answer. After Syracuse had a taste of the goal, it didn't look back. The second line of Mike Angelidis, Dalton Smith ad Henri Ikonen provided five points for the streaking Crunch. Syracuse has not lost in regulation in five games.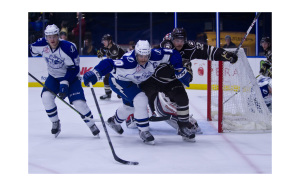 Mike Angelidis has had a long and storied career in the American Hockey League. He broke into the league in 2006 for the Albany River Rats and scored nine points in 27 games as a rookie for the then New Jersey Devil affiliates in New York's capital. Since then he has played for the Norfolk Admirals and now the Syracuse Crunch. Angelidis was part of the Norfolk team that set a professional hockey record where the team won 28 consecutive games
The Lightning has high hopes for Angelidis whom they signed as a free agent. Since his signing, the captain of the Crunch has seen two minor stints with the big club and scored a goal in his first game with Tampa Bay. This year for Syracuse he has been expected to come in and fill in a role as a veteran who can teach the young guys how to play the game, stand up for them and score some goals a long the way. So far this year, he is off to a good start.
In fourteen games this season, Angelidis has scored three goals and has dropped three dimes for a total of six points. The captain accumulated 169 penalty minutes in one season in 2010-11 for the Admirals. Last season he had 161. This year he already has 53 minutes in the box. But he still has his points.
Against Hershey on Friday night he found a stretch pass from Jerome Samson and pocketed the breakaway top shelf stick side on Philipp Grubauer. In the third period he dropped a dime to Henri Ikonen. Angelidis line was responsible for five points and their play helped them to a victory.
The cliquing of that line has helped the Crunch to their streak of consecutive points this season. In that streak of five games without a loss in regulation, Syracuse has scored three goals in each of those games. Angelidis has scored a goal or had a point in three of those five.
Ikonen and Smith have each benefited from Angelidis on their line as well. Smith himself has been quoted as saying that they follow the captain's example. He's the captain for the reason and he works really hard and the other two wingers are just taking after his example. It's been paying off for the Crunch.
Syracuse is now 7-4-3 as it heads into Saturday's road game against the Wilkes-Barre Penguins. Angelidis and the Crunch will have the same strategy as they did last night against the Bears. Early in the season, Syracuse is beginning to look like a really good team. With the leadership of Angelidis, the Crunch could make a run into the playoffs this year.
Good hockey players find ways to score and put up points. Great hockey players make those around him score and put up points. Angelidis has found his niche on the Crunch and is taking steps towards becoming one of the best players this year. After scoring 12 goals and dropping 21 assists last season, 2014-15 is looking like it could shape up to be another great season for the Crunch captain.
Also, shout out to my boy Dustin Gazley who is balling for the Hershey Bears. Always loved watching you play from the cheap seats in Elmira. I'd just like to say it's not cool how the fans treated you when you returned with Reading. You were always a lot of fun to watch.