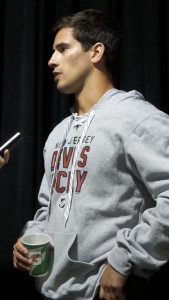 The Devils made quite a number of changes over the summer.  From Lou Lamoriello stepping down as President and General Manager of the New Jersey Devils and giving the role to Ray Shero to completely revamping the roster and signing a new coach, the Devils of old are now a story of the past.  A new dynasty has begun.
On the eve of training camp, the Devils announced late in the day that they had signed former Carolina Hurricane Jiri Tlusty to a one-year, one-way contract for $800,000.  They had also invited Lee Stempniak and Tyler Kennedy to a professional tryout ("PTO") at training camp.
Tlusty was rumored to be pursued by five different NHL clubs, but they were only willing to give him a PTO.  He was holding out for an actual contract and the Devils offered him one.  Rumor was if he didn't receive a contract, he'd head overseas.
There are a lot of new, young faces with the club.  The average age for the current roster is 25 years old.  Last season, the average age was 29.237 with Jaromir Jagr, the oldest player in the NHL, tipping the scales in his age bracket.  Now, Patrik Elias is the oldest Devil on the roster at 39 years old.
"It's a refresh button," Adam Henrique said of the new younger core of players.  "With a lot of young guys, there are spots open on the roster that a young guy can come in and earn.  I think that's going to benefit us this year, next year and for years to come.  It's good.  We're going to want to play that fast paced game."
There have also been several policy changes with the club that are unlike the policies Lamoriello had in place.  For instance, the Devils players are now allowed to use social media.  In the past, there were a few who had Twitter and Instagram accounts, but those accounts were strictly monitored, and oftentimes no tweets were sent during the season.  The Devils main Twitter account also did not tweet out the account names.  This season, with new management, that has all changed.
This is new territory for many of the returning Devils.  Some, like Henrique, are joining social media for the first time.
The facial hair policy has also changed.  While everyone has arrived to the first day of training camp clean shaven, that  may change over the course of the season.
For players like Henrique, all of these changes are new to him as a NHL player.  He started off his career with Lamoriello's strict policies in place.  Those rules were all he's ever known.  Now, he's ready for the new change.
"It's big around the league now," Henrique said of social media.  "It's fun to be a part of.  It's fun to be out there and be able to interact with the fans here.  They haven't seen [that] ever.  It's nice to be able to reach out to them to see us as people and not just players.  They have an idea of our personalities on the ice, but we're people, too.  We all have our own personalities, so it's nice to be able to interact that way."
Has the team prepared them for the trolls and all of the negative comments that will come?
He laughs.  "I just started."
If he has a bad night or doesn't play well, he responded, "I won't look on those nights.  I mean, it's just part of it.  We will have to get used to it or have to deal with it."
In the past, Lamoriello protected his players from negative comments, as well as negative media.  Generally speaking, Lamoriello normally did not allow press who wrote negatively about his team into the press box.  He did not want to allow those reporters access to his players.
This is the first time the players won't have that layer of protection.
"He was awesome that way," Henrique replied.  "We're a family here and if you ever needed anything, he was the guy that you went to.  He always took care of us, the players, the families.  Anything that we needed, he was awesome."
Being the first day of camp, the team hasn't sat down and decided yet if all of the players will get social media accounts or grow facial hair.
"Obviously, this is all new for us.  That's just part of what we have to go through.  We'll talk about it as a team when to do it, when not to do it."
Will Henrique be sporting a new look this season?
"It's yet to be determined," he responded.  "I've gotten mixed reviews so far."
Each season the Devils begin by setting goals and focusing on a mission statement.  What will be their mission this year?
"We haven't really sat down as a group or as a team yet," Henrique said.  "I'm sure that's what we'll focus on…trying to find our identity as a group and put that image in our heads where we need to go.  We'll set goals for ourselves as a team, as individuals.  I think we've already taken these first few steps in the right direction. Now, it's just a matter of time and a matter of getting everybody together and getting us on the same page."
What personal goals has he set for himself going into this season?
"Play every night," he replied.  "Play hard every night.  You want to be that team that's tough to play every night.  Teams don't want to come in here and play against us because they don't want to be pesky.  Whether or not we're the best team in the league or the worst team in the league, you want to have that reputation that it's a tough building to play.  That is something that we'll establish as a group.
"Individually, little things, I guess.  I'll set, I guess, a number with my mind before the start of the season.  I haven't done that yet.  I just want to improve my play every night whether it's on the ice or off the ice, being more of a leader in the locker room.  Just little things like that."
"We'll just take things one step at a time and just build off of everything."
Other news that surfaced in the last few weeks was Devils captain Bryce Salvador's retirement from the NHL.  Ryane Clowe was also forced to end his career after doctors determined that he could not play hockey again due to concussion related injuries.
"It's tough to see," Henrique said of Clowe.  "Obviously, you don't want to see anybody go through what he had.  He's such a great guy.  He came in and from day one since he was here, he just automatically became a leader in the dressing room.
"Guys around the league have got nothing but great things to say about him. He's kind of the guy now that I'll try to take what he did in the dressing room and kind of try to apply it to myself a little bit and use that to better myself.
"[Clowe] is kind of a rah rah guy in the dressing room, trying to get guys fired up.  He's what we needed when we brought him in."
"It's too bad he won't be able to play, but he'll still be around the rink here, and be around the guys.  He'll kind of lead the way like that for us.  He's someone we can look to and talk to and still learn from him."
Regarding the captaincy, who does he see as possibly taking over?
"There's a number of guys I think [could be]," he responded.  "With everybody that's new, it's a matter of getting to know everybody.  That's a wait and see.  Obviously, that's a decision that will be made at some point, whether it's at the start of the season or not, I don't think that's something that will be a distraction at all.
"It's not something we're going to worry about now.  The decision will come, whether it's in the next few weeks or not.  We'll just wait and see."
Coach John Hynes spoke to the media about what he expects from his players this season.
[youtube=https://youtu.be/XFcMdcxUBfs]