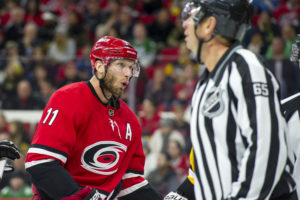 Starting the new year with the best record in the National Hockey League, the Carolina Hurricanes are on a roll. After defeating the Dallas Stars 3-0 tonight, the Hurricanes are 14-5-1 since January 1st. Although the Canes are playing so well with the core unit they've been using, they have a big decision to make in the near future that doesn't involve Michael Ferland's contract and the trade deadline; well at least that's not the only decision they'll have to make.
At this point with the way the Hurricanes are playing, dealing Ferland would not be in their best interest; however, they do need to deal someone to get one extra piece that could really set them apart. Why not deal Jordan Staal? A move like this may upset Canes fans, but what would they really be losing? Sure, Jordan Staal has great size and he's one of the best face-off winning centers in the league, but what good is size if you aren't going to use it? Furthermore, Staal has been on injured reserve since December and just got back on the ice this week after sustaining and upper-body injury. That means that he hasn't been on the ice for any of the games the Hurricanes have played during this streak. With the Canes playing their best hockey in a number of years and in the top three in the Metropolitan Division, dealing Staal may be a good move.
While the Hurricanes shouldn't expect to get a superstar in return, they could get a reasonable forward that suits their style of hockey a little more. The last trade the Hurricanes made has turned out to be a great addition to the club this season as Nino Niederreiter has tallied eight goals and four assists in twelve games with the Hurricanes this year. If the Hurricanes front office could work out another deal for a player similar to Niederreiter's caliber, Staal would be a great one to swap if there is an interested team. The next few days leading up to the trade deadline should be interesting around the league, but we will see if the Canes make any moves to give them some added depth.