The Metro is tight. That's not news. It's been that way all season long and looks like it'll stay that way with roughly six weeks to go in the regular season. The Capitals presently own first in the division but are one slump away from being caught by a division foe. Opposite the Metro, the Atlantic is in cruise mode, at least for the Lightning, Bruins and Maple Leafs, who have no less than 20 points on the rest of the division. Barring a miracle, five Metro teams will punch their ticket to the postseason. The last-place Rangers will be sellers, but the rest of the group all seems compelled to above the separation line in the standings. Monday's trade deadline fast approaching adds extra intrigue to what will be a dramatic end to the year. What's at stake for the seven teams in the hunt, and what does it take to get there?
Capitals (75 points)
On the line: A Stanley Cup (heck, a third round appearance would be swell, too)
Objective: Depth/avoid overpayment
The Caps are eying a Metropolitan division three-pete. Just kidding. While it's an impressive feat given the talent within, there's no happy ending to Washington's season without a Stanley Cup. They've acquired depth defense in Michal Kempny and Jakub Jerabek in the last 72 hours. Those are simply insurance adds for what they hope is a run that extends beyond the second round. With less than $200,000 in cap space, they won't be able to acquire anyone else without moving salary and that won't be easy. But might this be best for the Caps? Kevin Shattenkirk, Curtis Glencross and Martin Erat highlight expensive deadline buy's with diminishing returns.
Penguins (74 points)
On the line: A Third-straight Cup for Phil Kessel…and everyone else, too. I guess
Objective: Upgrade top-9
The champs weren't going to just roll over. After struggling for the first two months of the season, the Pens have found their groove again. Presently riding a four-game win streak, they've gone 16-4-1 since the New Year and quieted whatever "cup hangover" narratives that existed. Sidney Crosby, Evgeni Malkin and Phil Kessel are not just enjoying a productive season (76 goals scored amongst them), they've been healthy, too (four combined games lost to injury). Kris Letang is on pace to reach 80 games played for the first time since the 2010-11 season. There's every reason to believe that the Pens can defend their title. Rangers' Michael Grabner and Oilers' Mark Letestu are two names that have been linked to Pittsburgh, who will almost certainly do something to add to what is already one of the best top-nine's in the NHL.
Flyers (72 points)
On the line: Another Cup for their Biggest Rival/Local Pressure
Objective: Help on the wing
Fly Flyers Fly. Could Philly bring two league championships inside one sports year? That's what one of the league's streakiest teams hopes can happen. The Flyers have done a bit of everything: a 10-game losing streak; a six-game win streak and are currently in the midst of a nine-game point streak. But can they add a Stanley Cup to what has been a strange season? While Philadelphia might not be a favored contender, there's some added motivation. It comes in the form of their biggest rivals, the Penguins. While it's always been one of the league's biggest rivalries (and a first round playoff matchup would certainly reiterate this), the Flyers 42-year cup drought feels like an eternity, especially with the Penguins hoisting the cup on four occasions since. They'd love to bounce them en route. Flyers don't have much reason to add–Sean Couturier, Claude Giroux and Jakub Voracek are all among the league scoring leaders, but with Wayne Simmonds possibly gone for the next month, could they look to add up front? Edmonton's Patrick Maroon is an intriguing option. They've already added goalie, Petr Mrazek from Detroit to combat injuries in net.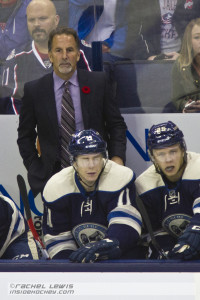 Blue Jackets (65 points)
On the line: Stay Relevant
Objective: Forward help
The Blue Jackets, coming off a franchise-best 108 point season, have rotated the final wild card spot in the East with the Islanders and Hurricanes in the past week. It's not as secure as last season–they clinched three weeks into March, but they're in the hunt and could enter the conversation for a divisional seed. With just three wins in their last 10, Columbus knows that they have to fix things and in quick order. They have some cap space to play with and will dangle defenseman, Jack Johnson in hopes of landing some help. Derrick Brassard and Rick Nash know Columbus, but more importantly, know how to play for John Tortorella.
Islanders (64 points)
On the line: John Tavares
Objective: Help on in Goal/Defense
It's no secret that Islanders captain, John Tavares is in the final year of his contract. Currently leading the team in goals (30) and points (64), the 26-year-old has said he wants to stay beyond this season. Now that the arena situation seems to be squared away, the pitch can shift more to on-ice performance and what's ahead for the franchise. Mathew Barzal (62 points) is having a strong rookie campaign, but the team's future on defense and in goal is suspect. Rentals won't convince Tavares, but a hockey trade might. Islanders have two additional first round picks to use if needed. They've also been rumored to be shopping Brock Nelson.
Devils (70 points)/Hurricanes (64 points)
On the line: Get In/End Postseason Drought
Objective: Stay the course/don't overpay on rentals
The Devils and Hurricanes are right in the thick of things, they have a wealth of draft picks and youth and each have north of $7 million in projected cap space. Is there any better situation to be in? But big picture suggests they hang on to what they've got and know even better days are ahead. The potential for a cheap rental certainly exists though as both teams are vying to end long playoff droughts. Devils haven't been in since 2012; 'Canes without postseason hockey since 2009.