Grand Forks, ND – On Friday night, when the University of North Dakota hockey team took the ice, they had to be licking their lips. Western Michigan entered Friday's goals giving up almost four goals a game. None of their goalies had a save percentage over .900.  When Friday's game was over none of that mattered.
Through 40 minutes of play, the Fighting Hawks had a perfect game plan. They were all over the Broncos. Defensively, the Hawks limited the Broncos to eight shots through two periods of play. There was one thing standing in UND way, Broncos senior goalie Trevor Gorsuch. For 60 minutes he was a brick wall. The Native of St. Charles, MO, stopped 32-of-32 shots and gave the UND fits. Nothing hit the back of the twine.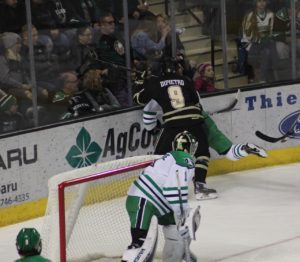 No, it wasn't a full moon. Nothing went UND's way.
"I thought for forty minutes, it was pretty good hockey, as far as what we'd done," UND head coach Brad Berry said. "To create opportunities. To limit opportunities. Then, in the third period when the game was up for grabs, we kind of backed off a bit. Even though we didn't score a goal, you might have to wait till the 40th or 50th shot to do it. You need to have that tenacity for 60 (minutes)."
In the third period, the Hawks came out flat. The Broncos took away the momentum. Then at the 12:24 mark of the third period, Broncos forward Josh Passolt broke a scoreless tie, he shot the puck and it deflected off of UND defenseman Hayden Shaw's skate. You can't fault that goalie on that shot.
"Gosh that's tough," Colton Poolman said. "They got a bounce. We didn't, that's hockey. It's frustrating when you play a game like that and have one of those go in. Maybe later on, down the road this season we get a game like that, where we get a bounce. It happens. You've got to battle through it and come back stronger."
Sophomore goalie Peter Thome hadn't played in six games, took the net against the Broncos. The Minneapolis, MN, native played well stopping 17-of-18 shots.
"It's a tough play," Thome said. "Tough plays happen. It's disappointing, but it was a tough bounce."
While freshman goalie Adam Scheel was the man between the pipes, the second-year goalie kept working hard in practice. Coach Berry rewarded Thome for his hard work.
"He worked hard in practice," Berry said. "The last couple of weeks he's been doing all of the right things that warranted an opportunity to play. I thought he was sharp tonight. The goalie, you can't fault him on one goal that goes off a leg in front of the net. I thought he was sharp and he looked like that the last couple of weeks."
The same two teams play again on Saturday night at 7:07 pm.
Points of interest
UND has killed 14 of the last 15 opponent power plays.
UND has only given up one power-play goal during the month of November.
In all four of UND's loses, they've outshot the opposition.
UND is ranked 39th nationally in scoring and ranked 14th nationally defensively.