This season, the University of North Dakota Hockey team has been notorious for its slow starts on Friday night's.
Coming into Friday's game against the Denver University Pioneers, UND had a (6-6-1) record on Friday nights.
On Saturday nights, UND is almost perfect going (13-0-1).  The only blemish, a non-conference 2-2 tie to Providence.
UND improved to 7-6-1 on Friday with a 4-2 win against Denver.
Friday night, UND got off to an uncharacteristically fast start in the first period. UND held a 14-1 shot advantage after 15 minutes of play.  After one period of play, UND had outshot the Pioneers 15-5. Fast start aside, the score remained 0-0 after one period of play. UND out shot DU 36-20 for the game.
Denver would score the first goal of the game at the 07:20 mark of the second period with a snipe from Joey LaLeggia. Seven minutes and 13 second later, junior forward Drake Caggiula would knot the game at 1-1 with a beautiful snipe.
UND would outscore the Pioneers 3-1 in the third period with two goals from Michael Parks and Nick Schmaltz.
After the game, Head coach Dave Hakstol appeared to be suffering from a severe head cold and had a tough time talking.
"I thought we played really well right from the drop of the puck," Hakstol said with a hoarse voice. "I thought both teams played very well. It was pretty good paced. I thought we had the better of the opportunities in the first half of the game. It was a great hockey game."
Parks complimented the coaching staff's game plan.
"(You've) got to give a lot of credit to our coaching staff and having us ready off this bye week," Parks said. "It's not an easy thing to do even though we're well rested. They gave us a game plan for Denver and I think we executed pretty well."
Stats, stats and more stats
With Friday's win, coach Hakstol has had 11 straight 20 win seasons. That's the longest active streak in division I hockey coach. Hakstol has also made the NCAA playoffs each year during his 11-year coaching career. UND seems destined to make the NCAA tourney again this season.
With the win, UND has a 10-3-0 record since December. UND improved to (20-6-2, 11-5-1 NCHC). Finally, with the win UND moved into first place in the NCHC standings.
With the loss, DU dropped (16-10-1, 9-8-0 NCHC).
UND also moved closer to clinching an at-large bid in the NCAA tourney. UND is currently in second place of the Pairwise Ranking and according to Pairwise Rankings expert Jim Dahl UND is nearly a lock for an at-large bid.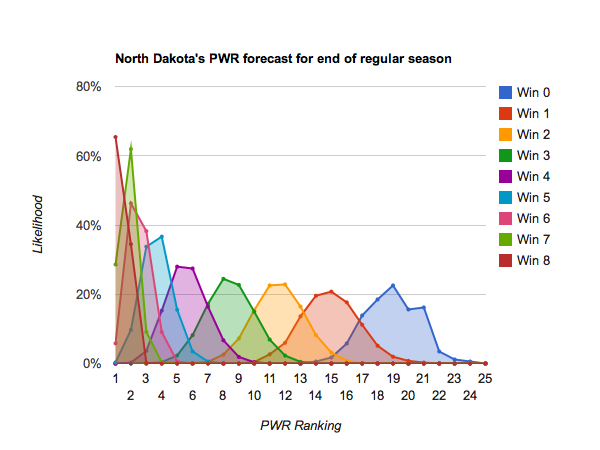 During the first intermission of Friday's game, I was having a discussion with Mark Schuttenhelm of the Jamestown Sun about UND and DU's non-conference schedules. I think it's worth a look, DU non-conference opponents have a cumulative record of 68-103-18 (.407). UND's non-conference opponents have a cumulative record of 61-105-18 (.349).
With the win on Friday night, junior goalie Zane McIntyre now has 49 wins. McIntyre is now tied with former UND goalie Aaron Dell for eighth-most wins in UND history.
UND and DU will play in the series finale tonight at 07:07 pm CT.