This weekend, the University of North Dakota Fighting Hawks entertain the University of Minnesota-Duluth Bulldogs in an important two-game non-conference series. Last weekend, the Fighting Hawks were swept by the Denver Pioneers. UND will look to right the ship against the pesky Bulldogs.
Series History
All-time, North Dakota leads the series against Minnesota-Duluth 142-77-9 (.643). In Grand Forks, The Fighting Hawks lead the series 78-33-3 (.697). In Duluth, the Fighting Hawks lead the series 59-39-5 (.597). At Neutral sites, the series is tied 2-2-1 (.500). Last 10 games against the Bulldogs, UND leads 7-2-1 (.750). Head coach Brad Berry is 2-0-0 against the Bulldogs.  In the last six games against the Bulldogs in the REA, UND is 3-2-1 (.583).
Tale of the Tape
Minnesota Duluth Bulldogs 11-12-5, 7-8-3-1 NCHCvs. #4 North Dakota Fighting Hawks 22-5-3, 13-4-1-1 NCHC
Date: February 19-20, 2016
Time: Friday 7:38 p.m. CT and Saturday 7:07 p.m. CT
Location: Ralph Engelstad Arena, Grand Forks, N.D.
Radio: Home of Economy UND Sports Radio Network
Friday Webcast: None
Saturday Webcast: NCHC.tv
Friday TV: CBS Sports Network, DirecTV 221, DISH Network 158
Saturday TV: Midco Sports Network, FOX College Sports Central
Radio: Home of Economy UND Sports Radio Network
North Dakota
North Dakota Last Time Out: Swept by Denver (4-6 L, 1-4 L)
North Dakota Offense: 8th, 3.40 GPG
North Dakota Defense: 4th, 1.90 G/GM
North Dakota Scoring Margin: 5th, 1.50
North Dakota Power Play: 26th, (22/118, 18.6%)
North Dakota Penalty Kill: 5th, (101/116, 87.1%)
North Dakota Penalty Minutes: 22nd, (11.6 PIM/G)
North Dakota USCHO Ranking: 4
North Dakota Corsi Ranking: 57.5%
North Dakota Pairwise Ranking: 3
North Dakota Record during February: 0-2-0 (.000)
North Dakota Home Record: 10-2-1 (.807)
North Dakota Away Record: 11-3-1 (.766)
North Dakota Neutral Ice: 1-0-1 (.750)
North Dakota Last 10 Games against UMD: 6-3-1 (.550)
North Dakoa Record against Ranked Teams: 8-4-0 (.666)
North Dakota Strength of Schedule:12th
Minnesota-Duluth Bulldogs
Minnesota-Duluth Last Time Out: Lost to BSU (1-2 L)
Minnesota-Duluth Offense: 29th, 2.64 GPG
Minnesota-Duluth Defense: 11th, 2.19 G/GM
Minnesota-Duluth Scoring Margin: 19th, .46
Minnesota-Duluth Power Play: 42nd, (17/117, 14.5%)
Minnesota-Duluth Penalty Kill: 17th, (66/79, 84.8%)
Minnesota-Duluth Penalty Minutes: 26th, (11.3 PIM/G)
Minnesota-Duluth USCHO Rankings: N/A Minnesota-Duluth Corsi Rankings: 58.7%
Minnesota-Duluth Pairwise Ranking: 23
Minnesota-Duluth Record during February: 2-1-0 (.583)
Minnesota-Duluth Home: 6-6-2 (.500)
Minnesota-Duluth Away: 5-6-3 (.433)
Minnesota-Duluth Strength of Schedule: 4th
Minnesota-Duluth Record against Ranked Teams: 1-9-4 (.214)
Players of Note
North Dakota Fighting Hawks: Forwards: Brock Boeser (19g-14a—33pts), Drake Caggiula (15g-17a—32pts), Nick Schmaltz (4g-25a—29pts), Bryn Chyzyk (9g-8a—17pts), Austin Poganski (7g-10a—17pts), Luke Johnson (7g-8a—15pts), Johnny Simonson (2g-11a—13pts), Defense: Troy Stecher (6g-15a—21pts), Tucker Poolman (3g-13a—16pts), Christian Wolanin (4g-8a—12pts), Keaton Thompson (1g-11a—12pts), Paul LaDue (2g-9a—11pts). Goaltenders: Cam Johnson (13-3-1, 1.61 GAA, .937 save percentage), Matt Hrynkiw (9-2-2, 2.18 GAA, .908 save percentage). (UND Stats)
UND Injuries: None reported.
Minnesota Duluth Bulldogs: Forwards: Tony Cameranesi (9g-18a—27pts), Dominic Toninato (10g-4a—14pts), Alex Iafallo (6g-8a—14pts), Adam Johnson (4g-8a—12pts), Karson Kuhlman (6g-5a—11pts). Defensemen: Andy Welinski (4g-13a—17pts), Neal Pionk (2g-10a—12pts). Goalies: Kasimir Kaskisuo (11-11-5, 2.01 GAA, .918 SV%), Matt McNeely (0-1-0, 3.03 GAA, .907 SV%). (UMD Stats)
UMD Injuries: Forward Austin Farley (13g-13a—26pts), defenseman Dan Molenaar (1g-7a—8pts).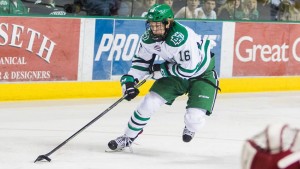 Coach Speak
UMD head coach Scott Sandelin on Cam Johnson: "Their top line is back together and you saw what they can do when they played here. Their goaltending was great here, so we have got to find a way to solve Johnson. Denver did last weekend. We saw a few weaknesses in his game, so hopefully we can exploit some of those."
"I see a very hard team to play against in our end of the rink," head coach Brad Berry told the media. "They are very good offensively. They protect pucks. They win pucks. They find ways to get pucks to the net. Their D-men are extremely aggressive as far as holding lines to keep pucks. We're going to have to be good in our end of the rink.
Series Prediction
This weekend, the Fighting Hawks look to rebound when they take on the Bulldog in a very important two-game conference series. A sweep either way would be huge. As we get to crunch time, sweeps are hard to come by in the meat grinder known as the NCHC. Teams are fighting for position and the Bulldogs are going to be miserable to play against. I am going with the safe bet, UND takes five points.