After losing in the regional final two seasons in a row, the University of Minnesota-Duluth Bulldogs were looking to exact some revenge. Saturday night, they were given that opportunity when they played Boston University in the finals of the West Regional Championship. The Bulldogs victim, the Terriers, a team that ended their season during the 2015 NCAA playoffs.
In the two previous seasons, the Bulldogs went out east only to lose to Hockey East teams in the NCAA Northeast Regional Final (BU 2015, and Boston College 2016).
This time, the Bulldogs' made no mistake, at the 01:57 mark of overtime junior forward Adam Johnson blasted home the game-winning goal beating Terriers freshman goalie Jake Oettinger.
"I took a one-timer and the shot got blocked'" Johnson said. "I was fortunate enough to get it back on the wall and I saw an opening. I just tried to fake a shot and get that guy to bite and shoot it by him. I found the corner and it was a good feeling."
AN OVERTIME WINNER TO GO TO THE #FROZENFOUR! pic.twitter.com/2zq2XFiPGh

— NCAA Ice Hockey (@NCAAIceHockey) March 26, 2017
Head coach Scott Sandelin is known for being close to the vest and doesn't show a lot of emotions was excited about his team's win.
"I'm pretty excited right now," Sandelin said. "These guys know I don't get too excited. First off, congrats to BU — a great team. A real good hockey game back and forth. I'm more excited for our team, our program and our seven seniors that have kind of gone through tough defeats in this regional final. To have the opportunity to get to Chicago, to get to the Frozen Four and keep playing is pretty exciting for all of us."
Playing Through Adversity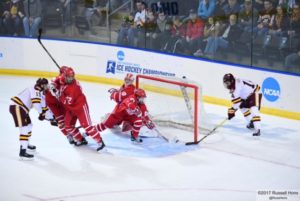 Successful hockey teams want to be playing their best hockey entering February, March, and April. The University of Minnesota-Duluth is peaking at the right time and they're red-hot. Since February 3, 2017, the Bulldogs are 10-1-3. With their 3-2 overtime victory over the Terriers, they've won seven games in a row.
Good hockey teams also learn how to win in adverse situations. This season, the Bulldogs have faced their fair share of adversity. To date, the Bulldogs have played in 12 overtime games going 5-0-7.
"When you're in a lot of those situations, you learn from those, good and bad," Sandelin said. "I think this group has been in so many close games, not just overtime games, they just believe they can win. That was the case again tonight where they just found a way to win. [I gave them] just a few reminders heading into overtime – maybe simplify the game, don't force things. I think both coaches maybe say the same things. We were fortunate to get the power play and capitalized."
"This game was a little bigger than the last one, but we've been in that position a lot," Johnson said. "I think that was our 12th overtime game, so we knew how to get through it. We had a good overtime and we were fortunate enough to pull it out."
Untimely Penalty
All weekend long, the Terriers penalty kill was outstanding. After not giving up a power-play goal on eight kills, the Terriers took one too many penalties. The ninth one would come back to bite them. The game-winning goal was scored on the power play 23 seconds after Terriers forward Bobo Carpenter has been assessed a two-minute penalty for tripping. It was a call that the on-ice official had to make. The Terriers head coach agreed.
"If we keep it under four [power plays] that's a good night so penalties weren't the problem tonight," head coach David Quinn said. "It was the timing of the penalty that was the problem. I don't know how many we had killed in a row, we hadn't given up any in the postseason until that one. Disappointing we only had three minutes of power play time tonight and only three minutes of power play time last night which we could have a nice lengthy discussion about that but I'll bite my tongue. But that was definitely a penalty, they had to call that penalty in overtime."
With the loss, BU finishes their season 24-12-3. The Terriers entered the season with a lot of attention, especially with all of the high drafted players that were on this team. Coach Quinn said he enjoyed coaching this team.
"It was so much fun coaching this team. Obviously, we won draft day and we won the summer accolades contest which doesn't mean anything when October rolls around. They came to the rink every day working hard, they were coachable, it was a fun group to be around. They cared for each other. Our immaturity showed throughout the season but as Charlie said last night you're asking an 18-year-old to act like a 22-year-old and that's hard to do. It's hard for a 22-year-old to act like a 22-year-old, let alone an 18-year-old to act like a 22-year-old.
"I can't say enough about this team. It was such a great group to coach. Our biggest concern as a staff when the season started was were we going to think we were better than we actually were? Were we reading our press clippings and take for granted that we're just going to be able to show up and win hockey games, and that never was the case. Sure we got too cute at times and we were immature at times but it wasn't from a lack of respecting your opponent or thinking we were better than we were. I give Doyle and our seniors and our leadership a lot of credit and making sure that didn't happen, and I give our freshmen a lot of credit for respecting college hockey and respecting each other, respecting the opponent. They did a great job managing all these expectations and all the pressure they faced.
With the win, UMD improves to 27-6-7 and moves on to the Frozen Four where they will face Harvard University in the semifinals on April 6, 2017, game time is 08:30 CT.