This weekend, the University of North Dakota entertains the University of Alabama-Huntsville Chargers in a non-conference matchup. This will be the last non-conference series until the playoffs.
Series History
All-time, UND is 2-0-0 against the Chargers. The last time the two teams met was October 13-14, 1989 at the old Ralph Engelstad Arena, in Grand Forks, ND. The Fighting Sioux swept the Chargers (12-6 W, and 11-5 W). Looking at the Fighting Hawks roster, none of the players from this team were alive the last time the two teams played.
#2 North Dakota Fighting Hawks (16-2-2, 9-1-0 NCHC) vs. University of Alabama-Huntsville Chargers (4-12-2, 2-10-2 WCHA)
Date: Friday, Jan. 1-2, 2016
Time: 7:37 p.m. CT, Saturday, Jan. 2, 7:07 p.m. CT
Location Ralph Engelstad Arena, Grand Forks, N.D.
Radio: 96.1 FM, Home of Economy UND Sports Radio Network
Webcast: NCHC.tv
TV: Midco Sports Network
(UND Official game notes)
Tale of the Tape
Fighting Hawks
UND Offense: 9th, 3.50 GPG
UND Defense: 3rd, 1.70 G/GM
UND Scoring Margin: 7th, 1.80
UND Power Play: 29th, (14/77, 18.2%)
UND Penalty Kill: 22nd, (68/81, 84.0%)
UND Penalty Minutes: 11th, (13.2 PIM/G)
UND SOS: 23rd
UND USCHO Ranking: 2nd
UND Pairwise Ranking: 5th
UND Record during December: 4-0-0
UND Home Record: 6-1-0 (.857)
UND Away Record: 10-1-2 (.818)
UND Last 10 Games: 9-1-0 (.800)
Chargers
UAH Offense: 45th, 2.33 G/GM
UAH Defense: 37th, 3.06 G/GM
UAH Scoring Margin: 44th,  -.72
UAH Power Play: 47th, (10/76, 13.2%)
UAH Penalty Kill: 13th, (65/75, 86.7%)
UAH Penalty Minutes: 5th, (14.9 PIM/G)
UAH SOS: 51st
UAH USCHO Ranking: N/A
UAH Pairwise Ranking: 53rd
UAH Record during December:
UAH Home Record: 2-8-2 (.250)
UAH Away Record: 2-4-0 (.333)
UAH Last 10 Games: 1-8-1 (.150)
North Dakota Fighting Hawks: Forwards: Drake Caggiula (13g-14a—27pts), Nick Schmaltz (3g-23a—27pts), Brock Boeser (13g-8a—21pts), Bryn Chyzyk (6g-3a—9pts), Austin Poganski (5g-4a—9pts), Johnny Simonson (2g-6a—8pts), Luke Johnson (4g-5a—9pts). Defense: Troy Stecher (3g-10a—13pts), Tucker Poolman (2g-11a—13pts), Christian Wolanin (3g-5a—8pts), Keaton Thompson (1g-6a—7pts), Paul LaDue (1g-6a—7pts), Goaltenders: Cam Johnson (7-0-1, 1.20 GAA, .955 save percentage), Matt Hrynkiw (9-2-1, 2.11 GAA, .911 save percentage). (UND Stats)
UND forwards Brock Boeser and Nick Schmaltz are participating in the 2015 WJC in Finland.
Alabama-Huntsville Chargers: Forwards: Max McHugh (4g-12a—16pts), Brennan Saulnier (6g-9a—15pts), Chard Brears (7g-6a—13pts). Defense: Brandon Parker (2g-5a—7pts), Kurt Gosselin (2g-3a—5pts), Frank Misuraca (1g-3a-4pts). Goalies: Matt Larose (2-4-0, 2.40 GAA, .918 save percentage), Carmine Guerriero (2-8-2, 2.96 GAA, .903 save percentage). (UAH Stats)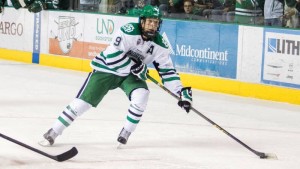 Series Prediction
As I mentioned in another post: The Fighting Hawks will begin the second half of the season without 2/3 of their CBS Line. Forwards Brock Boeser and Nick Schmaltz are currently participating in the 2016 WJC in Finland and will not be available to UND this weekend.
I don't think this should be grounds for concern, even without Boeser and Schmaltz, UND still has more than enough weapons to beat the Chargers.
Looking at the numbers – statistically – the Chargers are not a very good hockey team. The Chargers are in the bottom half of almost all the statistical categories nationally. That doesn't mean they can't beat UND because they could.
The Fighting Hawks will need to put the hammer down early and often. Let the Charger hang around, and that could be trouble for UND. The Fighting Hawks don't want to chase the Chargers, get the lead and take the game to them. That being said, I think UND sweeps the Chargers 6-0 and 3-1.