The 2016-17 Devils were anything but a good team. If Newark native Shaquille O'Neal had seen them play he may have even called them "Horriawful." And he wouldn't be wrong either. From a -61 goal differential to a 28-40-14 regular season record, the franchise's worst in 28 years, nothing seemed to go right last season. In the offseason though that started to change as the club shifted its emphasis onto the future and got some fortunate bounces along the way.
No such was more fortunate than winning the draft lottery, propelling New Jersey from fifth to first overall ahead of this past June's Entry Draft. Then, the task of settling the debate: Nico or Nolan?
Nico Hischier, a highly-touted, dynamic center who soared atop the rankings following an 86-point season with Halifax, was the pick of Ray Hero and company. Two games into his NHL career and he's been able to brush off the concerns about his size and physical immaturity for an 18-year-old. He's notched one assist and seven shots on goal. His coach though praised the first overall pick from four months ago for his focus amidst the pressure and expectations.
"He's a guy that has a strong focus level," head coach John Hynes said following Hischier's debut versus the Avalanche on Saturday. "He's aware of expectations and has an innate ability to be able to concentrate on what matters most, which is his preparation for his performance. He's focused on the team more than himself and it seems like that deflects some of the pressure that could be put on him from outside the locker room."
Adam Henrique, who broke onto the scene with the Devils in 2011-12 and was a finalist for rookie of the year that season, also touted Hischier's ability to keep things simple.
"I thought he was great," Henrique said. "I thought he played his game. I think sometimes as a young player you try and do too much. You get yourself into trouble that way. But I thought all the young guys in their first game did a great job to just playing within themselves, doing what got them here. They've been exciting to watch."
Also making their first marks on the NHL have been a pair of rookies, neither of which entered into the equation until late in the summer.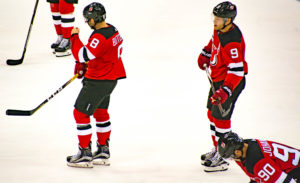 Will Butcher was this offseason's prized NCAA free agent. After failing to come to terms with Colorado, who drafted him in 2013, the 22-year-old Hobey Baker winner became unrestricted. Nearly half the league expressed interest in the standout blueliner's services before he ultimately decided to become a Devil in late August.
Coincidentally, Butcher's first career game came against the very same Avalanche team he chose to leave via free agency. Among the reasons cited for his departure from Colorado was a disagreement with management over his readiness to turn professional following his junior season at the University of Denver.
Butcher's three assists in New Jersey's 4-1 win over Colorado on opening day set a franchise record for most points by a rookie in their debut. But milestone and opponent aside, Butcher wanted to keep things in perspective.
"In any team you're playing you want to give your best foot forward in your NHL debut," he said. "You can say whatever you want if it gave you extra motivation but when it's your first NHL game you just want to go out and make a great impression and do all the things you were brought here to do."
Hynes, who Butcher attributed as a big reason for his decision to come to the Garden State, identified the offensive defenseman as a player that could fill a major void.
"It was nice to see him do what he does," head coach John Hynes said following Butcher's debut on Saturday. "When we went through the recruiting process, we had a need on our team of a guy who could make those decisions and run our power play."
While Hischier and Butcher may have been fortuitous bounces to the organization, another rookie has had the dream start to his career.
Jesper Bratt was the Devils sixth round (162nd overall) pick at the 2016 NHL Entry Draft. This summer he decided to leave his native Sweden for North America. The plan was to play for junior hockey for the London Knights of the Ontario Hockey League. That all seemed to change after Bratt's impressive training camp turned into an even more impressive preseason. And his preseason turned into, well I think you get the picture.
The 19-year-old has already added three goals (on each of his first three shots in the NHL at that) and two assist in two games. He leads all Devils in scoring and has done it in each and every way–power play, shorthanded and an even-strength tip-in goal. In the absence of Kyle Palmieri on Monday at Buffalo, Bratt filled in nicely on a first line with Taylor Hall and Pavel Zacha. Like his rookie counterparts, nothing about the bright lights of the NHL have seemed to phase him.
"I didn't think about anything special, I just tried to go out there and play my game," he said. "Just try to focus and play my best hockey."
Through two games into the season the team is already providing some optimism thanks to a long-awaited youth movement. They'll be put to their toughest test thus far on Wednesday when they take on the 3-0-0 Toronto Maple Leafs, a team that made its mark last season with the likes of Auston Matthews, Mitch Marner and William Nylander.