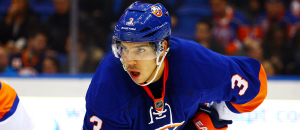 The cliche is that good teams often find a way to win hockey games when they're not playing at their best. If that's the case, Wednesday night's 3-2 overtime victory over the Washington Capitals is a sign that the New York Islanders are rapidly becoming a good team.
John Tavares scored a power play goal with 23.2 seconds left in overtime to give the Islanders their fifth consecutive victory and their 10th win in their last 11 contests.
"For me it was one of those games where some guys just didn't have the jump, on the penalty kill, our attention to detail wasn't where it should have been, but we won the game and that's the sign of a good team," Islanders' head coach Jack Capuano said after the game.
The Islanders took a 1-0 lead just 5:11 into the game on a goal by Anders Lee. The big forward scored from just five feet out, standing in front of the net and put the puck past Washington goalie Braden Holtby.
The Capitals were able to answer back