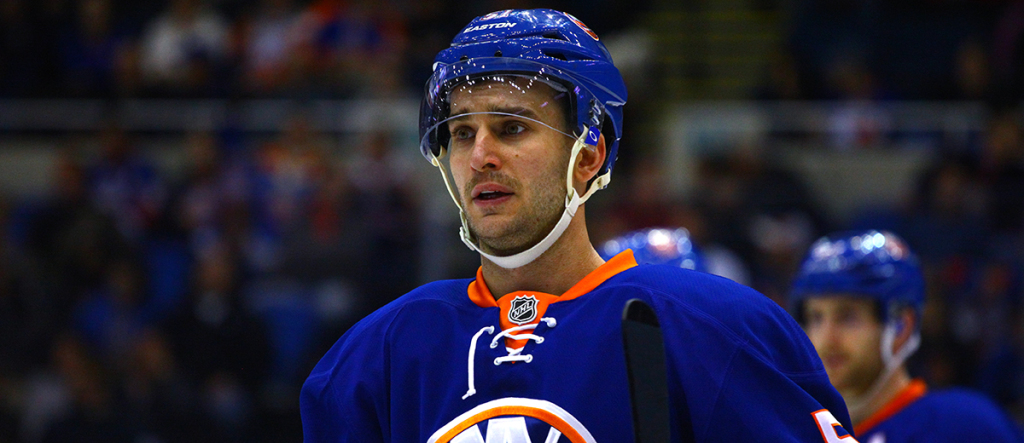 The New York Islanders are growing more frustrated but refuse to panic after their latest defeat, a 3-2 loss to the Los Angeles Kings at the Nassau Coliseum Thursday night. The Isles are now 1-5-1 in their last seven games as the season nears its conclusion and the playoffs are looming just around the corner.
The biggest issue facing the team right now is a lack of consistent offense. The Isles have scored just 10 goals in their last seven games with three of those coming in their win over the New Jersey Devils last Saturday.
"The frustrating part for me is that guys are working extremely hard," Islanders head coach Jack Capuano explained after the game. "Guys are trying to get cute and it's not going to cut it. You can't just turn a switch on and off and I've seen enough from certain guys."
The team's leaders agree with Capuano and feel that simplifying things on offense is the way to go.
"We're competing hard out there, we're just making too many mistakes and turnovers," Frans Nielsen explained. "We've got to play a more simple game. Everybody wants to do a little too much out there sometimes. We've got to simplify and that's when we're a tough team to play against."
Captain John Tavares, who was held without a point against the Kings and finished the game with a minus-three plus/minus, placed the focus squarely on himself. Tavares has just one goal and one assist in his last seven games.
"I think a lot of it starts with me," Tavares said. "Being on the ice for three goals against and not being hard enough on the puck and not doing the little things at important times really cost us. I have to do better. It starts there. We as a group have to stay with it and keep working away."
Tavares is far from the only player struggling offensively right now. The fourth line has just one goal in the last 10 games. Brock Nelson hasn't scored a goal in nine games and Anders Lee hasn't scored in his last six contests. Kyle Okposo has just one goal and one assist in the seven games he's played since returning from his eye injury and Ryan Strome has just one goal in his last 11 games.
Overall, the Islanders are a team that relies on speed and pressure on the puck to cause turnovers and keep the opposition bottled up in their own zone. But the turnovers haven't been coming as frequently as teams play a more conservative style later in the season.
In addition, the Isles are not getting as much traffic in front of opposing goalies as they were when they were scoring in bunches earlier in the season. The Isles are still getting shots on goal, but they aren't getting as many rebounds, deflections and "dirty goals" as they were before. In fact, the Kings game is the first time during this recent seven-game offensive slide that the team failed to register at least 30 shots on goal.
Despite his obvious frustration, Tavares added, "We're not that far off…I don't think our composure and our confidence in ourselves has wavered."
Capuano hinted that a lineup change may be coming before Saturday's game against the Anaheim Ducks.
"The chemistry is not there with certain guys right now," Capuano admitted. "We'll talk about it as a staff [before Saturday]."
The schedule doesn't get any easier for the Isles. They face two more playoff teams at home this weekend in the Anaheim Ducks and Detroit Red Wings before playing three of their next four on the road.
The competition has been catching up to the Islanders in the standings. The Capitals won on Thursday and are now just three points behind the Islanders while the Penguins are just two points back. Both of those teams have a game in hand on the Isles.
The Islanders still have the talent and depth to turn this slump around, there is no need to panic. But they best do it soon or their offseason will come a lot quicker then they and their fans would like.