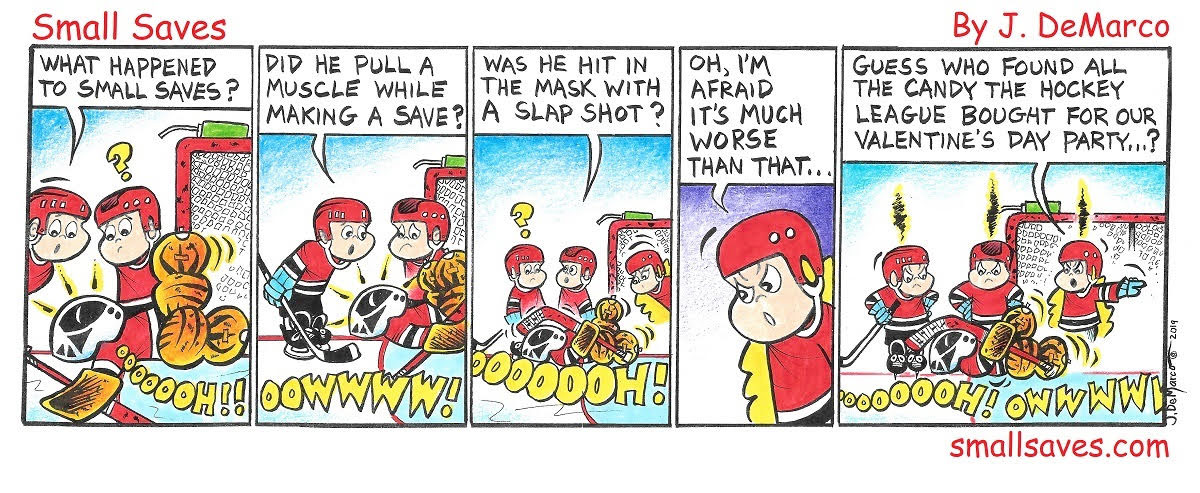 Hi, everyone.
Hope you all had a great week!
Well, this week is Valentine's Day! I remember when I was a youngster in the 4th grade. We couldn't wait for our yearly Valentine's Day party that would take place after our lunch period. The night before, my mom would help me fill out my cards while baking some treats to bring to the Hosmer school (in Watertown, MA). The teacher would hang the paper bags that we got to decorate under the chalkboard. I remember mine, as I drew a goalie with my name under it. We'd go around to each bag and drop off our cards to our fellow classmates. I still smile when I think of days like that. Such good times! I hope everyone has a fun Valentine's Day and gets to enjoy getting and giving cards… and, of course, some candy!
I'm starting to get some return replies from some of the editors of the larger market newspapers. While they enjoyed Small Saves, they just felt that he would not be a good fit in their sports or comics section. With every 10-20 that say no, there's eventually the one who says yes. It's all part of working towards your goal. You may not make the lineup of the first team you try out for. There may be three or four teams that may pass on you. But you keep honing your skills, improve on your weaknesses, and push onward. Then the day comes where you look down at the logo on your jersey! It's the same in any field, as it's all part of life. I remember how thrilled I was (and still am) when I first saw Small Saves in USA Hockey Magazine. It's crowning moments like that which make it all worth it.
Speaking of USA Hockey, I loved this issue's feature written by Christie Casciano Burns. Please check it out athttp://www.usahockeymagazine.com/
Have you seen the classic "Top 10 Goalie Excuses" Small Saves t-shirt? It was originally designed over 20 years ago. Thanks to Amazon, it has now been brought back in full color, just the way I originally envisioned it. To scoop one for yourself, please visit this link: https://www.amazon.com/dp/B07KTP3TW1
Have a great week, everyone!
Take care.
Jay… and Small Saves.