In the latest edition of Small Saves, our diminutive hero learns the secret to The Intimidator's success.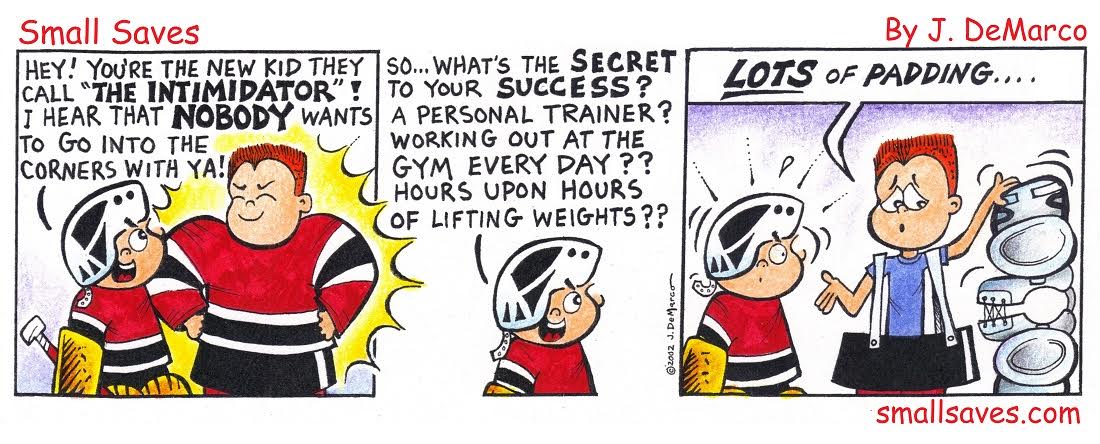 Hi everyone.
First, before this weeks newszine, I'd like to express my deepest condolences to the Humboldt Broncos hockey team. We love the game. No matter who you play against, inside, each of us has the same passion to be on that ice. Hockey is a close-knit community. When one of us hurt, we all hurt. When news spread about the tragic event, players from youth hockey up to the pros all felt shocked and saddened. We lost a part of our hockey family. Our thoughts and prayers go out to Humboldt.
Thank you for reading this week's Newszine. Today I'd like to update everyone on a weekly podcast I'm planning to put together. I'll be live on Facebook. As for the day and time, I'm still working on it. But it will be on the weekend in the evening. I'm aiming for Sundays. With the broadcast, I'll bring up various topics from the latest Small Saves cartoon, custom drawings, perhaps read some of the books… and answer questions. I'd love to hear from everyone!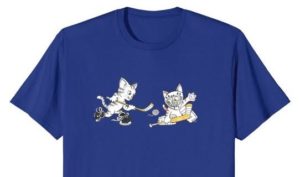 My Shirt of the Week
This is truly a fun one-especially if you're a cat owner! This design is a must-have for anyone who loves hockey and has kitties in their household. I have almost 400 hockey t-shirt designs available through smallsaves.com! Feel free to pop on over and browse at all our classic logos!
I've started doing freelance illustration projects. If anyone would like a drawing or has a need for graphics (custom team logos, business designs, etc., please feel free to contact me at smallsaves.com.
Here are some of this week's drawings… enjoy! The Black and white drawing is a "work in progress" that will appear in KP Lynne and R.J. Modell's book, Goalie For A Day: The Eric Semborski Story.