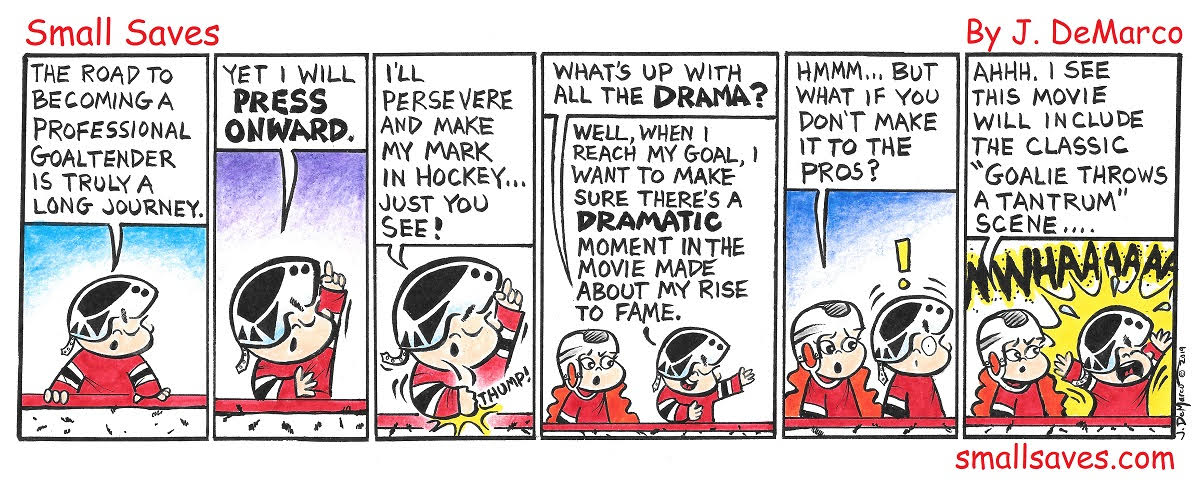 Hi, everyone.
Hope you all had a great week!
Small Saves Fun Facts
Small Saves was created in 1991, as part of a comic strip called "Sports Kids." This comic was picked up by American International Syndicates. While the cartoon did not make it to the final lineup, Small Saves emerged from the project.
Small Saves' first media appearance was in 1992.  The Boston-based "Faceoff magazine" carried him from issue 2 to their final issue a year later.
In 1994, Small Saves appeared as an ad for my line of goalie-themed t-shirts in The Hockey news.
1995 found our little goalie in the pages of The New England Hockey Journal. Aside from Small Saves, editorial hockey cartoons also appeared in the periodical.
Around 1998, www.smallsaves.com made its debut on the world wide web.
2000-2001 was a big year for Small Saves, as he was signed to a one-year contract to appear each week on NHL.com.
2004 found Small Saves in the pages of Goalies' World Magazine, where he stayed until the last issue.
2010, onward found him appearing on various hockey-themed websites and Facebook pages.
2018 has found Small Saves appearing in many websites, magazines, and so forth. From USA Hockey Magazine, Florida Hockey Life, Inside Hockey, The Advocate newspapers…and the list is growing!
I look forward to 2019 to see where the road takes our little puckstopper. Without the support and enthusiasm of everyone who reads and enjoys Small Saves, his journey simply could not be possible. You have taken him into your hearts, shared him with others, posted him on your personal media sites… for this, I am forever thankful!
Original Small Saves cartoons for sale.
When I draw a new cartoon, it's drawn on large, 17" paper. It's then reduced to size where it's colored in, scanned, and readies for publication. The final color versions, along with black and white versions are then stored in binders, ready to be used for any type of media need. So… what happens to the original drawings? Well, they are stored in a plastic artist portfolio-type case. They are then placed in the closet. I feel they would serve a much better purpose if they were made available to the public. So, if fans would like to own an original version of Small Saves (unframed, signed, dated, and numbered as "1 of 1"), feel free to contact me. They will be priced affordably. I can be contacted at [email protected] for any questions you may have.
Also, if you have a charity event, let me know and I will gladly donate a cartoon for you to auction off.
The Forgotten Christmas Goalie Update.
Small Saves' latest storybook, The Forgotten Christmas Goalie, is written! The cover art is almost done, and the inside drawings will commence starting this week. My goal is to have the book ready by July. I feel this will be a wonderful story to read for children of all ages, not just for Christmas, but for any time of the year.
Book and Shirt of the week
This week's shirt spotlight is our classic goalie-themed "Old School" design. Check out the link!
https://www.amazon.com/Hockey-Goalie-Vintage-Classic-T-Shirt/dp/B07L72KCKL/ref=sr_1_53?qid=1551629058&refinements=p_4%3AGoalie+Shirts+by+Small+Saves&s=apparel&sr=1-53
For our book selection, we've chosen the Small Saves cartoon collection book, "SAVE!"
https://www.amazon.com/Save-Collection-Small-Saves-Cartoons-ebook/dp/B074YM88F8/ref=sr_1_3?keywords=save+goalie+book&qid=1551629127&s=gateway&sr=8-3
Well everyone, thank you for reading and enjoying the latest cartoon!
Jay… and Small Saves!