The Pittsburgh Penguins claimed their fourth Stanley Cup in franchise history after defeating the San Jose Sharks 3-1 in Game 6 at SAP Center on Sunday night.
The Sharks knew it was important to score first in a critical Game 6 at SAP Center on Sunday because the Penguins will have their second chance to win the cup.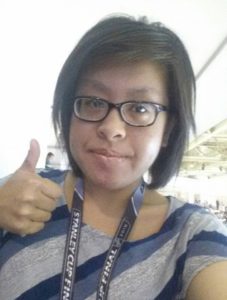 The Sharks finally scored first in the series in Game 5 and avoided elimination with a 4-2 victory at Consol Energy Center on Thursday. San Jose took an early 2-0 lead, quickly gave it away, then went ahead for good on Melker Karlsson's goal at 14:47 of the first period.
"Obviously everybody wants the lead," Sharks forward Nick Spaling told NHL.com. "It makes it easier to play. It just gives you the confidence going forward in the game. Tonight our message is about sticking with it. If we can get that lead, hold onto it and do what we do well."
The Tank was rocking tonight. The Sharks held a moment of silence for the Orlando shooting victims before Train's lead singer Pat Monahan sang the National Anthem.
The Penguins were off to a good start, winning numerous faceoffs and making multiple shot attempts, but Jones made some remarkable saves to prevent Pittsburgh's scoring chances early in the first period.
The Penguins went on their first power play of the game after Dainius Zubrus was called for tripping Brian Dumoulin at 7:50. Coincidently, Dumoulin remained patient at the point and fired a slap shot past Martin Jones to give his team a 1-0 lead at 8:16.
Shots (9-4) were in favor of the Penguins, who led the Sharks 1-0 after the first.
As expected, both teams paid tribute to NHL Hall of Famer Gordie Howe before the start of the second period.
The Sharks tied the contest 1-1 at 6:27 as Logan Couture ripped a wrist shot from the left faceoff circle through the five-hole for his 10th goal of the playoffs.
But the Sharks' lead was short-lived once Kris Letang received Sidney Crosby's pass from behind the net and beat Jones for his third goal of the playoffs. The score was 2-1 Penguins at 7:46.
Shortly after, San Jose went with Roman Polak-Martin Jones and Brent Burns-Brenden Dillon as their bottom two defensive pairs.
Justin Braun blocked Crosby's shot late in the second to prevent a potential Pittsburgh goal.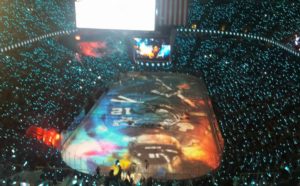 The Penguins continued to lead 2-1 after 40 minutes, outshooting the Sharks 20-17. San Jose had a lot of scoring chances, but couldn't tie things up.
San Jose went on their first power play of the game after Conor Sheary was called for hooking Justin Braun at 5:26. However, the Sharks were unable to benefit from the man advantage.
"We just didn't do good enough," Sharks captain Joe Pavelski responded when asked about the first two periods leading up to San Jose's first power play. "There's not much of an explanation behind it."
Jones made a brilliant save to block Carl Hagelin's wrist shot at 15:37.
The Sharks risked an empty net by pulling their goalie for an extra attacker. Not a wise choice, but the outcome was rather inevitable.
Sidney Crosby blocked a shot and passed it to Patric Hornqvist, who scored an empty-net goal that extended the Penguins' lead 3-1 with 1:02 remaining in regulation.
Jones was again magnificent, making 24 saves, but the Sharks couldn't pull off a comeback.
The Penguins beat the Sharks 3-1 in Game 6. Matt Murray made 18 saves for Pittsburgh.
Following the game, Penguins captain Sidney Crosby accepted the Conn Smythe trophy as series MVP and then the Stanley Cup.
"They are a great team and that is why they are holding that trophy up right now," said Sharks veteran center Joe Thornton. "That is all I can say."
The Sharks were disappointed in tonight's loss.
"I tried," center Logan Couture said. "I can't sit here and talk about what I did on the ice. We didn't get shots to the point. We didn't create enough shots on goal. . .You never plan on losing when you get here. You dream of winning. So it definitely hurts. It's not fun."
"It's kind of hard for me," forward Patrick Marleau added. "You never know what's going to happen."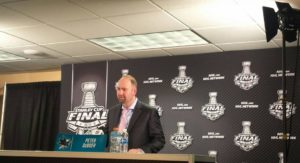 "Not many people had us making the playoffs," DeBoer said. "Not many people had us beating LA."
DeBoer also added: "Obviously, we'd like a Stanley Cup, but we don't have it. At the same time, this was a very hard point to get to. . .It's been 25 years for most people here. Once the wrongness of this wears off, I hope the guys will be celebrated for what they accomplished."
Notes:
The Sharks announced a sellout crowd of 17,562.
Tomas Hertl will miss his fourth straight game and remains day-to-day. He was not on the ice for San Jose's optional morning skate. "Hertl is making progress, getting better every day," DeBoer told the media.
Joonas Donskoi is expected to remain on the top line for a second straight game in place of Hertl. Melker Karlsson on the second line with Logan Couture and Patrick Marleau.
Matt Murray is expected to make his eighth straight start.