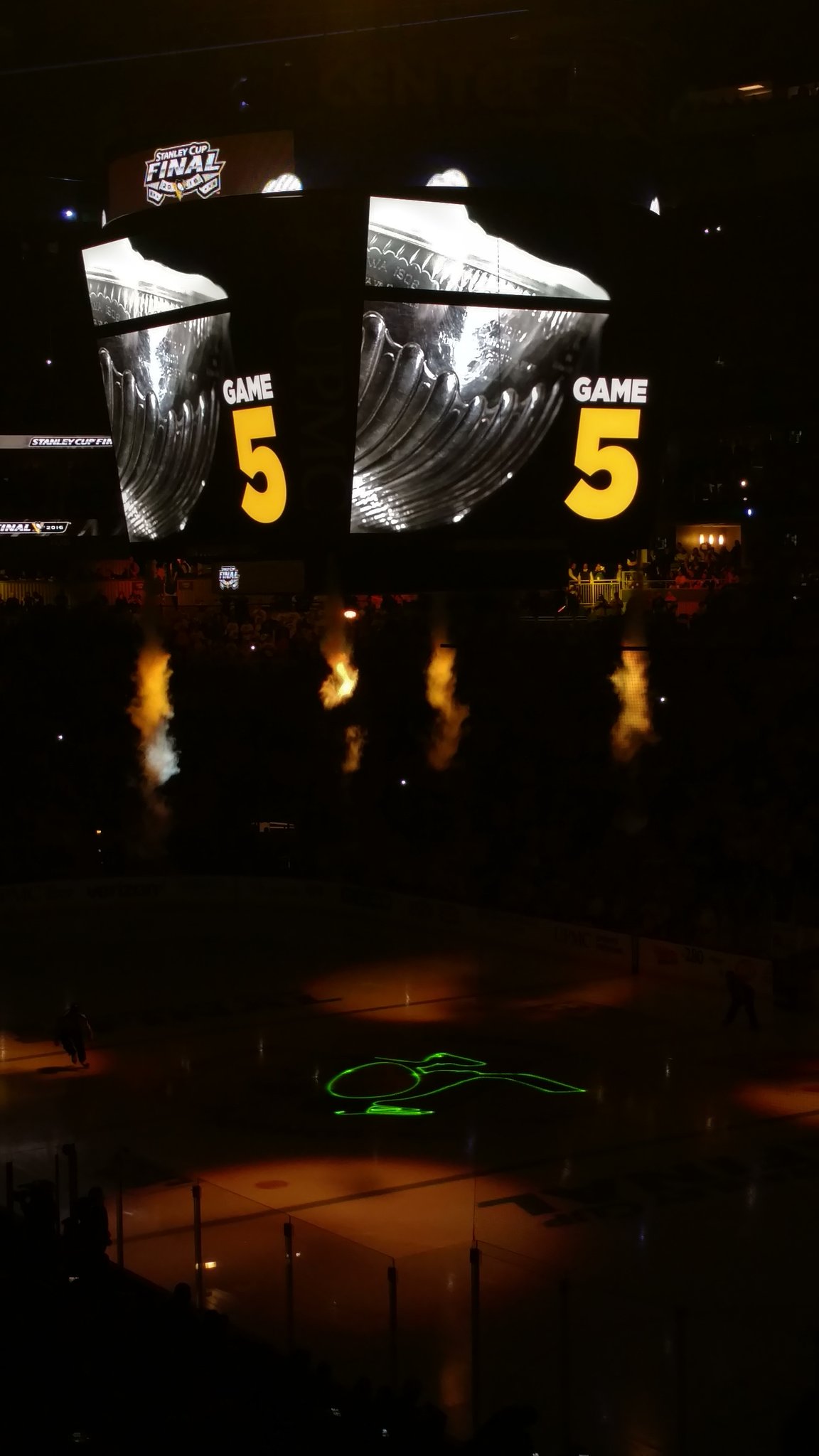 Thursday, the Penguins had an opportunity to do something no Pittsburgh team has done since 1960, when Bill Mazeroski swung for the fences against the Yankees at Forbes Field – win a championship at home.
A crowd of thousands started gathering outside CONSOL Energy Center a day in advance to watch Game 5 on the big screen, filling the city blocks up to where the Civic Arena once stood. When police could close no more roads, the city put a second big screen in Market Square, at the other end of town, to accommodate the sea of black-and-gold humanity.
The ticket resale market, too, was climbing into the thousands, with reports of fans paying as much as $10,000 for a single ticket. The buzz in the city was reaching a fever pitch and, as the puck dropped on Game 5, so was the noise inside the arena.
Down three games to one – a deficit only the 1942 Toronto Maple Leafs (who started down 0-3) have overcome in a best-of-seven Stanley Cup Final – the Sharks had little pressure and no one but themselves to play for. And, from the opening faceoff, they showed they hadn't traveled to Pittsburgh just to witness the Penguins' coronation.
Just 1:04 in, Sharks defenseman Brent Burns came from behind the net and swung around on a long-range wraparound to beat rookie goaltender Matt Murray. Less than two minutes later, forward Logan Couture tipped in Justin Braun's shot to give San Jose a 2-0 lead. That silenced the crowd, and Murray and his club looked to be reeling.
But the Penguins can turn on their offense at will and, when the Sharks' Dainius Zubrus flipped the puck over the glass for a delay of game penalty just over a minute after San Jose took the two-goal lead, Pittsburgh got its chance. Evgeni Malkin scored off a pass from Phil Kessel to bring his club back to life. And PA announcer Ryan Mill didn't even have a chance to finish the goal call before Pittsburgh's HBK line struck 22 seconds later, with Carl Hagelin tipping in Nick Bonino's shot.
"I thought our team as a whole was a little bit unsettled at the first part of the game, but we settled in fast," said head coach Mike Sullivan. "At that point, we didn't have the start we would've liked, but I really liked that we battled back as quick as we did. There's a lot of hockey at that point left to be played."
With the gift of a brand-new hockey game, Pittsburgh seemed to smell Shark blood in the water. The Penguins dominated the remainder of the period, piling on 15 shots to San Jose's seven. But, while Pittsburgh hit posts on their best chances, Melker Karlsson's shot with just over five minutes remaining leaked under Murray's arm and found the net to put the Sharks back on top, 3-2.
In a single period, the Sharks managed to repeatedly do something they hadn't done at any point in the previous four games – force the Penguins to play from behind. And, through 60 minutes, they made it hold up.
San Jose netminder Martin Jones stopped all 17 chances he faced in the second frame, with the Sharks physically punishing Pittsburgh at every opportunity, especially around the net, with Burns leading the charge.
"[The physicality was] what you expect in a playoff game," said Penguins captain Sidney Crosby. "Desperation level is high for both teams, and that's usually the result of it."
"We needed some big-game performances from guys," said Sharks head coach Pete DeBoer. "Jonesy was one of those guys in a tough environment."
If the Penguins were going to force Cup keeper Phil Pritchard to unpack the silver he brought along to the contest, they needed a third-period comeback. And, with 14 more stops to cap a stunning, 44-save performance, Jones simply wasn't having it.
"Our start wasn't as good as it needed to be today but, as a team, we bounced back really well," said Murray, who didn't allow another goal after the first period. "I really liked our resolve, our resilience and our mindset for the rest of the game."
Indeed, the Penguins got everything but that elusive third goal.
"I thought we had traffic at the net, pucks to the net," Sullivan said. "There we people there; we had rebound opportunities. I give our players a lot of credit; we stayed with it throughout the course of the game. It was just one of those nights we couldn't find that goal."
With an empty-netter, the Sharks iced a 4-2 win to stay alive and send the series back to San Jose.
"I think it was pretty evident we were the better team all game," Murray said. "Credit to their goalie; he stood on his head and played a great game."
"Their goalie played probably one of the better games of his life," Hagelin said. "He made a lot of key saves for them and he was the difference-maker."
If the Penguins are going to win the Stanley Cup, they're going to have to do it on the road – or face a winner-take-all Game 7 back in Pittsburgh.
"Like any playoff game, you want to turn the page," Crosby said. "We did a lot of good things; we didn't sit back. If anything, the first five minutes we didn't push the pace like we would've liked. But, after that, I thought our desperation was there."
"I think every game has been really close; just a bounce here or there," Burns said. "They're all going to be tight. Going forward, it's going to be the same thing. It's a matter of just trying to work for that balance. It's been going their way. They've had good starts; we've been fighting to get back in the games. We've done that; they just seem to get that extra one.
"They're good; we're good. It's going to be tight."