"These Devils aren't the Devils of old." This according to Canucks head coach, Travis Green. He, like others has caught on to the 9-2-0 club that's off to their best start in franchise history. Speed combined with skill and an abundance of youth have molded the group's new identity. Wednesday's 2-0 win in Vancouver was a reminder of another required element essential for long-lasting success.
Cory Schneider stopped 37 shots on goal, earning his sixth win and first shutout of the season. In his eighth appearance versus his former team, Schneider was tested heavily as the Canucks had plenty of rebound opportunities and chances in-close. The Devils, playing their first of a three-game road trip, looked noticeably slower. Jimmy Hayes' 10:09 goal that beat Jacob Markstrom was a stoppable shot. It proved to be the game-winner as the Devils survived third period pressure from the Canucks.
As offense has began to emerge as a Devils defining trait–you read it right–greater league-wide attention has turned to Taylor Hall (15 points in 11 games); first overall pick, Nico Hischier; Jesper Bratt, essentially Mr. Everything for the Devils given his great shot and penalty killing; and Will Butcher, a 22-year-old offensive defenseman who trails only Clayton Keller in the Calder race as of Nov. 1.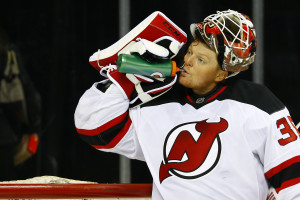 It's easy then to forget about Schneider, who through his play helped maintain New Jersey's identity of a team built from the net out. The emphasis on 'net'. Martin Brodeur left the crease in 2014, to which Schneider posted career numbers in two-straight seasons while seeing his greatest workload in pro hockey. It was followed up by a down season a year ago. It wasn't good and he knew it. But neither was the offense, which averaged 2.2 goals/game, among the worst in the league. Perhaps if that was higher then maybe some of 35's clunkers could have been masked.
Now 31, Schneider appears to be in his best position to win since becoming a Devil at the 2013 draft. A potent offense along with goaltending that starts and ends with him, this could be all that he's been waiting for. A showing like Wednesday's is exactly what the team can hope for in a particularly poor outing. They can't be all pretty and when they're not you'd hope for an effort in goal like the one on Wednesday.
Facing 279 shots in seven appearances, Schneider has yielded 22. That hasn't made for a particularly pretty GAA, but unlike a year ago the offense is providing run support, tied for 6th in the NHL in goals for. That versatility to win in multiple ways early on is encouraging. Three of their nine victories have been in spite of four goals allowed and another three have come while outscoring the opponent by at least three goals. All of it seems to be a recipe for success and on a largely younger team, the impact of its 31-year-old goaltender can't be overstated.
Brian Boyle Return
Wednesday's game was a particularly emotional one for Devils' forward Brian Boyle, making his return to the lineup after being diagnosed with leukemia prior to the start of training camp. While he started at left wing, he eventually went 6-for-9 at the circle. He looked good in his 15:19 of ice time playing with Blake Coleman and Miles Wood on the fourth line. He saw greater ice time after the injury to Marcus Johansson (upper body) just seconds into the start of the first period shortened the bench. It was nice to see him return. His personality is as important to the dressing room as anything else–and he'll be a relied-upon penalty killer and face-off component as the season progresses.
Wedgewood, The Coyote
Scott Wedgewood's trade to Arizona for a fifth round was a good move by the Coyotes who lack stable goaltending in its organization. Wedgewood, 25, wasn't going to crack the Devils as long as Schneider and Keith Kinkaid were the tandem and that was made apparent this summer with the two-year extension given to Kinkaid. So it's encouraging for him to go to a system where he'll play NHL goal, which seems to be the appropriate level for him. He helped propel the team to its first win of the season, a 4-3 overtime win in Philadelphia. He allowed four the next night in Detroit, but on most teams he probably wouldn't have had to play the second half of that back-to-back on the road.
The price paid was a good one, especially given the troubles behind Matt Murray in Pittsburgh? They're trying to solve that equation in-house, calling up both Casey DeSmith and Tristian Jarry at points this week. Would be interesting to know what kind of price tag the Pens, with so much riding on having an efficient backup, would have been charged by Ray Hero. Especially given the Pens-Devils race in the Metro. Who would've thunk that?