As suggested in a prior article as to a possible trade scenario, the Columbus Blue Jackets traded center Ryan Johansen to the Nashville Predators for defenseman Seth Jones. The move came as no surprise to most observers in the National Hockey League (NHL) as it was well known that Johansen and Blue Jackets management were at odds, dating back to the acrimonious, off-season contract negotiations between the organization and Johansen's agent, Kurt Overhardt, during the summer months of 2014.  Johansen also drew the ire of head coach John Tortorella almost immediately after being hired, primarily for his apparent lack of conditioning and thereafter for being disengaged during key stretches of games.
The relationship descended to the point where a trade had to be made and, with the Nashville Predators possessing a plethora of defensemen, the Preds, a team with a dire need to infuse offensive scoring, particularly from its forwards, se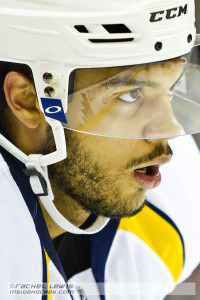 emed to be the most logical trading partner.
As a few weeks have transpired since the trade, I offer my analysis, after the immediate speculation from most pundits as to 'who won the trade', as to how the trade benefits both teams.
In Seth Jones, the Blue Jackets acquire a potential top defenseman and top (defensive) pairing partner with either Ryan Murray, the former no. 2 overall selection in the 2012 NHL Entry Draft, or Zack Werenski, the 8th overall pick in the recent 2015 NHL Entry Draft.  For a team which has, at best, had a middling defensive corps, adding Jones to its blueline, along with young defenseman David Savard and Cody Goloubef, forms a defensive unit that the Blue Jackets can build from the back end, forward.
In losing Johansen, while it creates a gaping hole with their centers, after previously trading Artem Anisimov to the Chicago Blackhawks along with Marko Dano and other considerations for forward Brandon Saad, as well as moving center's Alexander Wennberg and William Karlsson up a few lines from where they normally would be at, the Blue Jackets rid themselves of an unmotivated player who, in previous contract negotiations, could have presented a problem in getting him resigned over the summer. As for playing Karlsson and Wennberg at higher lines, given the Blue Jackets position at the bottom of the NHL standings, it allows both centers to learn and grow into being long-term, solid contributors, and particularly so if the Blue Jackets can win the NHL Draft lottery and nab prohibitive no. 1 overall pick, Auston Matthews who is a center.
Here's the scouting report on Seth Jones from forecaster.thehockeynews.com:
Assets: The son of former NBA power forward Popeye Jones is a great athlete with impressive all-around upside from the back end. Can put up good point totals, log a ton of ice time and play a shutdown role if need be.  Is a difference maker.  Owns a big point shot from the power play, too.
Flaws: While he has impressive size (6-4, 205 pounds), he needs to become a greater physical presence game in and game out in order to maximize his physical gifts.  Also, he could stand to work on his shot accuracy from the point so as to score more goals at the highest level.
Career Potential: Talented all-around defenseman with big upside.
In Ryan Johansen, the Preds obtain a center who can score at nearly a point-a-game potential and possesses a solid, two-way defensive game. However, concerns over Johansen's lack of conditioning, attitude and laziness might present problems to their Stanley Cup playoffs aspirations, particularly as they have been mired in a lull (3-6-1 in their last 10 games and currently not in the top 8 playoff spots in the Western Conference) regarding motivation.  However, if the Predators can ingrain their solid, locker room culture upon Johansen and can resign him when he is eligible, he can become a cornerstone for their future, particularly offensively.
In losing Jones, while the Predators owned a bevy of defensemen, as they are a 'cap team' (a small market team which historically has struggled to retain rising and top-tier talent in the organization), perennial rumblings as to possibly trading Shea Weber, combined with losing Jones and having lost Ryan Suter to free agency a few seasons ago, and their usually stout blueline corps is no longer quite as formidable. However, with General Manager (GM) David Poile, one of the top GM's in the NHL, proclivity for drafting and developing defensive and goaltending talent, reloading their defensive corps should pose no problem in the long-term.
Here's the assessment of Johansen from forecaster.thehockeynews.com:
Assets: Has great size at 6-3, 223 pounds, which all NHL teams love from the center position. Displays excellent offensive instincts, is a quality playmaker and also owns a terrific shot.
Flaws: Lacks consistency in all facets of the game, so he needs to become a more dedicated professional athlete (and start working hard, every shift).  Must improve his decision-making.
Career Potential: Big, talented all-around center with some upside.
Of course, time will tell 'who won the trade' as well as which player helped their respective team's future fortunes; however, this appears to be a trade which was suited to help both teams and their respective needs, both now and in the future.