NEWARK–Not since Game 5 of the 2012 Stanley Cup Final has the Prudential Center hosted postseason hockey. Monday's return will be a source of excitement for fans, who watched the Devils surpass all expectations in the regular season to end a five-year playoff drought. In the same breath, it's an opportunity the team cannot squander in the face of a 3-0 series deficit.
Somewhat encouraging though was the way they finished in game two on Saturday. Trailing 5-2 in the third, they outshot the Lightning 19-9 and cut into the lead before time expired on what was ultimately a little-too-late effort. And while better starts were a point of emphasis, head coach John Hynes recognizes the team has to be better all-around.
"There's been pockets in the games where we've played really well," Hynes said. "Tampa has played very well–they've found a way to score a little more in certain situations. Their power play has been a big factor in the series. There's lots of components. We're in a competitive series–Tampa has played very well. We haven't played good enough to win, but believe we can.
"It's important to come home. Obviously, our building has been fantastic particularly late in the year. To have our first playoff game here, I know the players are excited are about it and I'm sure the fans are excited about it. We'll be ready to go."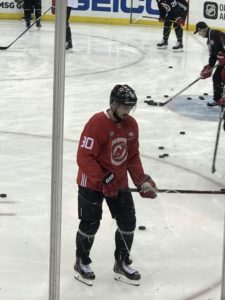 The venue is just one change ahead of game three. Cory Schneider, who made 10 saves in a relief effort on Saturday, will return to the starter's net. Keith Kinkaid, who went 16-3-1 down the stretch to help the team clinch a playoff berth and earn the start for the playoffs, was pulled in game two after allowing five goals on 15 shots. Schneider, who has had a troubling season complete with a groin injury and 12-straight starts in which he allowed three or more goals, can clear the slate in the postseason, keeping the struggles (not pucks) behind him.
"I haven't thought too much about it," Schneider said when asked about the circumstances that cost him the net down the stretch. "I've just been trying to get my game in order and play as well as I can. We all know Keith played really well down the stretch. He was a big reason why we got in the playoffs. For me personally, I'm happy for that success and the fact that we're in the playoffs. Whether it was me or him, this was the goal we wanted all along. I'm not so worried about what's happened in the last two months in terms of me, I'm just more focused on what's going to happen going forward."
In addition to in goal, the Devils will have Marcus Johansson back in the lineup after a 37-game absence (regular and postseason). Drew Stafford, a healthy scratch for both games in Tampa, will be inserted into the lineup, Hynes opting to go with 12 forwards and 6 defenseman after going 11-7 on Saturday. Michael Grabner and Mirco Mueller will both sit.
With a combined 99 postseason games under their belt, Johansson and Stafford bring playoff experience to a roster with many first-timer's. That's not the only reason the two draw into the lineup, according to Hynes.
"Marcus has excellent poise with the puck," he said. "He's got good hockey instincts, he can make plays under pressure. He really understands time and space–when he has it and when he doesn't. When he has time, he can make plays when he's under pressure. He can turn a play and that's sometimes what you need in these types of games where there's not a lot of time and space, there's high emotion in the game. His puck presence and puck poise are things that make him an excellent player.
On Stafford:
"Drew's a good player and he brings a different element to the game then some of the guys that are out. Any time you make lineup decisions, you always look at whether you have too many of the same types of players–do we feel like there's a component to add into the lineup that can make your team better for a particular game–Drew's certainly that guy."
Johansson, who will skate on a line with Pavel Zacha and Patrick Maroon is putting his focus on helping the team in whatever way he can.
"I try to be a two-way player and go out and help in any way I can," he said. "If it's playing offensively or defensively to get it done, I'm up for it. Hopefully, I can contribute in some way. There's not really any time to think if you haven't played in some time. All you can do is go out and give your all every shift."
Travis Zajac is one of just two Devils (along with Andy Greene) that was around for the 2012 run and knows they have to build off of whatever momentum they rallied from how they finished game two.
"I think we'd all like to see us play that way from the start," he said. "Not being down in the game, keeping that consistent effort throughout the game. They're a disciplined team. They're fast–they use their legs to check. We'll have to and get some pucks to the net, create some traffic offensively."
His pre-game scouting report from what he remembers about playoffs at The Rock:
"I think it's going to be great–electric," he said. "We've had great fans all year. I expect it to be rocking tonight."