Penguins GM Jim Rutherford went into the past week determined to address his team's well-known, biggest need – a proven, goal-scoring winger to play alongside Sidney Crosby and/or Evgeni Malkin.
Wednesday, he got his man.
"We've worked on this deal with Toronto for probably over a month," Rutherford said. "It got a little bit of legs on draft day [Friday], but it really heated up last night and we were able to complete the deal today."
As goal-scorers go, Rutherford couldn't have done much better than Phil Kessel, the 27-year-old superstar he acquired from Toronto in a deal that involved six players and three draft picks. Since 2008, Kessel has scored 151 goals; only Alex Ovechkin, Steven Stamkos and Corey Perry have scored more.
"As far as players that were out there, we're in most deals," Rutherford said, referring to forwards who were also on the Penguins' radar like Brandon Saad, Ryan O' Reilly, T.J. Oshie and Jeff Skinner. "We're talking about different players, but he was our main target. When you look at his goal-scoring ability and his speed, that was really the ideal player we were looking for. He was our No. 1 target."
The fifth-overall draft pick from 2006 brings enough speed to keep up with the Penguins' top two centers, along with a rare gift for creating offense.
"We set out this offseason to bring in some more skill on the wing and some more speed, and I certainly think we covered that," Rutherford said.
The Penguins hope Kessel, added to a top six that also includes Patric Hornqvist, David Perron and newly signed Sergei Plotnikov from the KHL, will help bring an end to the revolving, makeshift cast of wingers who have been playing with their star centers.
"I'd like to get some consistency of wingers for Geno and Sid, and I believe [head coach] Mike [Johns
ton] should be able to do that now," Rutherford said.
That moves players like Chris Kunitz and Pascal Dupuis, Crosby's former wingers, to a likely third-line role, giving the team impressive depth and a good start toward its goal of fielding four lines capable of contributing offensively.
"It means we're getting more balance and more depth in our forwards," Rutherford said. "And it means throughout our lineup, one through 12 in our forwards, we have a much better team."
A player of Kessel's stature doesn't come cheap, and the Penguins sent a blue-chip forward prospect to Toronto in Kasperi Kapanen, 18, their first-round pick last year. They also gave up 22-year-old defenseman Scott Harrington, who had fallen behind Olli Maatta, Derrick Pouliot and Brian Dumoulin on their depth chart of young defensemen; forward Nick Spaling, 26, a utility forward whose $2.2M salary was moved to help fit Kessel under the salary cap; and their first- and third-round draft picks in 2016. The first-round pick is lottery-protected; if the Penguins would fail to make the playoffs in 2016, it would move to 2017.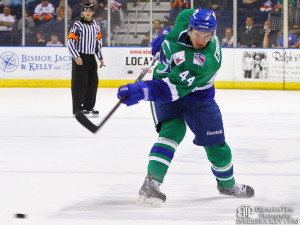 In return, the Penguins also got 22-year-old winger Tyler Biggs, 24-year-old defenseman Tim Erixon – both former first-round draft picks – and the Maple Leafs' second-round draft pick in 2016.
Somewhat incredibly, the Penguins accomplished the deal without having to move either of their two prized young defensemen in Maatta or Pouliot, the latter of whom the Penguins were rumored to have discussed as part of a package for Kessel at last weekend's Entry Draft. The team can now remain on-course with its plan to field a younger blueline this year, letting steady Paul Martin and offensive-minded Christian Ehrhoff depart via free agency, and using the dollars saved on a top-six wing.
"I get asked about them a lot," Rutherford said. "It's hard to find guys like Pouliot – he's a guy who's going to, as he matures, be important on our power play, and a guy we didn't want to let go."
Kessel came with only two potential downsides – his $8M salary for the next seven years, of which the Leafs are retaining $1.2M, or 15 percent; and a personality that has sometimes been perceived as prickly, introverted or a combination of both, particularly when dealing with the media.
"I don't have any concerns," Rutherford said. "Everybody gets a fresh start in a new place, and I feel very comfortable with getting Phil. I've done a lot of homework on this, and I've talked to a lot of people. And I do believe a fresh start [will help] – getting out of Toronto, where he went there under the microscope from day one.
"He was always the guy. He was a guy that was blamed when things weren't going well, and he doesn't have to be the guy here; we have a bunch of them. I believe he's going to fit in very well."
Kessel will have a head start on fitting in. Earlier this week, it was announced he'll start training this summer with former Penguin Gary Roberts, who now trains high-performance athletes in Toronto and is overseeing the Sports Performance Center at the team's new practice facility in suburban Pittsburgh.
Although Kessel is often criticized for his fitness level, his durability is undeniable as he hasn't missed a game in five seasons.
"Maybe we're onto something," Rutherford joked, alluding to the Penguins' staggering run of injuries over the past few years. "He's a pretty damn good player based on those circumstances and, if he needs to get himself in a little better shape, he'll even be a better player. But being around our players, and the kind of condition and how hard they work, will rub off on anybody."
He also alluded to the organization's engaging of consultants this summer to determine how they can better avoid injuries, with one possible answer being that players are working too hard during their downtime, not allowing the opportunity for sufficient rest and recovery.
"I do think guys that are in too good of shape are more vulnerable to getting hurt," Rutherford said. "And this is a guy that plays every game."
For the 66-year-old GM, making the blockbuster deal of free agency day to land a truly elite winger just might silence his critics for a while. But that wasn't what brought him the most satisfaction.
"It's hard to score goals in this league," Rutherford said. "We play a lot of one-goal games. And, when you can get a pure goal scorer, that's going to give you a better chance to win games. You can never know with trades; over time is really how you judge. We got the best player in the trade right now; it usually works out for the team that gets the best player. We gave up Spaling off our [roster] – that was a good, solid player for us, but not at the level of Phil Kessel – and we gave prospects, and you don't know how they're going to turn out.
"To not take a lot off our team and add Phil Kessel, at this point in time, that gives me personal satisfaction."