The NHL trade deadline, set for Monday, Feb. 26 at 3 p.m. E.T., is the last chance for teams to look outside the organization for help ahead of the postseason. Thus far, deals have trickled in from day-to-day, but most are of the rental variety. The Dion Phaneuf-Marian Gaborik swap (among other items) was a "hockey deal," but you'll have to excuse fans if that just doesn't wet their appetite. But what does this time of year? The summer has proven to be a more optimal time for larger, more intricate deals (see June 29, 2016). After offering up some suggestions as to what teams in one division might do, I realized the lead up probably isn't going to excite many fans, either. Which is why we need Erik Karlsson now more than ever.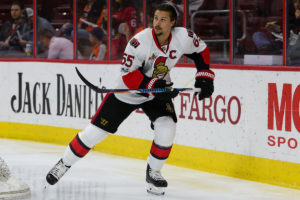 Is Karlsson, the 27-year-old, smooth-skating, offensively-gifted defenseman for the Senators, available? It sure sounds like the club will, at the very least, listen to offers. Of course, it will have to be something astronomical–given the following: A) he's really, really good; and B) he's got another season left at a fairly manageable cap hit ($6.5 million AAV). By his standards, it's been a tough year for him. He missed the start of the regular season after rehabbing a leg injury, suffered during last postseason, where Ottawa came within a goal from advancing to the Stanley Cup final.
Despite missing time due to injury, he's collected 41 points in 54 games, is second in team scoring and leads the team in assists (36). Trading the nine-year veteran who was drafted 15th overall by the club in 2008, is tough to fathom. But so too is Ottawa, a budget team, meeting the financial expectations a player of Karlsson's ilk would expect–that being a double-digit AAV, perhaps north of $12 million. This, coupled with the 21-28-10 predicament that has Ottawa 29th in the league and 15th in the conference, leaves the Sens with a reason to evaluate all their options. It might not be popular, but no one player on its roster would command comparable return.
What might that return be? Let's consider the price paid by the Senators in November for Matt Duchene: A first-round pick (lottery-protected), a third-round pick, 2017 first-round prospect, Shane Bowers, goalie, Andrew Hammond and Kyle Turris, a center that played largely in Ottawa's top-six (Nashville acquired some pieces as a result of the three-way deal). A deal for Karlsson might be that and then some. Could GM Pierre Dorion ask for additional first's? A blue-chip prospect? With a fairly wide-open playoff picture in both conferences, it's worth trying for. Especially given the number of teams that can use the summer to get in on the sweepstakes.
Selfishly, a Karlsson deal provides something else–not to a particular team or city. But to NHL fans as a whole, who often tune into the deadline day festivities with wide-eyed, but are often left with the lacklusterness of depth adds, rentals and conditional draft choices. A deal of this magnitude could potentially shift the thinking of uber-competitive GM's. And that would be the kind of show fans have dreamt about.
Of course, the option still exists for Ottawa and its captain to wait it out and perhaps even find common ground on an extension, but that's a conversation for the summer edition where we'll plea for Erik Karlsson to save the lackluster offseason.