The New York Islanders haven't made a blockbuster trade, but they did add some depth at the trade deadline in a pair of deals. First, they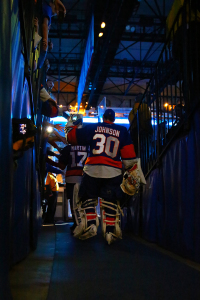 acquired forward Tyler Kennedy from the San Jose Sharks for a conditional third-round draft pick in 2016.  Then, the Isles dealt backup goalie Chad Johnson to the Sabres in exchange for goalie Michal Neuvirth.
Kennedy has four goals and nine points in 25 games with San Jose this season, although he has not been a great fit with the Sharks.
His best NHL season came in 2010-11 when he scored 21 goals and 45 points for the Pittsburgh Penguins.
"I'm obviously very excited," Kennedy said in a telephone interview with TSN shortly after the trade. "I'm going to a great team. They're a team on the rise and a team that's got a chance to win the Stanley Cup this year."
Kennedy is an aggressive forechecker who has good speed and should fit in well with the Islanders' system. He also adds the ability to provide occasional offense as a bottom-six forward. He is also a capable penalty killer, something the Isles desperately need to improve if they hope to make a long playoff run this spring.
The second trade with Buffalo upgraded the Isles backup goaltending. General manager Garth Snow acquired Michal Neuvirth from Buffalo in exchange for backup goalie Chad Johnson and a third-round pick in 2016.
Neuvirth has a poor 6-17-3 record playing for a weak Buffalo team this year, but his .918 save percentage is impressive considering the young and inexperienced team playing in front of him in Buffalo.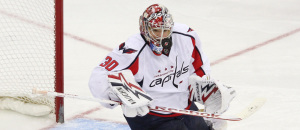 Neuvirth won 27 games with the Caps back in 2010-11 and played in nine playoff games for Washington that season. He is still only 26-years-old. Ironically enough, Neuvirth was traded for current Isles goalie Jaroslav Halak a year ago when he was moved from Washington to Buffalo.
"It's going to be a great opportunity," Neuvirth told TSN. "I know the Islanders have a great team and they want to go deep in the playoffs. I just played against them a couple of weeks ago and I know how good they are."
The newest Islander added, "I know Jaro is the number one there, but you never know what is going to happen. I will have to be ready."
Both Kennedy and Neuvirth are scheduled to be unrestricted free agents this summer.
These two moves are exactly what was expected from the Islanders at the trade deadline. They added depth at key positions without sacrificing important players on their current roster or dealing highly-regarded prospects.