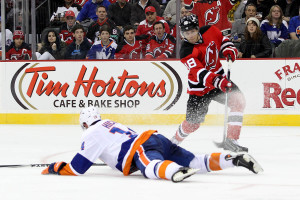 The New York Islanders traded winger Michael Grabner to the Toronto Maple Leafs for a package of five players. In a separate move, the Isles signed forward Steve Bernier to a one-year contract. Bernier had been in camp on a tryout basis.
In exchange for Grabner, the Isles acquired forwards Taylor Beck and Carter Verhaeghe, defensemen Matt Finn and Tom Nilsson, and goalie Christopher Gibson in the deal.
Grabner joined the Isles early in the 2010-11 season when he was claimed off waivers from the Florida Panthers. That year, the speedy Austrian winger scored a career-best 34 goals and 52 points in 76 games. Since then, Grabner has seen his production drop each subsequent season and he has had trouble staying healthy. Last season, he scored eight goals and 13 points in 34 games.
Shortly after the trade was announced, Grabner tweeted, "Thanks to the @NYIslanders for the opportunity and the last five years and the fans for all their support…on to a new chapter now #LeafsNation."
Of the players acquired, Taylor Beck is the only player acquired in the deal with NHL experience. He played in 66 games last season with the Nashville Predators, scoring eight goals and 16 points. At 6'2″ and 206 pounds, he can add some size to the Islanders bottom-six forwards if he makes the team.
None of the other four players acquired in the deal were considered among the Leafs Top 10 prospects by The Hockey News in their annual yearbook.
Verhaeghe, 20, scored 33 goals and 82 points in 68 games while playing center for the Niagara IceDogs of the OHL. Finn, a 21 year-old defenseman, split time last year between the AHL and ECHL scoring a combined total of two goals and five points in 36 games. Nilsson is a 22-year-old Swedish defenseman who came to North America last season and played 44 games with the AHL's Toronto Marlies. Gibson is a 22-year-old Finnish goalie who sported a 2.42 GAA and a .921 save percentage with the Marlies last year in 45 games.
In a separate move, the Islanders inked former Devils forward Steve Bernier to a one-year deal worth $750,000 according to TheScore.com. Bernier, 30, scored 16 goals and 32 points in 67 games with the Devils last season. In 609 career NHL games, Bernier has scored 104 goals and 224 points. Last year's 16 goals tied his career high.
The Islanders officially open training camp for the 2015-16 season Friday. The first preseason game is scheduled for Monday, September 21 when the Isles play two split squad games against the Philadelphia Flyers.