You have to give New York Islanders' GM Garth Snow credit. Since the end of last season, Isles' fans and hockey experts have been screaming for Snow to improve his team's defense. Now, less than a week before the start of the 2014-15 NHL season, Snow added two, top-four defensemen in Johnny Boychuk and Nick Leddy, to do just that.
Snow made two separate trades to turn the Islanders' defense from a question mark to instant respectability. Snow not only added two quality NHL-defensemen, he added a pair that already have Stanley Cup rings which can only help a young Isles team in the locker room as well as on the ice.
The Islanders acquired Boychuck, 30, from the Boston Bruins in exchange for three future draft picks. At 6'2" and 225, Boychuk adds size and experience to the Islanders defense. Young blueliners throughout the organization like Griffin Reinhart, Scott Mayfield, Calvin de Haan, Ryan Pulock and Travis Hamonic can all learn from Boychuk's NHL experience and the Stanley Cup ring he won with the Bruins back in 2011. He also contributed to Boston's run to the Staley Cup Final in 2013.
Boychuk finished with five goals and 23 points in 75 games with the Bruins last season. He also earned an impressive plus-31 plus/minus rating.
Boychuk is solid in his own zone and has a heavy shot that the Islanders can put to use on the power play. He also provides the team insurance and depth on the line blueline.
Boychuk is scheduled to become an unrestricted free agent at the end of the coming season. That means Snow has a chance to sign him to an extension if he can convince the Edmonton native that the Islanders are a team on the rise and worth sticking with.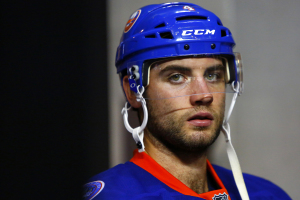 Snow also acquired Nick Leddy from the Chicago Blackhawks in exchange for prospect Ville Pokka, AHL veteran T.J. Brennan and goalie Anders Nilsson. The Isles also received AHL goalie Kent Simpson in the deal.
Leddy is more of a puck-moving defenseman who can give the Isles some much-needed offensive production from the blueline. His skating ability should fit well in with head coach Jack Capuano's system which requires mobile defensemen to work at maximum efficiency.
Leddy is just 23 but already has three seasons of NHL experience under his belt. He has not missed a regular-season game with the Blackhawks over the past three seasons. Leddy scored a career-best seven goals and 31 points last season. He should see even more ice time on Long Island which should give him a chance to improve on those numbers.
The Eden Prairie, Minnesota, native helped the Blackhawks win a Stanley Cup in 2013 and was a part of the club that extended the Kings to Game 7 of the Western Conference Final last spring.
Leddy also has one year left on his current deal but is only eligible to be a restricted free agent next summer.
"It was an opportunity to upgrade our defense," Snow told Newsday. "For us, whenever we get the chance to upgrade, we take a long, hard look at it. And today, we landed two top-four defensemen."
These trades are further evidence that the Islanders are in win now mode. With the team moving to Brooklyn next season, they need to build enthusiasm to help sell tickets in the new arena and want to send the Nassau Coliseum off on a positive note. After years of stockpiling draft picks and prospects, the Islanders are ready to make a run for a playoff spot to prove that 2012 was no fluke.
Garth Snow may get the last laugh. He showed patience this summer and waited until the Bruins and Blackhawks were forced to trade Boychuk and Leddy because they needed the cap space. Despite all the criticism has took, Snow managed to address all the major areas he sought to improve during the offseason.
Now it's time for the team to show results on the ice. Let the season begin.